Back to News
Brolin Mawejje - "Far From Home"
March 9, 2015
Originally from Uganda, Brolin Mawejje moved to the US at a young age and later discovered his passion for snowboarding. Brolin has his sights set on becoming the first African Snowboarder in the 2018 Winter Olympics. When not on the mountain, Brolin is hitting the books as he is also a medical student. On February 2, his film "Far from Home" premiered at the Santa Barbara International Film Festival.
We spoke with Brolin after the premier of his film and this is his story.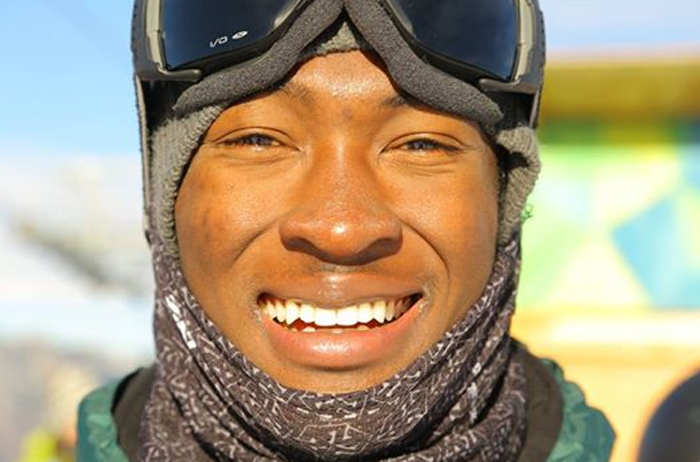 What made you choose the 2018 Olympic Games as your goal?
Two years ago when we started this film project the Olympics seemed like a far away dream. When we released the first teaser for Far From Home almost 18 months ago we we're blown away by the support. As the production of the film went on we were able to travel to Uganda and meet with the Ugandan Olympic Committee. They we're all extremely supportive of my Olympic aspirations and it made me realize that this actually might be possible. I want to snowboard for Uganda in the Olympics because I feel that it can inspire another kid in similar circumstances as I was in to go after his dreams and ignore the people who tell them otherwise.
What country will you be representing at the 2018 Games?
I will be riding for Uganda, the country where I spent the first twelve years of my life before moving to the States.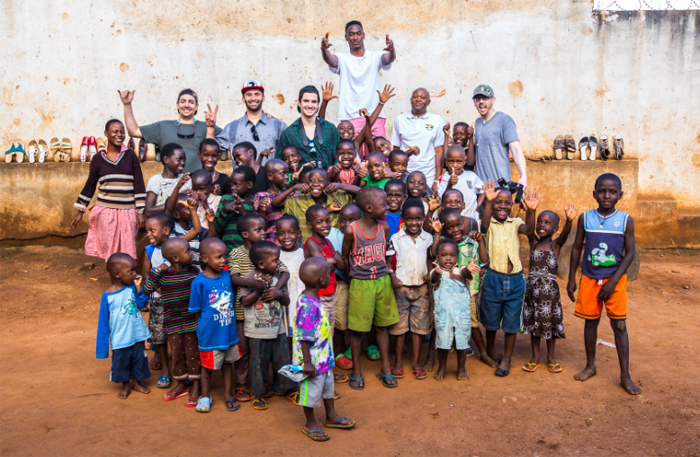 Brolin (back center) and the "Far From Home" team visiting the children of Uganda.


Which discipline will you be riding in?
I will be riding in slope style.
Who have been your biggest supporters during this journey?
Definitely my team and my adopted family the Hessler's. I moved out to Jackson Hole with my best friend Phil Hessler and his family when I was 16. Jack, Jimmy, and Phil Hessler are all amazing riders and they pushed me to keep up. They are a huge reason I am where I am today and their parents support allowed me to attend college in Salt Lake City with Phil.
Where did the idea of your film "Far From Home" come from?
The idea for Far From Home came from the summers I spent working as a lab analyst at Massachusetts General Hospital. The doctors there were amazed by my story and told me that I should write a book. I went to my brother Phil with the idea and he said we should find a way to make a film. We reached out to a local filmmaker we knew named Galen Knowles who came on board as the director. From there, the project just grew very quickly and an incredible group of people came behind the story.
Who is the team behind the film?
The team behind the film really started out with our group of friends at college in Salt Lake City.
Director - Galen Knowles
Producer - Phil Hessler
Executive Producer - Kip Perry
Co Producer - Gabe Veenendaal
Co Producer - Adam Schellenberg
Graphic Designer - Dan Rosen
Event Manager - Shaun Nakamine
Social Media - Zeppelin Zeerip
What was your reaction when you saw the final cut?
The first time I saw the cut, I was pretty shocked. There is a lot of very personal and vulnerable aspects of my past that are revealed in the film and I was very wary of diving too deep into those harsh realities. The more I watched it, the more comfortable I became with the film. I realized that by revealing these troubles of my past, I hope that people will be able to connect and take something away from it that can have a positive impact on their own life.
What can we expect from the film?
You can expect something different from this film. Our focus was never about the most progressive snowboard tricks or million dollar production value. We wanted to bring a story to snowboarding that could reach past the walls of action sports and be relatable on a wide front to people who may be lost in their life, just as I was. The ultimate message is that your circumstances do not define who you are or what you can become. If you have a passion you believe in, you can find your path.
---