Back to News
B$Z: TRANSWORLD MOTOCROSS Launches Motocross Instructional Video with Nick Wey
March 16, 2015
TEN:

The Enthusiast Network announced today that TRANSWORLD MOTOCROSS, the world's leading motocross brand, released MOTO Skills With Nick Wey, the most complete and in-depth motocross instructional video ever produced. The video is available exclusively on Vimeo On Demand thanks to an exciting new partnership with Vimeo.
"Just as video shooting and editing technology has evolved at a mind-boggling rate, so has the manner in which we now view the final product," says Editor In Chief of TRANSWORLD MOTOCROSS Donn Maeda. "The collaboration with Vimeo allows us to further connect with both our core audience and introduce the TRANSWORLD MOTOCROSS brand more broadly to a new group of motocross enthusiasts."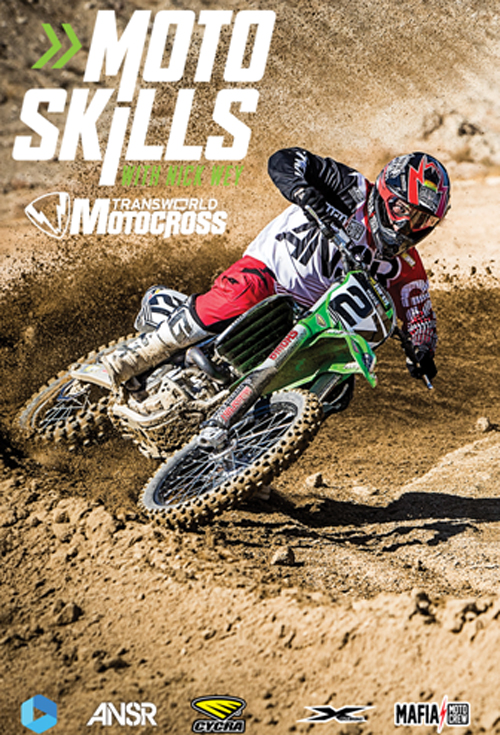 Wey, a 17-year veteran of professional motocross and supercross, joins the staff of TRANSWORLD MOTOCROSS to share some of the knowledge he has amassed during his riding and racing career. Filmed entirely in HD video, Wey teaches proper riding techniques to viewers in an entertaining and easy-to- understand manner. Never before has a how-to film boasted so many features, all packed into one 55- minute presentation: super-slow-motion 240 fps sequences, voice-over narration, visual call outs, and more!

Filmed at four different tracks with varying terrain and obstacles, MOTO Skills features 24 chapters that cover everything from getting the holeshot to scrubbing speed over jumps. Whether you are a new rider wishing to develop a solid set of core riding skills, or a hard-core racer looking to reach the next level, MOTO Skills With Nick Wey can help you become a better, safer rider.
"Working with the new Vimeo On Demand program shows our dedication to connect with our passionate consumer base and deliver high-quality content across multiple platforms," says TEN CEO Scott Dickey. "It is further evidence of TEN's commitment to extend our market leading brands and produce world-class content in new channels of distribution."

TRANSWORLD MOTOCROSS presents MOTO Skills With Nick Wey, a film by Donn Maeda, and edited by Jordan Powell, brought to you by Answer Racing, Cycra Racing, and EKS Brand Goggles. The film is available exclusively on Vimeo On Demand for rental or purchase.
---