Back to News
B$Z: Diamondback, a Newcomer in Triathlon, Invests in Up-And-Comer Rachel McBride
March 18, 2015
Diamondback Bicycles announces the addition of up and coming triathlete, Rachel McBride, to its athlete roster for 2015. A relative newcomer to the triathlon world, Diamondback has already made considerable waves this season with the introduction of its first tri bike, the Serios, as well as partnering with the popular Wildflower Triathlon event.

2015 marks McBride's fifth year competing, and her first race of the season will be at the Wildflower Triathlon, May 2 in Lake San Antonio, California. McBride will be riding the Diamondback Serios AF and will be working closely with the Diamondback team in the wind tunnel to ensure that she will be as fast as possible.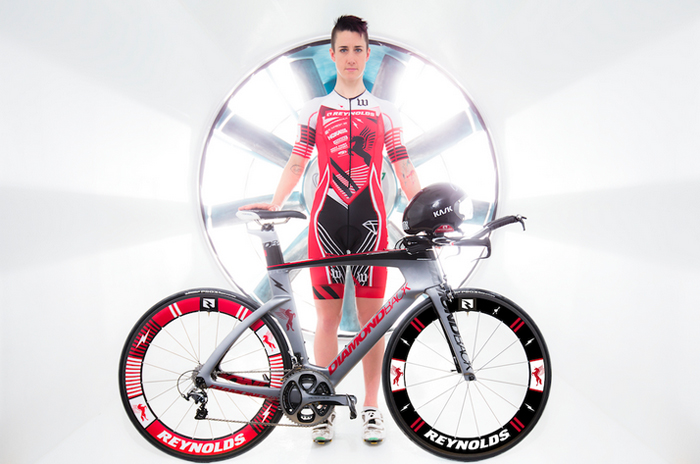 "After creating the Serios, we wanted to find not only a great triathlete, but one who would rip on a bike and show the capability of the Serios," said Steve Westover, Marketing Director at Diamondback Bicycles. "When we were looking around, we saw this up and coming triathlete and we were blown away by her impressive amount of podiums, fastest splits on the bike and course records. Signing Rachel was an easy choice and we are excited to see how our partnership will make her faster – at least on the bike."
McBride currently lives and trains in Vancouver, British Columbia where she is coached by Cliff English. She is a two-time Ironman 70.3 champion and three-time course record holder -- Ironman 70.3 Calgary, Canadian National Championships and Squamish Triathlon. On the bike, accomplishments include six-time Ironman 70.3 first-off-the-bike and eight-time Ironman 70.3 fastest bike split. In addition to Diamondback Bicycles, McBride's sponsor include Reynolds Cycling, Wattie Ink, Hoka One One, Compressport, Blue Seventy, West Point Multisport, Eload, Summit Sports Nutrition, Hyphen8tion Studios, ISM Saddles, and Hornby Island Energy Bars.
"I'm proud to be riding with the Diamondback team starting this year," said McBride. "I had the amazing opportunity to see real data in the wind tunnel showing the awesome aerodynamic design of the Serios AF. I feel really confident going into this season knowing my bike is the fastest setup I've ever competed on."
Follow Rachel on Facebook - https://www.facebook.com/RMcBrideRacing
For more on Rachel McBride – http://www.rachelmcbride.com
For more on the Diamondback Serios AF bike - http://www.diamondback.com/bikes-pavement-triathlon-tt-serios-af
For more on Diamondback Bicycles - http://www.diamondback.com
---