Back to News
B$Z: Founding AIMExpo Participant Yamaha Returns for 2015
March 19, 2015
The American International Motorcycle Expo (AIMExpo) and Yamaha Motor Corporation, USA, (Yamaha) have announced that the legendary manufacturer has again committed to participate in the third-annual event, scheduled for October 15-18 at Orlando's Orange County Convention Center (OCCC), making them the first OEM partner to come aboard in 2015. Yamaha was an original OEM participant of AIMExpo in 2013 and plans to utilize the all-encompassing format to showcase products, offer demo rides and much more.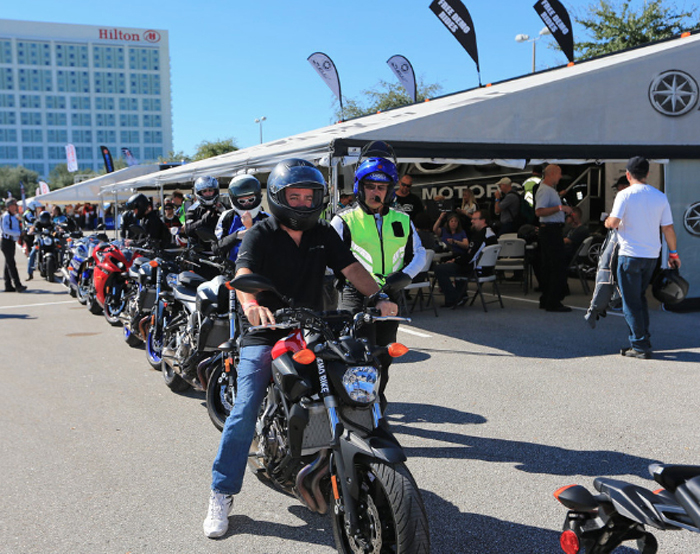 The innovative structure of AIMExpo offers exhibitors the unique opportunity to closely interact with trade, media and consumer attendees throughout the world of powersports in one desirable setting. With its expanded presence in 2014, Yamaha globally debuted seven new dirt, sport and cruiser models; hosted meetings and receptions with its nationwide dealer network and national sales staff; offered exclusive demo rides of motorcycle, ATV and Side x Side products at AIMExpo Outdoors!; and engaged with domestic and international media attendees inside the Media Hub.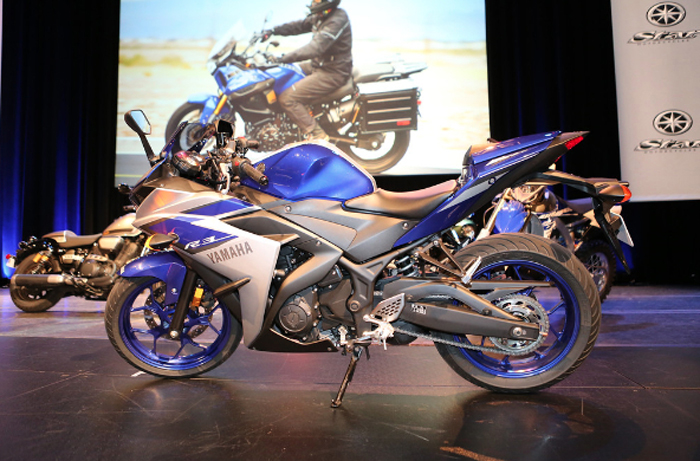 "Yamaha is indeed pleased to have chosen AIMExpo's highly effective medium to introduce and display our new Motorcycles, ATV's, Side x Sides and Scooters since the show's inception, and we are very excited to return for the third consecutive year!" said Bob Starr, General Manager of Yamaha's Communication Division. "Both their platform and the timing of the event has enabled Yamaha to launch new product to the media, while energizing both dealers and consumers with a full display of our entire powersports lineup. The ability to also demo key models to both dealers and consumers adds a highly desirable element for Yamaha to further showcase our brand. We're looking forward to returning to Orlando in October!"

Once again, Yamaha is developing plans that will bring its latest models to AIMExpo for all to see. This includes public debuts of key models that will soon be arriving in dealership showrooms. Advance previews like this, as well as the opportunity to demo a variety of products and interact face-to-face with brand representatives, are just a few of the enticing reasons for dealers and consumers alike to mark AIMExpo 2015 on their calendars.

"Over the last two years Yamaha has taken full advantage of the comprehensive platform AIMExpo provides to fully engage with the powersports media, dealers and consumers," said Larry Little, Vice President & General Manager, Motorcycle Group. "The manner in which Yamaha has embraced and leveraged AIMExpo in its first two years has been impressive. We're working hard to provide them, as well as the greater powersports industry, with the stage and the tools to continually transform the way they effectively interact with all facets of the industry in one place at one time."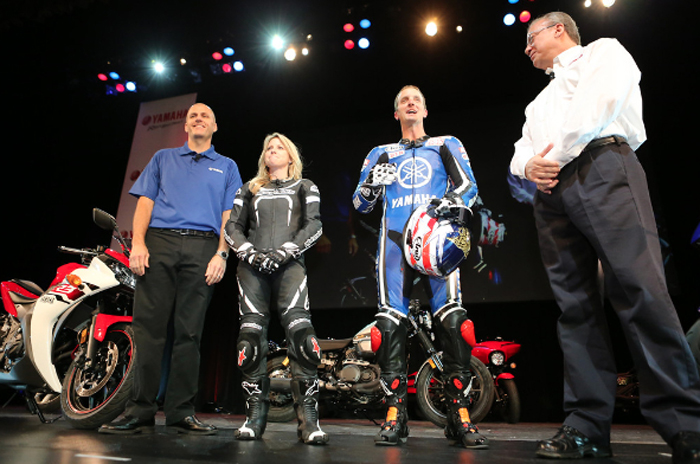 Long-time Yamaha and MotoGP racer Colin Edwards and his wife Alyssia
helped debut some of the new Yamaha models at the 2014 AIMExpo
In 2014, the AIMExpo 3-Way Giveaway promotion returned and included the chance for one lucky winner to ride off on a custom Star Bolt motorcycle. Complementing the Bolt giveaway was an eye-catching lineup of custom Bolt motorcycles that was on full display for all to see inside Yamaha's expansive booth on the show floor. Yamaha's 2015 footprint will be equally impressive and again feature its full range of diverse, industry-leading on- and off-road products.

More than 260 exhibitors have already committed to AIMExpo in 2015. Exhibitor presence builds each day and companies looking to take advantage of the AIMExpo platform should contact an AIMExpo Account Manager toll free at 855-MCShows (855-627-4697).

---