Back to News
B$Z: AMSOIL Interview of the Week: College Hunks Hauling Junk/Spinechillers KTM's Dave Ginolfi
March 19, 2015
New Jersey native Dave Ginolfi is one of the most experienced competitors in AMSOIL Arenacross, featuring Ricky Carmichael's Road to Supercross. During his first full season of racing back in 2009, Ginolfi broke through to claim an Arenacross Lites Class regional title and establish himself as one of the sport's up-and-comers. The following year he was a solid contender in the Arenacross Class, but the ensuing seasons presented some ups and downs for Ginolfi. Coming into 2015 he took a step back and refocused his approach to racing, going "back to the basics" as he put it. His new strategy has resulted in Ginolfi's most successful season to date, winning two Eastern Regional Main Events and earning seven Eastern Regional podium results, which culminated in clinching his second career title last weekend with two rounds still remaining in the Eastern Regional season.
AMSOIL Arenacross caught up with Ginofli to talk about his 2015 season and how he got back to the top level of the sport.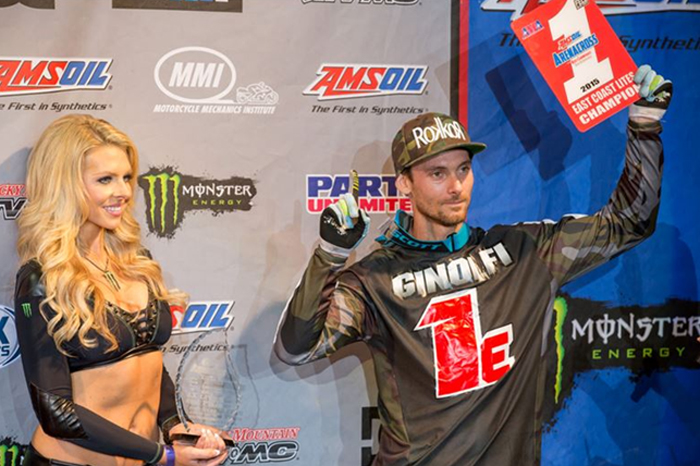 Ginolfi clinched the 2015 Eastern Regional Arenacross Lites Class title in Mississippi last weekend.
Photo: Josh Rud / ShiftOne Photography

Congrats on the 2015 Eastern Regional Arenacross Lites Championship! How did it feel to wrap up the title with two rounds left to go for the East Region?
It feels great! A little bit of pressure is definitely gone and now I'm ready to have fun and finish out the remainder of the season!
This is your second Arenacross Lites Class championship in AMSOIL Arenacross during a six-year span. What are the differences from then and now?
In 2009 when I won the championship it was split into four regions and you had the option to sign up for two regions, so you had a better chance of doing well. Even that year I never got any wins in the division. I won [the title] and I only got five podiums. And now, fast forward to this year where I have gotten two wins [in the championship] and seven [Eastern Regional] podium finishes, so I feel more dominant than I have years past, or versus that first year in 2009.
Do you feel like the competition has been more intense this year?
The [Eastern Regional] Lites Class was stacked this year, especially with having a lot of young, upcoming Road to Supercross riders competing in it as well. That made things interesting. A lot of them didn't compete in the full series, but my goal was still to be leading the points before they all left. I was, so I felt very successful and accomplished.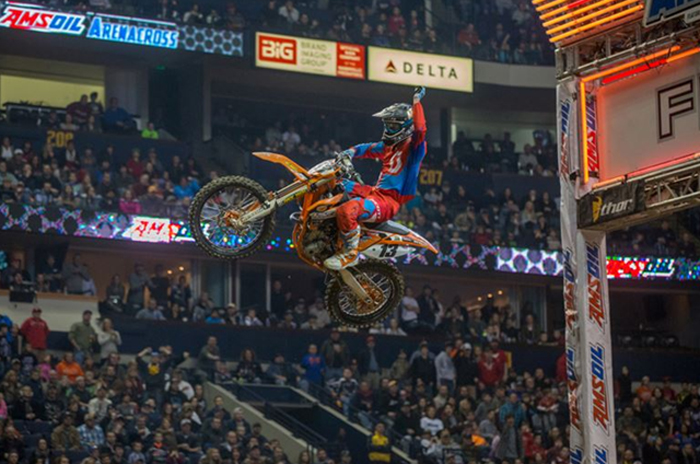 Ginolfi has two Arenacross Lites Class Main Event wins to his credit this season.
Photo: Josh Rud / ShiftOne Photography
How do you feel about your riding style? Do you feel as though it has improved since you started?
The 2009 season was a good first year. In 2010 I earned top-10 in the premier [Arenacross Class]. The following two years weren't so good. Last year was terrible, and this year is incredible. A pretty big credit to my success is how I took a step back and went back to the basics. Before the season started I went down to Georgia Practice Facility (GPF) six weeks prior to the season opener and started working on techniques and just having fun. Not focusing on putting in 'x' amount of laps or sprints. It has definitely been a lot more fun this season and I think that had a huge thing to do with this championship.
You have been racing AMSOIL Arenacross full time for six years. What do you like so much about the sport and what keeps you coming back year after year?
I love the environment. It is great competition for all of us. We are not racing out of big semis and we all don't have huge budgets to work with, so to go to supercross on the budget most of us have just wouldn't be very fun, nor would we be very competitive. That's another thing that keeps me coming back. I'm able to fight for wins and podiums, and I can actually see an improvement each year.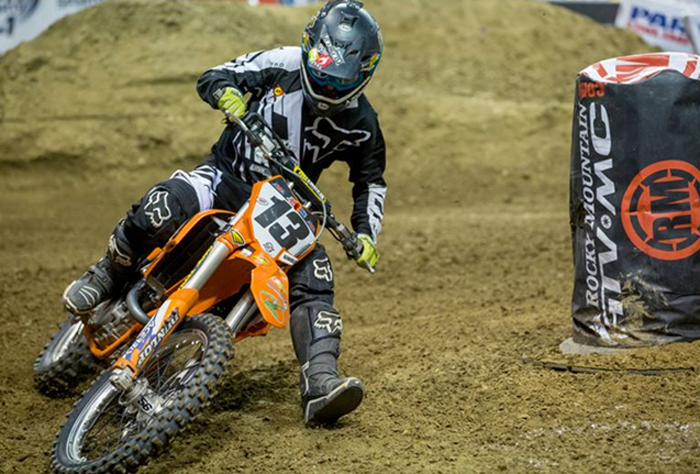 Ginolfi is an AMSOIL Arenacross veteran, racing since the 2009 season in which he won his first Arenacross Lites Class title.
Photo: Josh Rud / ShiftOne Photography
What are your goals for the remainder of the 2015 season?
For the remainder of the season I hope to continue being on the podium in the Lites Class. More wins would be great. Also, I hope to continue getting top 10 in the premier class, which is what I have been doing recently.
You and fellow veteran rider Willy Browning teamed up together this year and created your own traveling team. How has that experience been for you?
Willy and I said we always wanted to do it, but he has always been with Spinechillers. I have always been on my own and done my own thing. This year Spinechillers definitely helped both of us out, but they weren't able to do the extent of what they have done years past. Over the summer we decided to do the whole series out of my van, and it has been great. We get along very well and we are very similar. It has definitely been the most fun year as far as traveling with my friend and teammate. Overall it is definitely a fun, relaxing environment.
The 10th round of AMSOIL Arenacross, and the opening round of the Race to the Championship, kicks off on Saturday, March 21, from New Orleans for the championship's debut inside Smoothie King Center. Racing begins at 8 p.m. EST/ 7 p.m. CST/ 5 p.m. PST each night.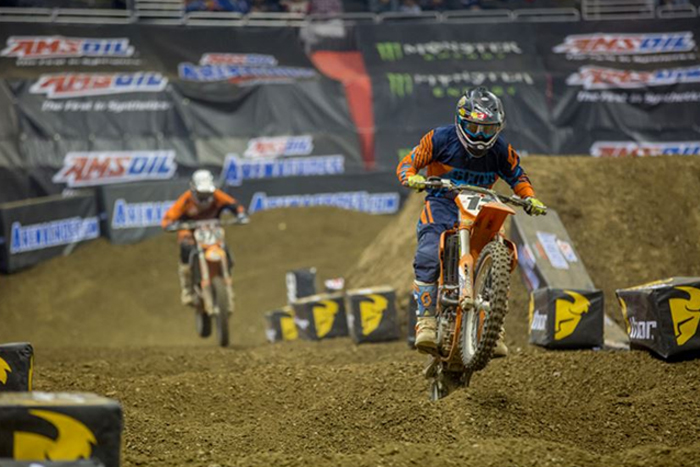 Ginofli teamed up with fellow veteran Willy Browning to field a two-rider team in 2015 with the support of Spinechillers Racing and College Hunks Hauling Junk.
Photo: Josh Rud / ShiftOne Photography
---