Back to News
B$Z: Interview with AMSOIL AMA Amateur National Arenacross Championship Contender Preston Zollers
March 20, 2015
The Ricky Carmichael Road to Supercross has established itself as a successful development program in AMSOIL Arenacross thanks to the success achieved by graduates like Aaron Plessinger, RJ Hampshire, Jordon Smith, Josh Cartwright and more in Monster Energy AMA Supercross, an FIM World Championship. In addition to the Road to Supercross, the amateur division of AMSOIL Arenacross is also producing top-level talent. This is thanks to the annual AMSOIL AMA Amateur National Arenacross Championships (ANAC) in Las Vegas, which pits the top amateur arenacross riders across the country against one another in the world's premier showcase of indoor amateur competition.
One rider well on his way to challenging for an AMA National Championship at Las Vegas' South Point Arena on May 1st and 3rd is Preston Zollers, of North Aurora, Illinois. The speedy seven-year-old has raced at four AMSOIL Arenacross races this season, highlighted by a pair of third-place finishes in the 50cc (4-8) Limited Class and the 50cc (7-8) Sr. Limited Class. Most recently, Zollers was invited to race at the Monster Energy Supercross race at Indianapolis' Lucas Oil Stadium on March 14th in the KTM Junior Supercross Challenge. He took full advantage of the opportunity and emerged with the biggest win of his young career in front of over 60,000 fans. With his confidence higher than ever, Zollers is now setting his sights on winning in Las Vegas at ANAC in three divisions - 50cc (4-8), 50cc (4-8) Limited and 50cc (7-8) Sr. Limited - which would earn him the coveted distinction of being an amateur national champion.
AMSOIL Arenacross caught up with Preston and his father, JR, to talk about the win in Indy, his goals at ANAC and possibly even a path to the Road to Supercross.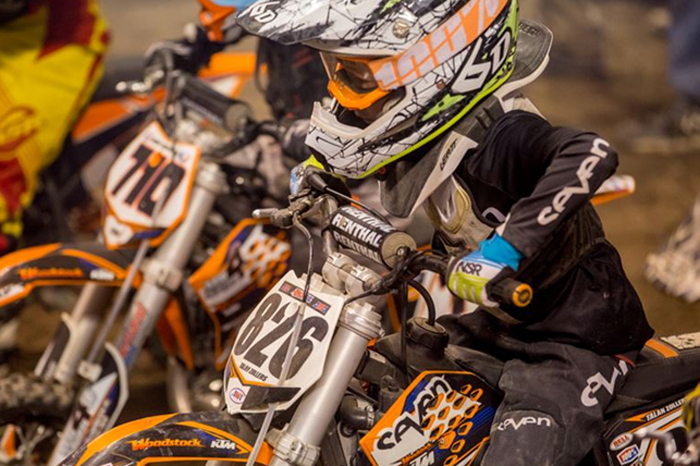 Preston (826) gets ready to launch out the gate at an AMSOIL Arenacross race earlier this season.
Photo: Josh Rud / ShiftOne Photography
Preston, lets talk about your big win last Saturday night!
JR Zollers (JR): What a race! Preston pulled the holeshot, but crashed on the second lap at the finish. Tyler Mann got around him and then on the last lap on the jump before the finish, Mann over jumped and Preston was able to capitalize on the little mistake, taking the win with not even a second to spare! The 60,000-plus fans in Indianapolis went nuts. We've been told by a lot of people that they thought it was the best KTM Junior Supercross race in history. As far as Preston is concerned, it still hasn't sunk in that he won last weekend!
How was your experience transitioning from AMSOIL Arenacross to Monster Energy Supercross?
JR:
Arenacross for us [50cc bikes] is similar to supercross. Supercross may be a little bit bigger of track, but other than that, the jumps, whoops and dirt are all similar and that was to our benefit.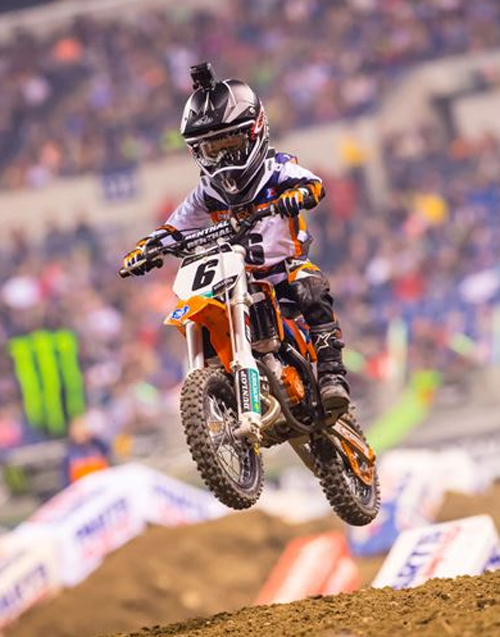 Preston on his way to victory last weekend at the KTM Junior Supercross Challenge in Indy.
Photo: Courtesy Simon Cudby / Monster Energy Supercross

Well congratulations on the win! It looks like now you will have two trips to Las Vegas this year!
JR: Yes, it will be a busy weekend in May racing with the pros [at ANAC] on Friday night. Then we get to relax and watch supercross on Saturday before coming back to race [at ANAC] on Sunday! We did ANAC last year too, but it was only on Sunday and only my older son, Talon, raced. It will be busy with both boys competing this year in five classes! We couldn't be more excited for the opportunity. We are also excited to now have qualified to race during the Monster Energy Cup in October!
What are Preston's goals heading into Las Vegas in May?
JR: After his big win in Indy, his confidence definitely went up. I have confidence both my boys will be doing well. My other son did the KTM Junior Supercross challenge a few years back and ever since that experience it changed his outlook and confidence on the track dramatically. I see Preston following in his footsteps. They ride together and on race day my older son gives Preston pointers. My youngest [Preston] follows his style and it works out really well that they compliment each other.
Preston, who is your favorite rider?
Preston Zollers (PZ): Ryan Dungey. I really like how he rides and how he is with all his fans.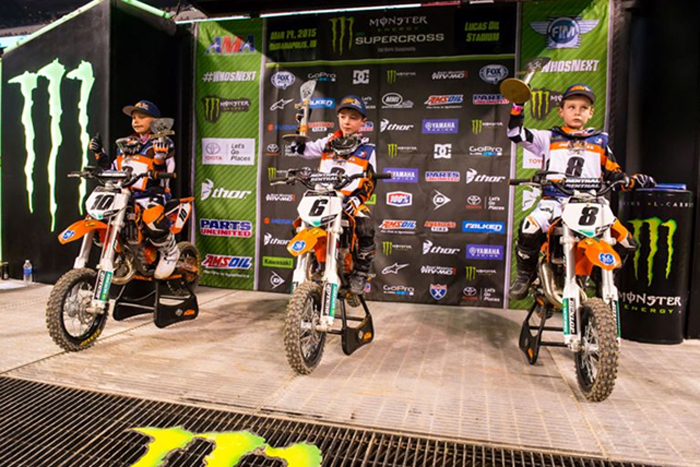 Preston (6) on the KTM Junior Supercross podium.
Photo: Courtesy Simon Cudby / Monster Energy Supercross
Where do you see yourself as a rider in 10 years?
PZ: I know I am still going to be racing. I love being on my bike.
JR: He sees arenacross and supercross in his future. He hopes the Road to Supercross program is still in effect when he is there because he loves arenacross, and if my boys are both racing arenacross for the next 10 years then they will be moving on to supercross no problem! We love the tight, technical layouts of indoor racing and that's what I think has gotten my boys where they are today in their riding and their results.
The 2015 AMSOIL AMA Amateur National Arenacross Championships will take place at Las Vegas' South Point Arena on the first weekend in May, bookending the final races of both AMSOIL Arenacross and Monster Energy Supercross seasons. On Friday, May 1, select classes will compete during the AMSOIL Arenacross Race to the Championship finale at South Point Arena, while the remaining divisions will take place during a loaded day of action on Sunday, May 3.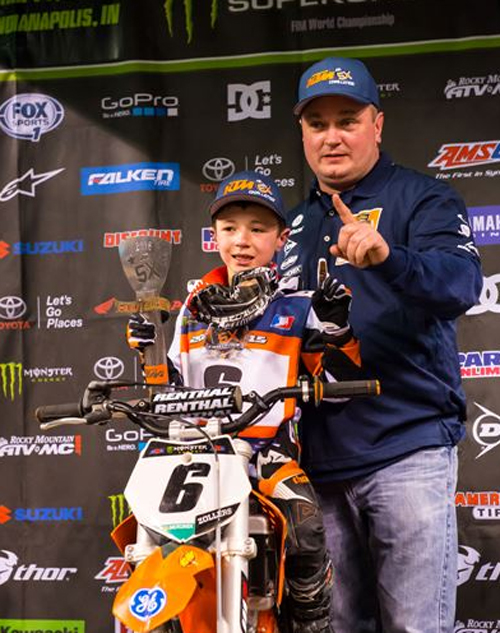 Preston and his father JR.
Photo: Courtesy Simon Cudby / Monster Energy Supercross
---