BACK TO NEWS
B$Z: Mountain Dew® Welcomes Trevor Colden as Newest Professional Skate Team Member
Mountain Dew
®
today welcomed Trevor Colden as the newest member of the Mountain Dew Skate Team. This news comes on the heels of Colden winning his first-ever Dew Cup after skating an impressively perfect run at the 2014 Brooklyn Dew Tour Toyota City Championships Skate Streetstyle event. Colden joins the ranks of an impressive list of DEW
®
team skateboarders including Paul Rodriguez, Sean Malto and more.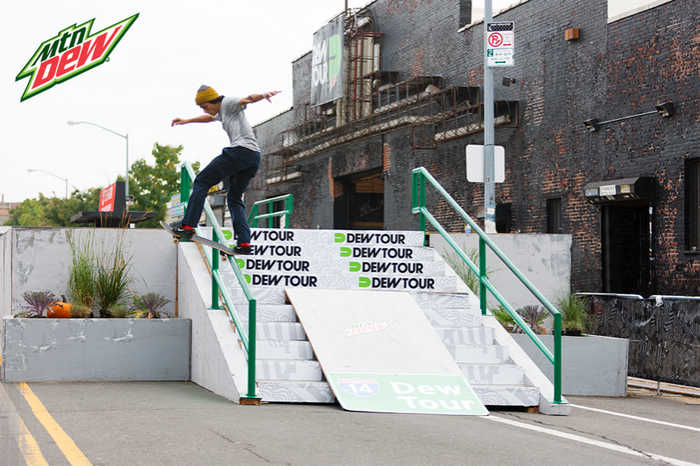 "Skateboarding is an integral part of DEW's efforts to drive progression within action sports, and adding Trevor to the skate team further reinforces that commitment," commented Greg Lyons, VP of Marketing, Mountain Dew. "His smooth riding style, deep passion for skateboarding and desire to push conventional limits truly exemplifies everything that Mountain Dew supports."
The 20-year old Virginia Beach, Va. native who now resides in Los Angeles, Calif. has quickly become well renowned within the skateboarding community. In addition to his Dew Tour debut and podium appearances at the 2014 Brooklyn Dew Tour, Colden's fearless and incredibly consistent skateboarding style has earned him multiple brand sponsorship opportunities, key parts in top skateboard films and even a coveted Thrasher magazine cover. Colden has a busy year ahead of him in 2015 as he prepares to compete in multiple skateboard competitions and film for several projects.
"I'm really excited to join the crew," said Colden. "Paul and Sean are my buddies and the DEW skate team is a great group of guys with a lot of talent. I'm honored to be among some of best skateboarders out there and to represent Mountain Dew while doing what I'm most passionate about, skateboarding."
Join the conversation at #ColdenXDew.
Follow Trevor Colden on Facebook, Instagram (@trevorcolden) and Twitter (@trevcolden)
Follow Mountain Dew (@mountaindew) on Facebook, Instagram and Twitter
---