Back to News
B$Z: AMSOIL Arenacross Interview of the Week: Race to the Championship Leader Chris Blose
March 26, 2015
In his first full season of AMSOIL Arenacross, featuring Ricky Carmichael's Road to Supercross, Team Babbitt's Monster Enegry/AMSOIL Kawasaki rider Chris Blose has experienced a little bit of everything in this highly competitive sport. With his dominant win last weekend in New Orleans, Blose seized control of the Race to the Championship and now enters the second stop of the six-round playoff battle in Austin, Texas, as the points leader.

Much like he did in the Race to the Championship, Blose kicked off the 2015 season with a win in Cincinnati, but he soon found out how harsh AMSOIL Arenacross can be thanks to a big crash at the second round in Grand Rapids. Since then he has worked through injury, even missing some races, in hopes of being completely healthy for the Race to the Championship and his run to potentially win the first title of his career.

AMSOIL Arenacross caught up with Blose, who says he is back at 100-percent health, to get his thoughts on his first year and his intention to stay on top of the championship standings.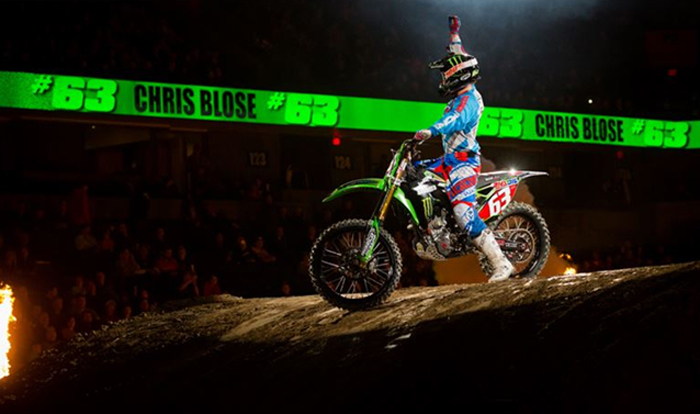 Blose has ascended back to the top of the AMSOIL Arenacross championship standings.
Photo: Josh Rud / ShiftOne Photography


Chris, lets just start this by saying this has been quite the season of ups and downs for you. Can you talk about your first full season competing in AMSOIL Arenacross?

Yeah, this season has definitely had a lot of ups and downs up until this point. In the second round I had a really big crash involving tuff blocks and it really bruised my back. Since then, throughout every weekend it was kind of like 'lets just get through the weekend, get as many points as I can, and go for wins if I can.' But until I was 100 percent again I didn't want to over do it. My main focus up until this point has been to get back healthy, stay up and put in solid rides. I am now all healed up and feel like I am 100 percent.

You mentioned earlier in the season[that], you have never had injuries in your entire career as bad as you have had this season. What keeps you battling through and continuing to race every weekend despite the injuries?

I never had a choice in my mind; I had to battle through. It is the Race to the Championship; I had to stay top 10 in points, which meant I still had to go out there and do the best I could. I mean, it was very painful and even to the point where I needed help getting on my bike, but it seemed as though once I was on my bike I was fine and ready to go for the most part.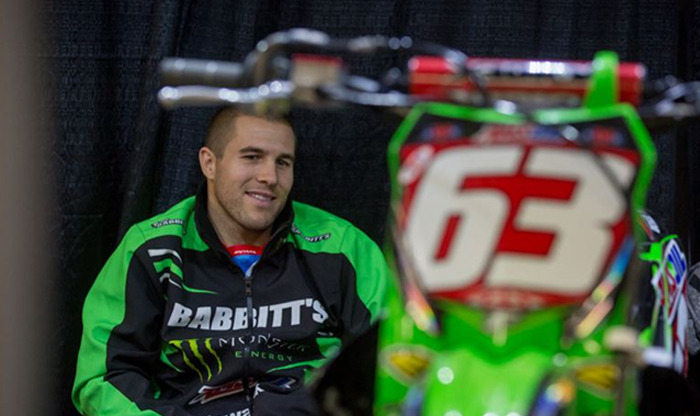 Blose held the red number plate, signifying the points leader, for one night after winning the opening round in Cincinnati.
Photo: Josh Rud / ShiftOne Photography
What were you feeling when you couldn't even get on your bike and you still had to race?
I mean, honestly going to the line and not being able to physically mount my bike on my own was a huge reality check that I could get hurt even more at any moment. To be able to go out and do what I love is awesome, but at the same time I was completely nervous because I didn't want to re-injure myself or get even more hurt. Yes, It was kind of a mental battle every weekend but in my mind ultimately I had no choice. I would say it was completely worth the risk because now I am where I want to be, fighting for this championship. For me, it may sound crazy, but I like pain, it pushes me harder and I feel like I have to man up and get the job done and fight through it. It makes me want to do better knowing I want to beat the pain and the competition. I know a lot of people would have folded and not raced after the injury that I had but it wasn't the case for me.
You started the Race to the Championship the same way you entered the season, with a win. What are you planning to change to keep things moving forward as the Race to the Championship continues?
I'm not changing a single thing. My mentality from day one has been to go out and win, and that's how I am going to continue. I have to take it race by race, but at the same time I am going there to win and obviously deal with the cards that get played out. But, I need to be consistent as possible and not do anything dumb. So I am always going out to win and be consistent.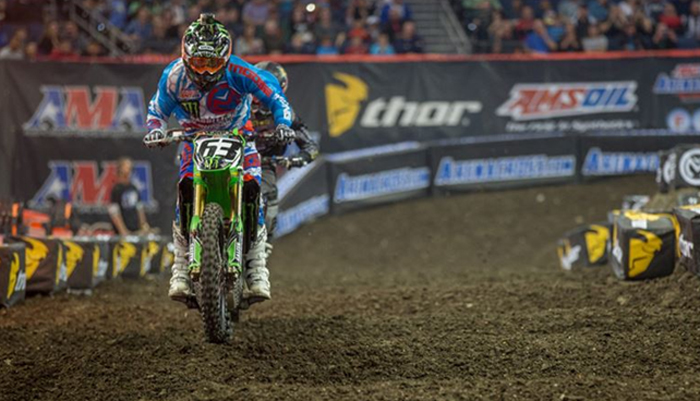 Blose will carry a three-point lead into the second round of the Race to the Championship on Saturday in Austin, Texas.
Photo: Josh Rud / ShiftOne Photography

What is your game plan to win the title?
I can't give out my game plan - it's top secret!
What makes you feel you are the most qualified to win this championship?
You ask any rider that question and their response will be they want to win the championship and they feel as though they deserve it, but in the end only one person can win it. I feel like with my experience, my speed and my determination, I can do it. I know what it's like to fight for something and have to push my way back to the top. Failing is not an option for me and I will do whatever it takes to stay on top now. I want this championship more than anybody and up until the Race to the Championship I had a lot of bad luck, but now I feel awesome on the bike. Everything is starting to click for me and I just really cant wait for these last five rounds. I feel like all of the unfortunate circumstances are behind me. Yes, I was in the wrong place at the wrong time before, but now it's my time to shine.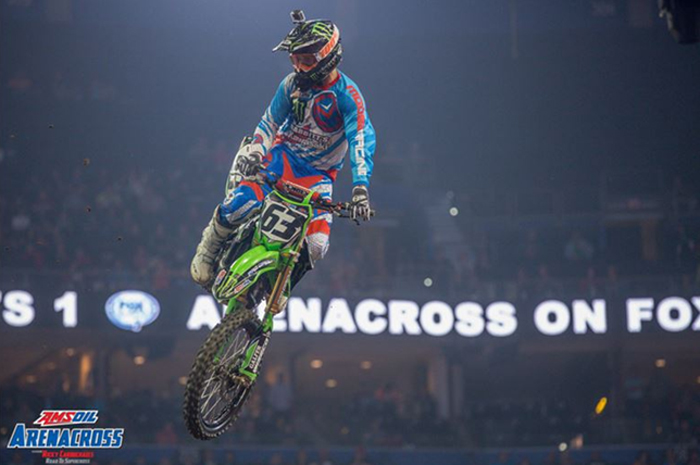 Blose has three overall wins to his credit this season, his first in AMSOIL Arenacross.
Photo: Josh Rud / ShiftOne Photography
---