Back to News
B$Z: Checking in with Road to Supercross Graduates: GEICO Honda's Jordon Smith
April 2, 2015
Since its inception, the Ricky Carmichael Road to Supercross has been an avenue for the most promising young riders in the world to hone their talents in a highly competitive, professional environment on extremely technical racetracks. Many of the future stars of the sport have achieved success during their time in AMSOIL Arenacross, but few have taken the path of recent Road to Supercross graduate Jordon Smith, who rides for the powerhouse GEICO Honda squad.
Smith embarked on a unique journey for the 2015 season, beginning the year in AMSOIL Arenacross as part of the Road to Supercross before making the transition directly into Monster Energy AMA Supercross, an FIM World Championship, for the Eastern Regional 250SX Class Championship. While in AMSOIL Arenacross, he was able to quickly learn the ropes of professional competition thanks to a full dedication to the premier Arenacross Class, which boasts arguably its most deeply talented field in history. Like any rookie, Smith endured some ups and downs but concluded his time in AMSOIL Arenacross with invaluable experience. Unfortunately a broken hand suffered while training for Monster Energy Supercross delayed his debut until the second race in Atlanta, the third stop of the Eastern Regional season. Since then Smith has continued to improve and has a season-best finish of fourth to his credit as the Eastern Regional 250SX Class Championship takes a break before its final race on April 25 in East Rutherford, New Jersey.
AMSOIL Arenacross caught up with Smith to talk about his unique 2015 season and how his experience in AMSOIL Arenacross helped his transition to Monster Energy Supercross.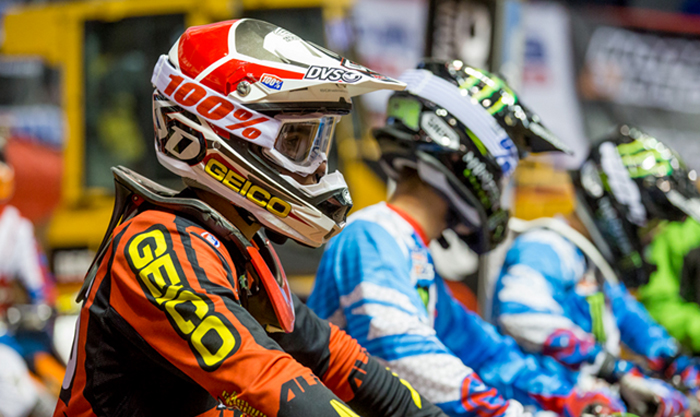 Smith has been very busy in 2015, contesting both AMSOIL Arenacross and Monster Energy Supercross.
Photo: Josh Rud / ShiftOne Photography

What were your expectations coming into the Road to Supercross program and AMSOIL Arenacross?
I really didn't know what to expect coming into the series, I have never done anything like arenacross before so I really wanted to come in and stay healthy and get the points I needed to get in order to get my supercross license and gain some experience while doing it.

What did you think of the competition? There were a record number of racers trying to qualify into the night show that first round in Cincinnati.
The competition was really surprising; I didn't expect it to be that intense and honestly it was really cool to see. Looking back at it now, it really helped me gain more experience having to battle with that many guys. There were a lot of really fast guys, which made it really tough to qualify for the night show, and then again for the Main Event. My points did not come easy that's for sure. I definitely had to work hard at it. All in all, it made it pretty challenging and exciting.
After your third Road to Supercross point (giving him his 250SX Class endorsement), did your thoughts on the program change? Would you have done anything different?
No not too much. I realized a lot of the guys are really fast and really good at what they do in such tight quarters, which I expected coming in. It was deeper competition than what I expected but it was really cool to do and gain that experience before going into supercross. I wouldn't have done anything different. My training was really good, I was healthy and I was feeling comfortable on the bike.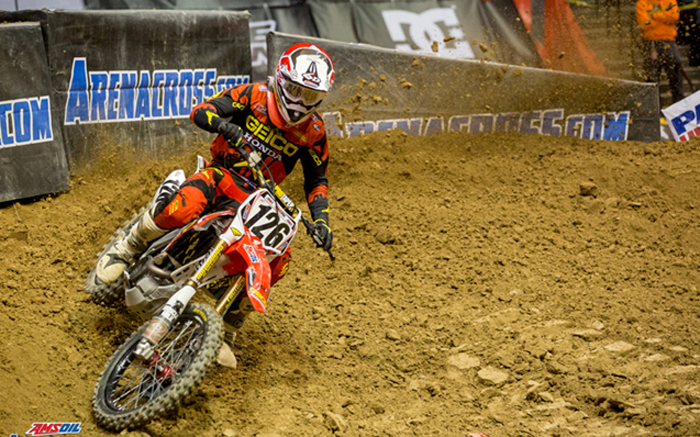 Smith completed the Road to Supercross by racing in Cincinnati, Grand Rapids and Nashville.
Photo: Josh Rud / ShiftOne Photography
What advice would you give to future Road to Supercross riders?
My advice would be not to take it for granted, like your going to go in, grab your point and leave. It is a lot harder than that. Be ready going into the program and don't go into it expecting it will be easy.
After completing your third round in Nashville, you began training for your supercross debut in Arlington, Texas. However, your plans shifted a little after a crash. What happened and how did you feel fighting to get healthy enough to ride again?
After Nashville I started training for Arlington and I had a practice crash a week and a half before the race, in which I ended up breaking a bone in my hand. At that point my mentality shifted from training for Arlington to getting healthy as soon as I possibly could and getting out there to race. I missed the first two rounds, came back for the third, and clearly I was neither ready nor 100-percent. It did not go how I planned. I came home from that went back to work and we changed a lot of things. Since then I have made a lot of improvements and gained a lot of experience out there, which I am building on every weekend.
How has the transition been from arenacross into supercross?
It was pretty tough at first because during arenacross I felt really good, I was 100-percent healthy. I felt it actually boosted my confidence heading into supercross. Then after that crash coming into supercross, I obviously was not at 100-percent, pretty far away from it actually. I still decided to get into supecross as quick as I could just to learn the ropes, put in laps, make Main Events, and work to improve and progress every weekend. I feel like I have done just that. I feel more comfortable and better every weekend and hopefully I can use all this experience I am learning this year and apply it to next year's season of supercross.
What learning experience from AMSOIL Arenacross did you take with you onto Monster Energy Supercross?
I think the Road to Supercross program helped me a lot. It helped with some of the tighter racing. There was a couple of times in arenacross where I left the inside line open at the beginning of the race and gave away positions because of it, so I can honestly say I have learned to protect my lines, trying to put myself in the inside of the corners so no one can come up on the insides and take my position. I think that's where arenacross helped the most, working to protect my lines and not let someone pass me.
What's next for you?
Right now during this break I will be doing some outdoor testing and getting ready for the outdoor season since we are nearing the end of supercross. I will shift my focus over to that during this break, then switch back into supercross, hopefully ending that strong and heading into outdoors with a little bit of momentum. I think motocross comes a little bit more natural to me, so hopefully I have a strong season outdoors and continue that on to training and prepare for the 2016 season of supercross.
Speaking of Las Vegas, what do you think of the AMSOIL Arenacross racing that has been going on since you left, especially since the points reset for the Race to the Championship? Will you be coming out to watch the arenacross finale on Friday night?
I think it is really cool having the finals in Las Vegas the night before supercross. I made a few relationships with the guys in arenacross when I was there and I definitely want to come and support them and watch the final race. I have been keeping track of what has been going on and the competition is close, especially after the points reset. There are a lot of guys that could win and I think it will be quite the show in Las Vegas.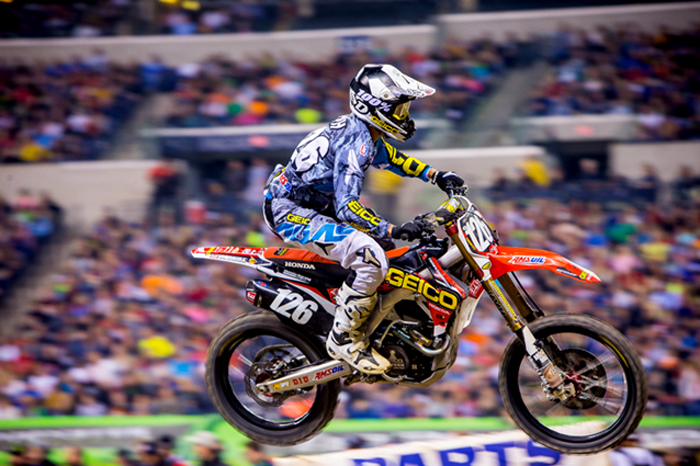 Smith made his Monster Energy Supercross debut at the second race in Atlanta, following a brief delay due to injury.
Photo: HoppenWorld
---