BACK TO NEWS
EVENT: SheShreds.co Partners with Flowrider Bringing Another Epic Ladies Night Program for Females
Gina Duffy, the CEO of SheShreds.co and her team sponsor and lead a weekly ladies night offering each Wednesday at Flowrider, UT. As the series kicks off with an eight week learning and progression program, Professional Flow boarder, Denise "Dee" Spencer will provide coaching and direction on the female only wave section in a jam format. Raffles, music and fun will round out each week with a $15 ticket for all ladies and girls from 6-9p. All ages and abilities are welcome but you must be 42" tall to ride.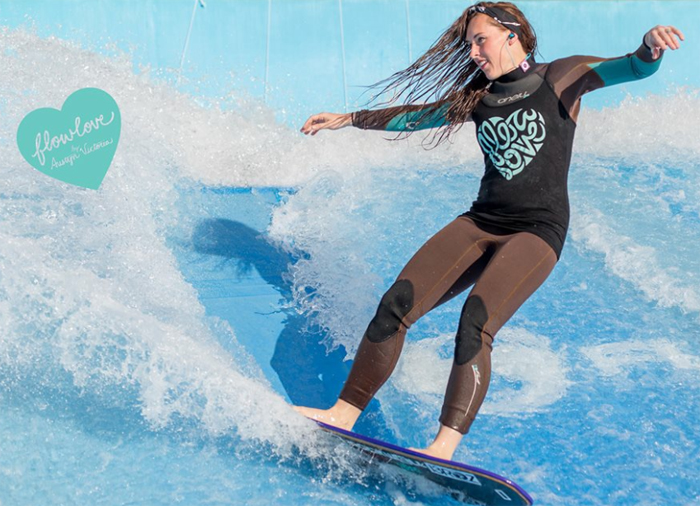 After the strong attendance of the ladies night series for ski and snowboard at Powder Mountain this winter, the Sheshreds.co mission moves forward this spring to get more girls out there shredding and to build community around action and adventure sports.
"The Flowrider Ladies Night series was a no brainer after Pro Flowboarder and our team athlete Denise "Dee" Spencer brought the idea up during our winter program at Powder Mountain. We were able to pitch the idea to Flowrider, UT General Manager, Shaun Hancock and he agreed it was a good idea and good for the sports growth. It is a great sport all by itself with lots of opportunity and a perfect mud season activity to compliment your wakeboard, wakesurf, snowboard or skateboard skills and stay fit. I have not tried it yet due to a snowboard injury so I am stoked to learn along with all the other girls during the series." Says Duffy.
"I saw great potential in helping grow this sport I am passionate about by providing coaching and support each week for the series. I want to grow the competitive ranks of women and girls in Flowboarding and just get more girls on the wave. It is addicting and so fun!" added Denise "Dee" Spencer.
The Ladies Night series at Flowrider, UT runs April 8 through May 27 each Wednesday with support from Powder Mountain Resort www.powdermountain.com , Club Rec www.clubrecnorth.com and www.all-actionsports.com providing raffle and competition prizes and promotion.
---