Back to News
B$Z: Checking in with Road to Supercross Graduates - Yamalube/Star Racing Yamaha's Aaron Plessinger
April 13, 2015
The Ricky Carmichael Road to Supercross has proven to be a breeding ground for the most promising young riders on the planet. With deep competition and unmatched intensity, AMSOIL Arenacross is an ideal platform for rising stars to hone their talents and since its inception, no Road to Supercross rider has enjoyed more success in arenacross than Yamalube/Star Racing Yamaha's Aaron Plessinger.
Plessinger was a revelation during his time in AMSOIL Arenacross. He remains the only Road to Supercross rider to earn an overall victory in the Arenacross Class and the Arenacross Lites Class, and due to that success he has transitioned well into Monster Energy AMA Supercross, an FIM World Championship, during the 2015 season. Through six races in the Western Regional 250SX Class Championship, Plessinger has a career-best finish of third in his rookie season and currently sits sixth in the point standings.
AMSOIL Arenacross caught up with Plessinger to talk about his transition to Monster Energy Supercross as the Western Regional Championship prepares to return from its midseason break on Saturday night in Houston.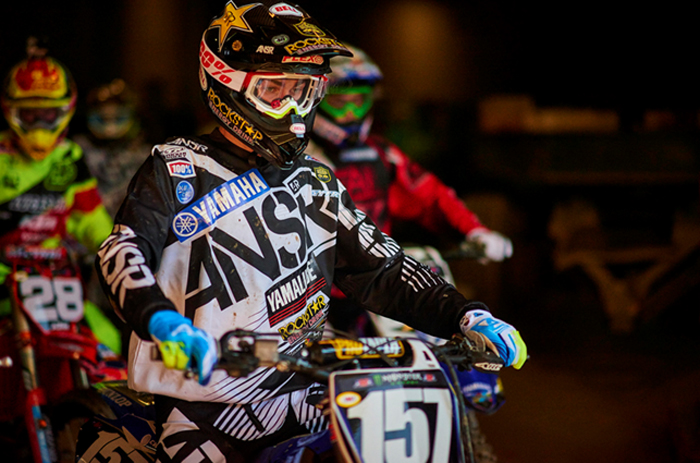 Plessinger is in the midst of his rookie season of Monster Energy Supercross competition.
Photo: HoppenWorld
With the Western Regional 250SX Class ready to come back from its midseason break, talk to us about how your rookie Monster Energy Supercross season has gone thus far.
My season so far has been pretty great for the most part. I've been battling with guys that I looked up to when I was a little guy. It's been a learning experience for sure, but I've had fun doing it so far.
What has been the biggest lesson you've learned this season in order to be successful in supercross, whether it be on or off the track?
The biggest lesson I've learned has been to worry only about yourself and what you're doing. If you're doing the right things and keeping in your lane, then you can be successful. Once you start putting your focus on anything but you, then you won't be as good as the guys that are doing it right.
Did your experience in the Road to Supercross help prepare you for supercross? In what ways?
I think it did for sure. Racing in arenas, getting all the fans and cameras in your face, aggressive and fast-paced racing. I mean it is similar to an extent, but not any less of a challenge. I think I took a lot from arenacross and put it towards the way I ride now.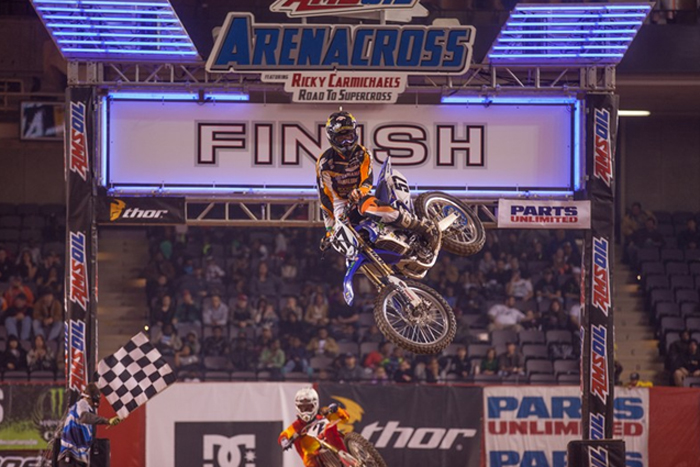 Plessinger captured an overall win at the Baltimore stop of AMSOIL Arenacross last season and remains the only Road to Supercross rider to do so.
Photo: Josh Rud / ShiftOne Photography


What aspect of your experience in AMSOIL Arenacross has been most applicable to supercross?
The aggressive sprint-racing style is the top thing I took from arenacross. From the start of the race you have to get off the gate and go or else you're going to get left behind. The same can be said for supercross.
Can you help us understand the similarities and differences between AMSOIL Arenacross and Monster Energy Supercross from a rider's perspective?
The similarities of the two are that the racing is the same style with sprinting, having to get good starts, big whoops and having to time your jumps. The differences of the two are that in supercross the tracks are longer, the racing is longer and the tracks are in stadiums. In arenacross the tracks are short, it's very tight racing, there are two Main Events and there are only eight gates, so there are two rows of guys in the Mains.
What is your goal for the remaining 250SX Class races and what do you think it will take to accomplish it?
My goals for the remaining races are to be on the podium. I think I've done the work and I have the speed. I need to get the starts and then the rest is up to me. It's going be hard, but as long as I keep my cool and ride like I know how, I know I can be up there.
If you could give a valuable tip to any current or future Road to Supercross riders, what would it be?
Get ready for some fast paced, rough racing with big whoops and rhythms. Get those sprint laps down before you go, because it's going be too late if you go in unprepared.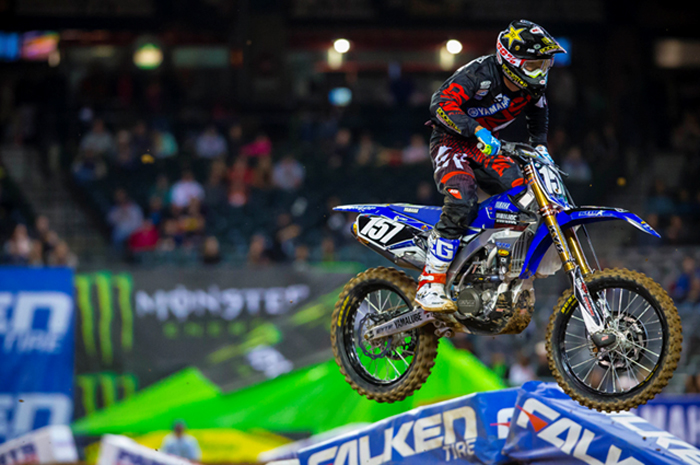 ---