Back to News
B$Z: AMSOIL Arenacross Interview of the Week: Motosport.com/Haeseker Racing KTM's Gared Steinke
April 20, 2015
Gared Steinke has been a fixture in AMSOIL Arenacross, featuring Ricky Carmichael's Road to Supercross, for the last few seasons and while he's one of the top riders in the championship, surprisingly he had never won an Arenacross Class Main Event. All that changed last weekend in Spokane, Washington, when Steinke took advantage of a full field inversion for the second of two Main Events at Spokane Arena and led all 15 laps of the race to earn his first premier class victory.
Steinke is one of the 10 riders competing for the title in the Race to the Championship, which serves as the ultimate showcase of the sport's elite competitors. The California native currently sits ninth in the championship standings, 28 points out of the lead, but with the win to his credit he now has more confidence heading into the final three rounds of the season. He's also one of just four riders to win one of the six Main Events thus far in the Race to the Championship.
AMSOIL Arenacross caught up with Steinke to talk about his breakthrough win and how he plans carry that momentum from the victory into a strong finish to the 2015 season.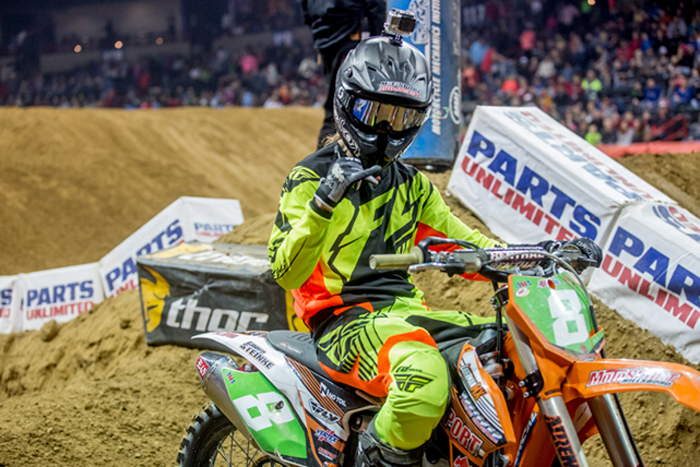 Steinke has enjoyed a strong 2015 season.
Photo: Josh Rud / ShiftOne Photography

Congratulations on the first win in your career! What a huge moment for you Saturday night.
Yeah, thanks! It was the first Main Event win of my career, I am super-happy. I had a great start, stayed out of all the carnage and just had a great race. It is still so unreal for me. I am so amped; I cannot wait to do it again!
Every year you are progressing in your results. To what do you attribute your continued success every season?
The success and progress comes from working hard. It shows week in and week out when you are not working hard, and when you get 16-16 [results] obviously what you did the previous week didn't work, so go ahead and change it up. I'll even go ahead and change it up myself sometimes even if the results are good just to challenge myself. I think having some variety and keeping things exciting in my training is an attribute to my success.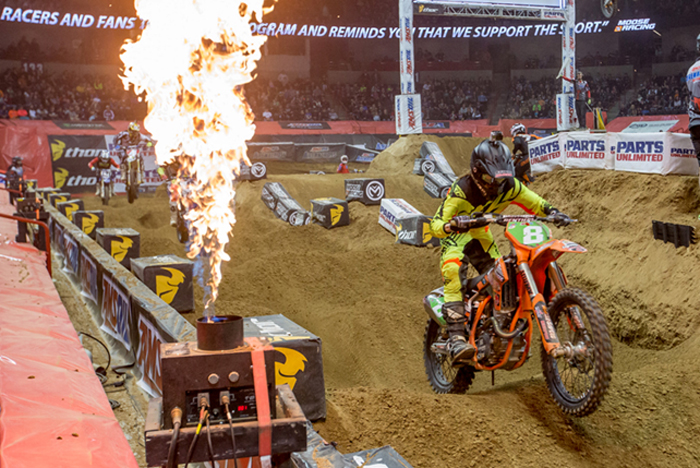 Steinke en route to the first Main Event win of his career in Spokane.
Photo: Josh Rud / ShiftOne Photography


We are on the west coast for rest of the season. Will that work to your advantage over the final three rounds? What are you looking forward to?
I love the Pacific Northwest (PNW). Every single time I race in Washington or Oregon I do really well, even in California. I don't know what it is about the west coast, whether it is the dirt, people, fans or the arenas. I always do well in the PNW so I am stoked for the last couple of rounds!
What does this win from last weekend do for your confidence going into the last couple of rounds? What is your game plan?
It boosts my confidence a lot. It lets me know I can win. The first win is always the hardest one and they always say the first one is always luck, which means I'm going into this weekend with a lot of focus and determination. I want to back up my win more than anything, not just for myself, but to also close the points gap and get my sponsors on the podium. I want to keep the confidence building until Vegas!
Who would you like to thank for helping you out this season?
I can't thank these guys enough for all their help and support this season - Motorsport.com, Motorsport Hillsboro, Haeseker Racing, Fly Racing, Lauerman MX, AIREMX Suspension, Yoshimura, Scott, Mika, Luevanos Racing, Ankle Savers, No Toil and Vertex Pistons.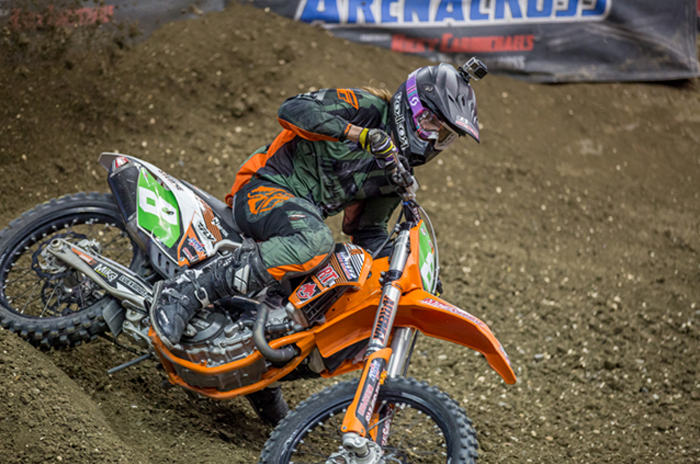 Steinke currently sits ninth in the Race to the Championship with three rounds remaining.
Photo: Josh Rud / ShiftOne Photography
---