BACK TO NEWS
Industrial Profile
4/20/2015
Bruce Moore - VP of Innovation at Hurley
Bruce Moore's career began in industrial design where his first job was designing wetsuits. Now, as the VP of Innovation at Hurley, Bruce has been a large part of the design team responsible for some of the most innovative products in the surf industry. Here, he humbly discusses his career path, his design process, and how much athletes really influence the products.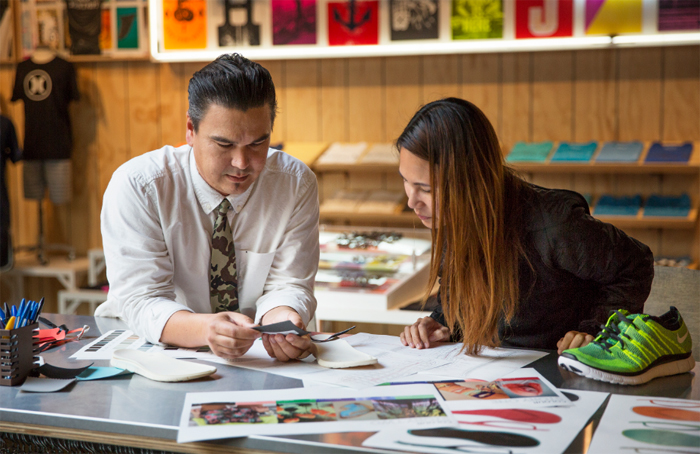 You are a phantom on social media. Why?
Haha. No reason. Just old school I guess. I spend ample time behind a computer for work, so when I am not behind a screen, I prefer to physically spend time with family and friends instead of virtually. Social media is a great way to keep in touch, build your career/exposure, and make new contacts. I am just at the point in my life where time is best spent elsewhere.
You joined Hurley as a staff level designer and now are the VP of Innovation. What about you and Hurley together enabled this growth?
It was a perfect match. Companies are like people, and it is important to have a symbiotic relationship with the same ambitions and goals for both parties. My background is industrial design and my first job was designing wetsuits, which led me to technical apparel. Hurley has a strong focus on performance and innovation, which is consistent with my passion and skillset. It was these core values that allowed me grow and prosper here at Hurley.
What is your favorite product you designed at Hurley, so far?
With any design, there are teams of people involved, so I prefer not to take credit for any one single design. I have had the good fortune to be a part of many exciting projects and work with some of the best in the business. My favorite product would have to be what is yet to come. I am excited every single day to work on products that have potential to change the landscape of a category. I can look back on products that I am proud to be a part of, but what really gets me going is the future of product. The unknown. The accolade that anything is possible.
From where do you draw inspiration for your designs and product innovations?
It all starts with the voice of the athlete. To truly design and innovate, we need to find solutions to real world problems. Athletes offer us the insight to solve or elevate these scenarios. Not just today's trends, or marketing stories. Once we identify an insight, we look to all industries that excel in this area. It is not uncommon for us to research automotive, footwear, consumer electronics, outdoor, etc. industries for the latest in technology that can be applied to our products.
Bruce in 2007 for Malakye's 5th year anniversary celebration Powered By People photo exhibit


How do you involve athletes in the design process?
Athletes are involved in every step of the design/development process. For us, athletes are not just marketing vehicles. They spend an immense amount of time in the product, engage with hundreds of our target demographic on a daily basis, and their peer group is the highest echelon of the surf community, so we view athletes as the ultimate consumer. Not just marketing. Their insight drives every aspect of the performance product we put on the rack.
How much influence do the athletes have in the final product?
It is a partnership and they have a tremendous influence on the final product. We want them to be able to perform at the highest level, and if a product does not allow them to do so, it does not make the line. In turn, they have great product ideas that we tap into. Not only do they influence the final product, but they spark initial product ideas from the onset.
What was your involvement in the Phantom boardshort project?
I am fortunate enough to be on the team that designs/develops all Phantom Products. The original Phantom was really quite insightful, and set a path of performance and innovation for the boardshort category. At the time, multimedia was all the rage and there were embroideries over panels, silkscreens over embroideries, with heavy stiff fabric meant to last a lifetime. After speaking with our athletes, we felt that the current state was the opposite of performance. We then designed a boardshort that was incredibly light, had amazing stretch, and water repellent. That product created the blueprint for everything we do. Performance is the #1 priority, and the litmus test of products we brand Phantom.
How did Hurley evolve the boardshort market with the waistband of the Fuse 2 in 2013?
The point of view actually started in 2011 with the Phantom with Nike Flywire waistband. The waistband is the only part of the boardshort that actually touches the body, so our goal is to make the waistband stretch and move with the body, rather than against it. The premise of our waistbands is biomimicry. Have the component mimic how the body moves. The Phantom Fuse 2 was based on this premise, and Fuse technology allowed us to make the waistband lighter and more dynamic. Now we have evolved this concept to the Livewire waistband. The construction incorporates a cable that is completely free floating in an embroidery tunnel. It is literally alive and moves as you move, while still providing the structure necessary to stabilize the garment to the body.
How do you continue to keep yourself and ideas fresh?
By surrounding myself with creative, talented, passionate people. This is an environment that pushes me to be my best. Also embracing life and all that it brings. Things change every day, and making sure I am out there, and exposed to everything possible keeps me fresh.
What excites you most about your work in the future?
I am most excited about the future of the sport of surfing and how our work can push the sport forward. Surfing is at a turning point, where coaches, trainers, nutritionists are more and more common. The level of performance is higher than it ever was, and the goal with our products is for them to perform and enhance that level of surfing.
---