Back to News
B$Z: IASC and ISHOF Announce Icon Award Recipients for 2015 Skateboarding Hall of Fame
April 22, 2015
The International Assn. of Skateboard Companies (IASC) and the International Skateboarding Hall of Fame (ISHOF) are proud to announce this year's Icon Award recipients for the 6th Annual Skateboarding Hall of Fame: Steve Van Doren, James O'Mahoney and Tracker Trucks. The Skateboarding Hall of Fame will be held during the IASC Summit on May 14 at the Westin South Coast Plaza Hotel in Costa Mesa, Calif.
Created in 2009, the Icon Awards celebrate industry pioneers and cultural icons who have left a permanent imprint on the history of skateboarding and our culture throughout the years. The Icon Awards are voted on by the IASC Board of Directors.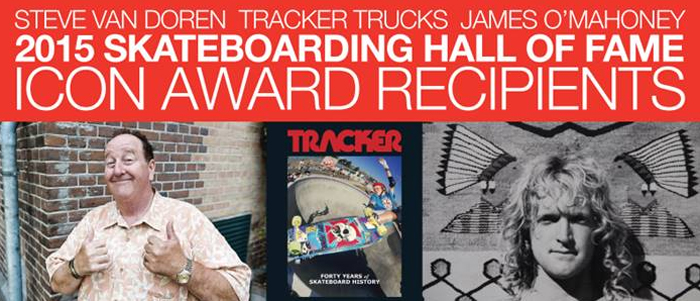 This year's Icon Award goes to three hugely deserving candidates:
Steve Van Doren
Steve starting working for Vans at the age of 10. The one thing that Steve's father, Paul Van Doren, drove home with his kids: that to be successful, they had to be more passionate and work harder than their competitors, and no one has more passion and loves their job more than Steve Van Doren. As the vice president of events and promotions and unofficial ambassador of fun for Vans, Steve spends nearly 40 weeks a year on the road, including a grueling non-stop stretch each summer traveling with the 48-city musical sideshow, the Vans Warped Tour. Whether it's a legends skateboarding competition, a concert at the House of Vans or a live mural painting, it is Steve's calling to deliver events that the young at heart everywhere can enjoy. Through these events and his dedication, Steve continues to be a longstanding supporter of the skateboarding industry. His father's philosophy was that it was the people who made Vans special, and under Paul's leadership, that's as true now as it was in 1966.
James O'Mahoney
James O'Mahoney has been a major influence in surfing and skateboarding over the last six decades. He founded both the United States Skateboard Association and the later World Skateboard Association. Additionally he was the publisher of Skateboard in 1975, which became the first skate magazine of the modern era. James also organized the infamous Signal Hill Downhill races of 1975-78 and 2004's Highest Wall Ride competitions. Both of the aforementioned events were the first of their kind and were sanctioned by the Guinness Book of World Records. As a sponsor he supported a numerous other early contests, and his Skateboard Magazine team included such legendary individuals as Tom Sims, Russ Howell, Leroy Grannis, James Cassimus, Laura Thornhill, Kenny Means, Waldo Autry, Steve Monahan and Gordy Lineman. O'Mahoney's photographic skills have been featured in Newsweek, Time, Life, Sports Illustrated and on CBS Sports. James founded the Santa Barbara Surfing Museum in 1992 and became the WSA West Coast Surfing Champion in 1993.

Tracker Trucks
Tracker set the bar in skateboard truck design in 1975 that everyone followed – and still do – the Tracker truss design and four hole mounting pattern is used by almost every truck company on the market. Tracker Trucks was designed by skateboarders, R&D'd by skateboarders and has always given back and supported skateboarding every step of the way. This year marks a big milestone for Tracker Trucks, as they celebrate the company's 40th anniversary. To commemorate the occasion, they are publishing a book called TRACKER- Forty Years of Skateboarding History, it's 400 pages filled with just about every iconic skateboarder.
Previous Icon Award Recipients: CR Stecyk, Larry Stevenson, John Humphrey, Frank Nasworthy, Glen E. Friedman, Black Flag, NHS, Devo, Warren Bolster, Fausto Vitello, Pipeline Skatepark, J. Grant Brittain

This year's Skateboarding Hall of Fame inductees include: Brian Logan (1960s), Henry Hester (1970s, Era One), Duane Peters (1970s, Era Two), Neil Blender (1980s, Era One), Chris Miller (1980s, Era Two), John Cardiel (1990s), and three women – Robin Logan (1970s), Cara-Beth Burnside (1980s), and Elissa Steamer (1990s).
Previous (ISHOF) Inductees: Bruce Logan, Torger Johnson, Danny Bearer, Tony Alva, Stacy Peralta, Jay Adams, Tony Hawk, Steve Caballero, Mark Gonzales, Danny Way, Eric Koston, Bob Burnquist, Patti McGee, Peggy Oki, Woody Woodward, Tom Sims, Alan Gelfand, Rodney Mullen, Christian Hosoi, Wendy Bearer Bull, Laura Thornhill Caswell, Gregg Carroll, Jim Muir, Steve Olson, Lance Mountain, Natas Kaupas, Laurie Turner DeMott, Ellen Oneal Deason
The Skateboarding Hall of Fame and Icon Awards ceremony will be held at 7:45 p.m. on May 14. The night will include a Happy Hour at 5 p.m., followed by a Vans-sponsored VIP meet-and-greet and dinner at 6 p.m., which will lead into the Awards Ceremony. All proceeds benefit the not-for-profit efforts of the Skateboarding Hall of Fame and the Go Skateboarding Foundation's Just One Board initiative. The Skateboarding Hall of Fame Awards ceremony sold out last year with more than 400 attendees. Both the Skateboarding Hall of Fame and IASC Skateboarding Summit are open to the public through the registration links below.
All attendees of the 2015 IASC Skateboarding Summit will receive a complimentary General Admission ticket to the Skateboarding Hall of Fame event. If you'd like a VIP admission, please purchase your ticket through the event website below.
For tickets to the Skateboarding Hall of Fame, please visit: https://2015-shof.eventbrite.com
For information on registration for the 2015 IASC Summit, visit: http://bit.ly/2015-iasc-summit
For registration questions, please contact Jardine Hammond: [email protected]
---