BACK TO NEWS
Industrial Profile
4/27/2015
George Trelut - National Sales Manager at Alpinestars
George Trelut is passionate about Alpinestars which has led to his continued success as the brand's National Sales Manager. Being in a sales role presents a much different routine than a normal 9-5 job, but George has it dialed! He gave us a quick look at his role, how he stays organized, and his best advice to being a great sales representative.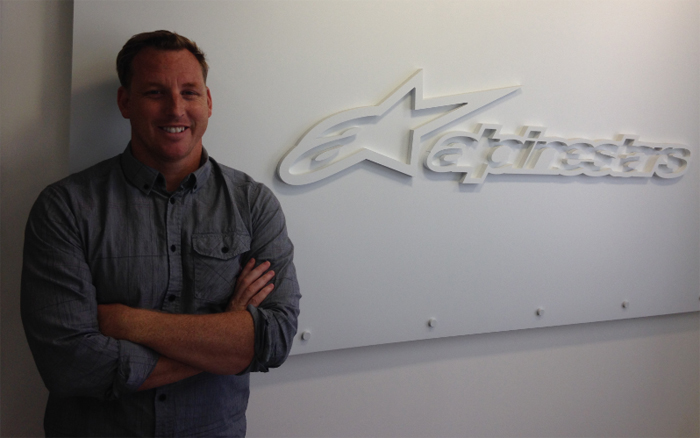 Describe your role at Alpinestars.
For the past 2 years my role at Alpinestars has been National Sales Manager for Men's clothing. I oversee sales from majors to specialty retailers. This includes a sales rep force that covers the U.S. along with inside sales people. Besides that of course I am involved with all the trade shows.
What does a typical day look like for you – is there even such a thing?
Everyday is very different due to the fact that we have so many great things going on with the brand especially on the clothing side. Besides the action sports based line for that particular distribution, we have the more contemporary line for customers age 25-40 with style and materials in line with the Alpinestars brand. This has been going exceptionally well: the price points are higher but the products are right for the consumer that wants the Alpinestars brand and this has been very successful.
Currently we just finalized product meetings that consisted of our design and development managers, sales mangers from across the globe, communications people and company management. Next I'm on the road to Hawaii, Seattle and Las Vegas to visit retailers and reps.
What is the biggest hurdle of "life on the road"?
Not being able to be at two places at once. It's tough at times but at the end of day you must always be prepared and organized. Also if you have a good team that surrounds you it makes it a lot easier.
What is the most exciting part of your job?
Seeing how much the brand is appreciated and to see the company's continued development. We have such a professional staff from sales, communications, operations, accounting, production, and design. Every employee at the company is so committed and dedicated it makes you want to work even harder. When deadline or goals need to be met you really see our people go out and operate at their best.

Another exciting part of my job and that I'm a part of is all the avenues that our brand touches such as Formula 1 racing, Nascar, Supercross, Surfing, Moto GP, X-Games. Not only going to these events is great with retailers but when you see your brand on national television that is just as exciting as well.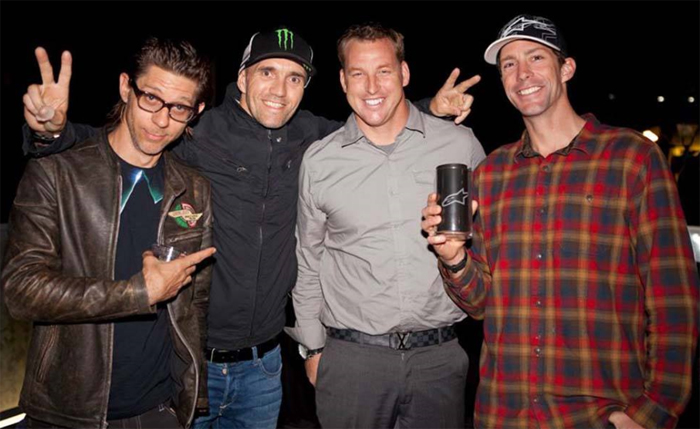 50th Anniversary party for Alpinestars: (from left to right) Atom Willard drummer for Against Me and prior bands Offspring and Social distortion, Jamie Bestwick X-Games gold medalist for BMX, myself & Travis Pastrana X-Games medalist.


What is your best piece of advice for those looking to get into sales?
Need to learn how to "dial for dollars" and what makes you more hirable than the next person. I interview people all the time and look for the people that want good challenge and aren't afraid if they fall off that bike to get back on it again.
How do you balance managing your sales team and tracking sales for the company?
It's not easy but I break down my year to month to week to day to hours. Honestly you need to be on a tight schedule as your sales team depends on you to lead. In regards of tracking sales for the company I have great in-house support and they provide me with the valuable reports I need. These reports I breakdown with my upper management team and reps at the same time we discuss what is working and what's not.
What is the most important quality to possess for a career in sales?
First of all, work for a brand with great values that represent something strong that really attracts the consumer. Then you need to listen to your accounts. You need to focus on your customer or the team that surrounds you. Remember it's not about you, it's about the brand and the product that you represent and it's about your customers needs, expectations and wants. There's a reason why we have two ears and one mouth…. Just listen first.
How do product, brand, and region impact your sales strategy?
Where do I start? For the brand part, we have one of the most recognizable brand and logo in the world. I do travel internationally and it is amazing how well-known the Alpinestars logo is everywhere I go and how much it means to people, same thing domestically from coast to coast. Then we have the product part: Alpinestars has built the best product for riding for over 50+ years (yes 50+ years that's true heritage) with true technology, just think about what the company does in Formula 1, or with the motorcycle airbag jacket that deploys in milliseconds if needed. But Alpinestars has always represented style as well, from the coolest motorcycle jackets to what we are doing in men's apparel and women fashion. We have always combined innovation with style, taking the technology heritage to apparel like our 8 way boardshorts, to the fabrics we are using on some of our upcoming collections.
With branding from lifestyle celebrities and the majority of motorsports athletes that are so visible on TV, this impacts our sales and it shows that we have a sales channel for all retailers.
The brand is very diverse overall, but it always stand for the same principles: quality, style and innovation, in everything that we do.
---