BACK TO NEWS
EVENT: Denver's David Reyes Shreds Woodward Copper
Woodward Copper is excited to announce that David Reyes will be a guest at skateboard camp this summer. From his notably beautiful front crooks to his friendly personality, there is a reason David Reyes is sponsored by some of the coolest brands in skateboarding like etnies, Spitfire, Thunder, Eswic and Colorado's 303 Boards skate shop. David is a skateboarder that is down to teach campers how to shred any type of terrain. Watch this video to discover David's favorite things about skateboarding in Colorado and see what it will be like to skate with him at Woodward Copper this summer:
From June 7-July 30, Woodward Copper's week-long Skateboard Camps are offering an experience no skateboarder would want to miss. In addition to the week with David, pro skateboarders Chad Bartie and Jordan Hoffart will also be visiting this summer. Click here to see the full summer 2015 Woodward Copper skate camp schedule.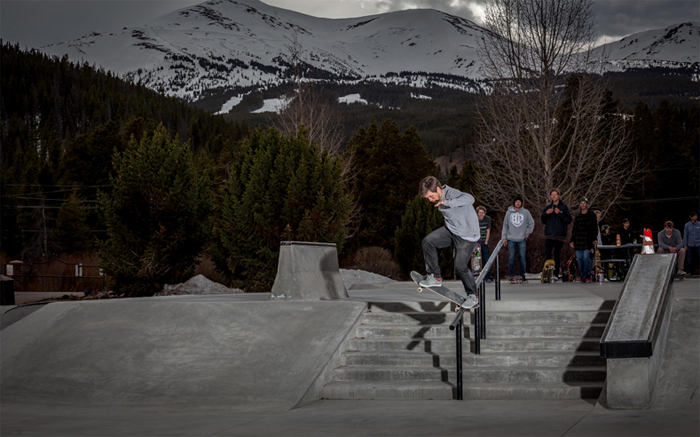 Photo credit for photo of David Reyes skating the nearby Breckenridge Park: Chad Otterstrom.

A day at camp includes free time in the Barn, ripping local parks in the surrounding communities, go-karting, zip lining, bumper boats and much more. Below you will find a tentative daily schedule for the skateboard camper:
8:00 AM Breakfast
9:00 AM Morning Instruction (Barn)
12:00 PM Lunch
1:00 PM Free Time / Copper Activities
2:00 PM Afternoon Instruction (Frisco, Breckenridge, Leadville)

5:00 PM Dinner

6:00 PM Open Session in the Barn / Cage activities
9:00 PM All Camp Activity
10:00 PM Room Check
10:30 PM Lights Out
Campers can save $50 by booking before April 30 with discount code 10230. Click
here
or call 1-888-350-1544 for additional information or to register for camp.
For more information check out: http://www.woodwardcopper.com
Keep up with Woodward Copper at www.facebook.com/WoodwardCopper or @WoodwardCopper on Instagram and Twitter.
---