BACK TO NEWS
EVENT: Top Pros to Skate the Sheckler Foundation's 6th Annual Skate for a Cause, Presented by etnies
The Sheckler Foundation today announces its stacked lineup of skateboarders and sponsors for the 6th Annual Skate for a Cause taking place on Saturday, May 2, 2015 at the etnies Skatepark of Lake Forest. Free for individuals of all ages, the event will host games, prizes and food from the generous sponsors.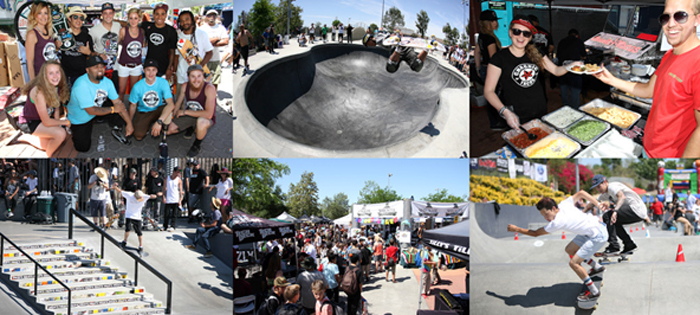 Confirmed pro and AM skateboarders for the 6th annual Skate for a Cause include:
• Aaron Astorga
• Dave Bachinsky
• Matt Berger
• Charlie Blair
• Leticia Bufoni
• Aiden Campbell
• Kurtis Colamonico
• Ronnie Creager
• Julian Davidson
• Ryan Decenzo
• Dave Duncan
• Eddie "El Gato" Elguera
• Yuri Fachinni
• Jim Gray
• Dave Hackett
• Eddie Hadvina
• Tyler Hendley
• Kelvin Hoefler
• Christian Hosoi
• Chris Joslin
• Greg Lutzka
• Trevor McClung
• Alex Midler
• Diego Najara
• Pat Ngoho
• Steve Olson
• Julian Padilla
• Eddie Reategui
• David Reyes
• Jeremiah Risk
• Mike Rogers
• Kevin Romar
• Fabrizio Santos
• Manny Santiago
• Tom Schaar
• Christian Sereika
• Kane Sheckler
• Ryan Sheckler
• Shane Sheckler
• Jamie Tancowny
• Tony Tave
• Bill Weiss
• Jeff Wright
For those that want front row seats to hang with the pros inside the skatepark, and support Ryan's "Be the Change" project, VIP tickets are available for a $50 donation here:.VIP Access to Skate for a Cause
Join us for your favorite event:
10:00 a.m. – 12:00 p.m. – Legends Bowl Practice
11:30 a.m. – 11:50 a.m. – Wheelchair Motocross Demo
12:00 p.m. – 1:15 p.m. – JAKKS Pacific Legends Bowl Contest
1:30 p.m. – 2:30 p.m. – Volcom SkaterCross Contest
2:45 p.m. – 3:10 p.m. – Red Bull Tech Center Best Trick Contest
3:15 p.m. – 3:40 p.m. – etnies Tranny Best Trick Contest
3:45 p.m. – 4:30 p.m. – Tilly's Stairs, Hubbas, Rails Best Trick Contest
4:30 p.m. - Awards
Confirmed sponsors for the 6th Annual Skate for a Cause include:
• etnies
• Tilly's
• Red Bull
• Volcom
• JAKKS Pacific
• CCS
• Ford
• Plan B
• Rastaclat
• Tech Deck
• UFC
• Woodward West
• Direct Edge Media
• Chronic Tacos
• Brown United
Skate for a Cause started in 2010 as a way for the Sheckler Foundation to raise resources and awareness to contribute to the many causes that directly benefit and enrich the lives of children and injured action sports athletes. The Sheckler Foundation's mission is to "Be the Change" and this year's Skate for a Cause is raising resources to empower people to do just that. Through its "Be the Change" program, the Sheckler Foundation will provide several organizations and individuals with financial grants and additional support with the money and resources raised at Skate for a Cause.

For additional details and information on the event and the Sheckler Foundation, please visit: shecklerfoundation.org,
Facebook: facebook.com/shecklerfoundation ; LinkedIn; Twitter: @SheckFoundation; Instagram: @ShecklerFoundation
The Sheckler Foundation would also like to thank the Wasserman Foundation for their ongoing support.
---