BACK TO NEWS
EVENT: Ride at Woodward Copper with BMX Pro Dan Nielsen
Woodward Copper is excited to welcome Pro BMX Rider Dan Nielsen to the 2015 summer camp. With a relaxed style and a love for transitions, the Colorado local will be providing campers with tips on how to shred the bowls, park and street terrains. Check out this new video of Dan riding The Barn at Woodward Copper here:

Running from June 7 to July 30, Woodward Copper BMX week-long camps are a bike rider's dream – campers have the opportunity to ride the bowl, pump track, and big air ramp into a foam pit inside The Barn as well as street terrain at Copper and surrounding areas. The coolest part is that campers get the chance to learn new tricks from experienced staff and visiting pros such as BMX pro Dan Nielsen.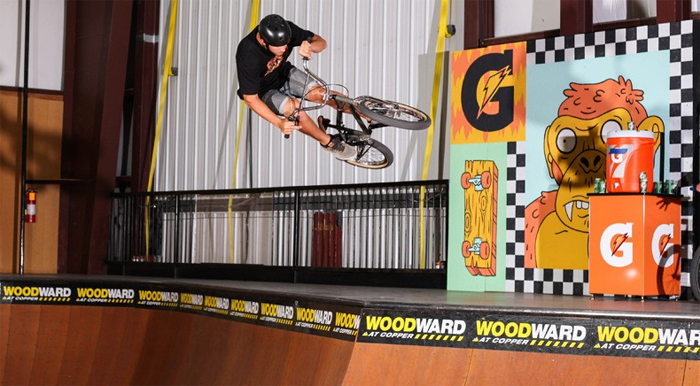 Like Dan, Woodward's Brent Hile (pictured above) has logged some serious time riding The Barn at Woodward Copper
Photo credit: Wythe Woods
In addition to lots of BMXing, camp includes go-karting, zip lining, bumper boats and much more. Below you will find a tentative daily schedule for the BMX camper:
8:00 AM Breakfast
9:00 AM Morning Instruction (Barn)
12:00 PM Lunch
1:00 PM Afternoon Instruction (Frisco, Breckenridge, Leadville)
5:00 PM Dinner
6:00 PM Open Session in the Barn / Cage activities
9:00 PM All Camp Activity
10:00 PM Room Check
10:30 PM Lights out

Campers can save $50 by booking before April 30 with discount code 10230. Click here or call 1-888-350-1544 for additional information or to register for camp.
For more information check out: http://www.woodwardcopper.comKeep up with Woodward Copper at www.facebook.com/WoodwardCopper or @WoodwardCopper on Instagram and Twitter.
For more information, contact:
Ashton Maxfield
949.289.6493
ashton@masterplanpr.com
---