BACK TO NEWS
B$Z: White Huckleberry and Clear Qualifier Frames with Purple Iridium Lenses Available May 31
Sikk Shades®by Eddie Bauer Jr. – a new line of performance eyewear for the action sports market – will soon introduce two new styles just in time for summer: white Huckleberry frames with purple iridium lenses and clear Qualifier frames with purple iridium lenses. The company will offer 50 lucky fans the chance to be the first to wear the new styles by entering their e-mail to receive a special discount code good for $25 off a pair of the new frames on the Sikk Shades Facebook page: www.Facebook.com/SikkShadesbyEddieBauerJr.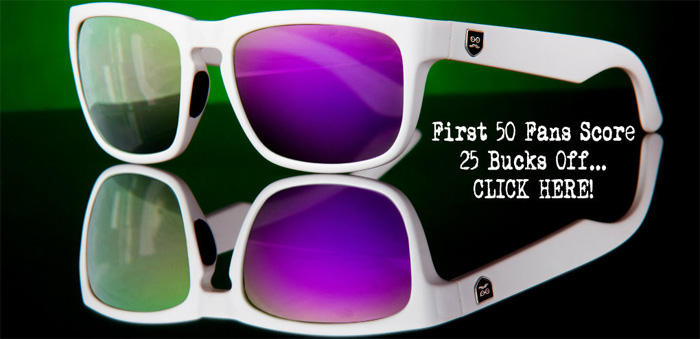 The contest page will go live Friday, May 1 at 8:00 a.m. EST. Fans will be asked to enter their e-mail address and the first 50 fans to do so, will earn a special discount code for $25 off, which they can use to purchase the new styles online at www.sikkshades.com before they are available on May 31.
The new glasses take a fresh spin on the company's flagship styles, featuring white Huckleberry and clear Qualifier frames with purple iridium lenses, coated with Flash Electric™ technology, which blocks short-wave light – the harmful light that leads to eye damage – and allows ample amounts of long-wave light in. This allows the wearer to protect their eyes while avoiding the distortion and depth perception issues common in most polarized lenses.
"With our signature Flash Electric® lenses, embedded non-slip nose grip and all day wearability, these shades are perfect for the beach this summer," said Eddie Bauer Jr., CEO of Sikk Shades®. "We've posted photos of the new styles on our Instagram and Facebook accounts and got a huge positive response. We wanted to do something special for all our fans by giving them the opportunity to get them at a discounted rate before they officially go on sale May 31."
---