Back to News
EVENT: 2015 SLS Nike SB Pro Open in Barcelona, Spain Kicks off Global Program and 2015 World Tour
April 30, 2015
The 2015 SLS Nike SB Pro Open will kickoff the Street League Skateboarding (SLS) Nike SB World Tour the weekend of May 16-17 at a newly built skate plaza in the skate mecca of the world: Barcelona, Spain. As the official qualifier that precedes the season of live televised arena events on FOX Sports 1, 30 of the world's top non-SLS Pros will battle it out for two exclusive spots within the elite roster of athletes for the 2015 SLS Nike SB World Tour.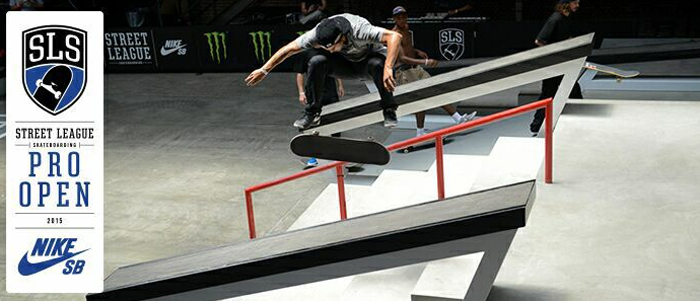 As the first-ever independent international event in Street League history, the SLS Nike SB Pro Open debuts a new global program that consolidates the world of competitive street skateboarding throughout the entire year. It also exists as the international gateway into the League through which the two highest scoring non-SLS Pros will advance into the series, becoming a career-forging opportunity to make their mark alongside today's greats of street skateboarding. For existing SLS Pros, the contest is a chance to gain vital Championship Points for the season, compete for a piece of the $76,500 purse, and fight to claim the prized Golden Ticket: the express pass straight into the SLS Nike SB Super Crown World Championship this fall in Chicago, IL, USA. With this winner-takes-all first-place prize open to all finalists — both non-SLS and current League Pros alike — innovation and elevation for the standard of skateboarding is guaranteed.
"There are so many sick skaters out there in the world that deserve a shot to get into SLS," says Nike SB Pro Luan Oliveira. "I've seen the qualifier list and the guys coming to the Pro Open will guarantee the constant progression of our League and a great contest."
Day One of the SLS Nike SB Pro Open will see the top 30 pro skaters not currently in SLS cropped to the best-performing eight Qualifiers. The competition will be fierce between some serious up-and-comers from far and wide, such as: Cody McEntire from Texas, USA, and Belgium's Youness Amrani, both of whom only just missed earning their place in the League at the recent Tampa Pro event; Nike SB skater Karsten Kleppan out of Oslo, Norway; Plan B phenom Chris Joslin, and Spain's own Nike SB skater Fran Molina. On Day Two, the top eight Qualifiers will have to prove their worth against 23 seasoned SLS Pros like Ishod Wair, Luan Oliveira, and reigning SLS Champion, Nyjah Huston, to determine the top eight Finalists that will give it all for the coveted Golden Ticket.
"I'm stoked to be a part of the Street League Pro Open in Barcelona. Not only is it in one of favorite places in the world to skate, but I get to skate alongside the best street skaters in the world and possibly solidify my spot in Street League," says Chris Joslin, potential SLS Pro competing in the Day One Qualifiers.
"Yeah, I'm super hyped to get to try and qualify for Street League," says SLS hopeful Cody McEntire. "Plus the fact that it's in Barcelona and afterwards the park is going to be a public park is cool to me. I'm happy everyone will get to skate it and enjoy the park!"
As part of ongoing commitments to grow and sustain skateboarding worldwide, a new concrete skate plaza is being built to remain permanently in place and will host the SLS Nike SB Pro Open as part of the plaza opening celebration. Supported by Badalona's City Council, the plaza named Skate Agora BDN Barcelona has been designed and constructed with the same meticulous dedication as the one-of-a-kind arena courses of the World Tour and is part of a program to establish certified professional-level facilities that endure to enrich communities with a premium and legal place to skateboard. To reinforce this commitment, these skate plazas create the opportunity for future SLS events to return and re-energize the local skateboard community.
Following the SLS Nike SB Pro Open in Barcelona, the SLS Nike SB World Tour heads back to the United States where the first arena event will go down in skateboarding's hometown of Los Angeles, CA, before moving on to New York City neighbor Newark, NJ, and over to Chicago, IL, for the SLS Nike SB Super Crown World Championship.
Who will advance through the SLS Nike SB Pro Open and shake up the roster of League veterans for the World Tour? Can Nyjah Huston take his second Pro Open win in a row and take the coveted Golden Ticket straight to the SLS Nike SB Super Crown World Championship? Tune-in on May 16th and 17th for the live webcast on StreetLeague.com
For an official rider list and video announcement, please go to: http://streetleague.com/nike-sb-pro-open/
SLS offers options for fans across the world to tune in and watch skateboarding's most prestigious competition series. Fans in the United States can watch the 2015 SLS Nike SB World Tour on FOX Sports 1 and customers of participating cable and satellite TV providers may access the live stream of the Tour stops through the FOX Sports GO app for iOS, Android, Windows and Kindle devices, as well as on desktops through FOXSportsGO.com. International fans can catch the official live webcast exclusively on StreetLeague.com.
SLS NIKE SB WORLD TOUR DATES AND VENUES:
• May 16–17 SLS Nike SB Pro Open | Skate Agora BDN I Barcelona, Spain
• July 11 SLS Nike SB World Tour: Stop One | Galen Center at USC | Los Angeles, CA
• August 23 SLS Nike SB World Tour: Stop Two | Prudential Center | Newark, NJ
• October 4 SLS Nike SB Super Crown World Championship | UIC Pavilion | Chicago, IL
FOX SPORTS 1 TELECAST SCHEDULE:
2015 SLS Nike SB Pro Open Kick-Off Special: Thursday, May 28 (8:00 PM ET– 9:30 PM ET)
2015 SLS Nike SB World Tour: Los Angeles: LIVE: Saturday, July 11 (10 PM ET – 11:30 PM ET)
2015 SLS Nike SB World Tour: New Jersey: LIVE: Sunday, August 23 (5 PM ET – 6:30 PM ET)
2015 SLS Nike SB Super Crown World Championship: LIVE: Sunday, October 4 (5 PM ET – 7 PM ET)
For more information visit StreetLeague.com. For all media inquiries contact Sarah Bronilla at VOCAL: [email protected] or John Stouffer at FOX Sports: [email protected].
---