Back to News
B$Z: AMSOIL Arenacross Interview of the Week: Race to the Championship Co-Leaders Hayes and Regal
May 1, 2015
Only one night remains in the 2015 season of AMSOIL Arenacross, featuring Ricky Carmichael's Road to Supercross. On Friday night from Las Vegas' South Point Arena, the Race to the Championship will reach its dramatic conclusion, crowning a new champion in the process. Entering the season finale of the most competitive season in AMSOIL Arenacross history, a pair of riders sit tied atop the championship standings for the first time ever. Team Babbitt's Monster Energy/AMSOIL Kawasaki's Jacob Hayes and Husqvarna TiLUBE TUF Racing's Kyle Regal are the two winningest riders of the 2015 season and fittingly enough, they each carry the red number plate as the Race to the Championship leaders on Friday night.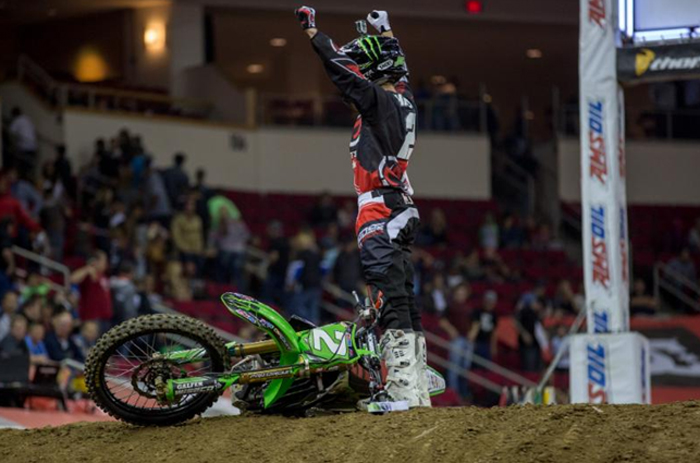 Photo: Josh Rud / ShiftOne Photography
AMSOIL Arenacross caught up with both riders to talk about their path to this critical juncture in their respective racing careers, setting the stage for what could be the biggest night of one of these riders' life.
What are your emotions and thoughts coming into this final weekend of the 2015 season?
Jacob Hayes (JH): Emotions and thoughts... I am excited to come into the last round of the season with the points lead tied. I think it makes it exciting for the fans as well as for us because it keeps us on our toes. It [the final round] being in Vegas is a huge step for arenacross. I am just super excited and ready to get the last round underway!
Kyle Regal (KR): My emotions and thoughts are the same they have been all year. I am going to try to get race wins and try to get the best starts I can. I haven't put a lot of pressure on myself emotionally because I feel like I have the speed, and with a good start I can make it happen.
Given you are tied for the championship lead, do you approach Friday night any differently? Are you going out there to beat the other guy with the red plate or will it be business as usual for you?
JH: It will be the usual. I have been focusing the last couple weekends going out there and getting the start, and to win each race. That's really been helping me. I am going into this weekend completely focused and to take each Main as it comes. Hopefully I go away with two Main Event wins this weekend. I would be super pumped if I could go ahead and knock it out like that! That would be huge!
KR: Same as usual. I've had a couple bad things happen - last weekend obviously being one of them. I had an 11th-place finish [in the first Main Event] but I think it was a good salvage. In the second Main Event, [Hayes] started behind me and I walked away with it so it's not like I don't have the speed, and it's not like I don't think that I'm faster or better. I just haven't put myself in a good position off the start and I just need to really focus on that this weekend.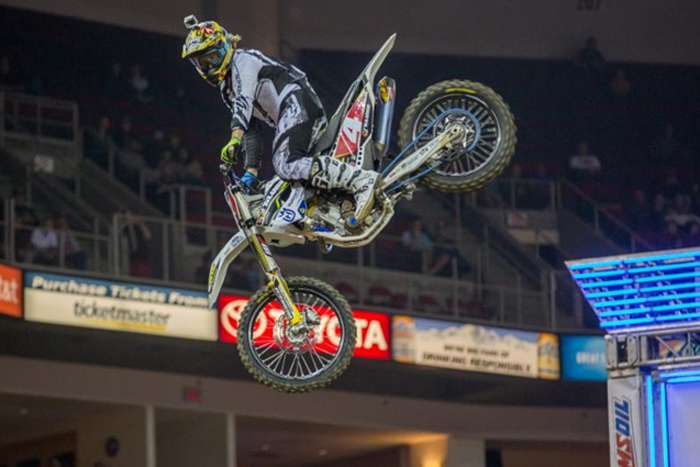 Photo: Josh Rud / ShiftOne Photography
The two of you have been the most consistent and successful riders this season. Because of that, did you expect this type of scenario to occur coming into Las Vegas? Have you learned anything racing one another that could work to your advantage on Friday night?
JH: Its been an up and down season for me. My main focal point these last couple of weekends have been the starts, it's put me in a really good situation when I thought I was down and out of the championship a few times. But I always put my head down and knew there were plenty of races left. I started just clicking off Main Event wins and now find myself here! I feel really good heading into this final round.
KR: I wouldn't say this is what I expected at all. I've said it from the beginning, I just wanted a chance in Vegas and I feel like both of us have a really good chance, and this is going to come down to minimizing mistakes and making it happen.
Do you race even harder in the Head 2 Head Challenge to ensure you have at least a one-point edge heading into the Main Event?
JH: I'd like to think so, but I struggle with the two-lap sprints for some reason. I'd like to go into it thinking I could pull it off. I think I have only won two this season, but honestly my main focus is those two Main Events. That's where the most points are at and that's where it ultimately pays off the most.
KR: Oh 100 percent. Obviously every point counts. It has all year! Every time the gate drops from this point on I will try to give it everything I have. I have done really well in the Head 2 Head and I plan on getting this win too to get the extra edge going into the Main Events.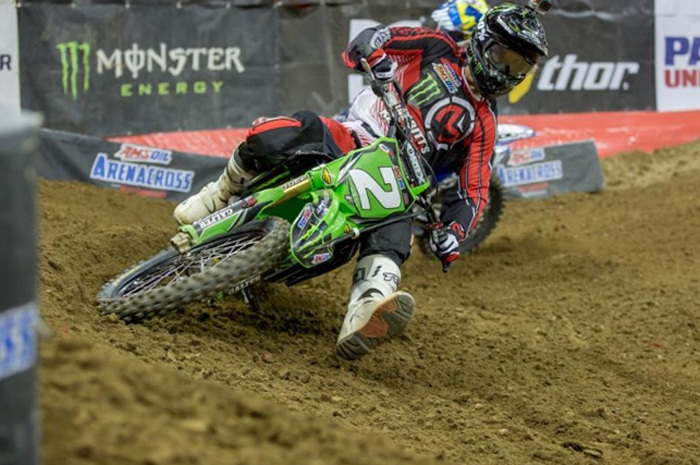 Photo: Josh Rud / ShiftOne Photography
Kyle, you've really hit your stride over the last couple months of competition, but for the first time in many weeks the momentum might actually be in the favor of your closest rival. Do you like coming in with a little less attention? Do you think that can work in your favor? Being in a similar position helped bring you to the forefront of the championship earlier this season.
KR: No, like I said previously, I feel like last weekend he started second, I started first and I walked away from him, so its not like I don't have the speed. Just some weird things have happened the last two weekends. [Hayes] has rode really good, obviously in Tacoma with him going 1-1, but last weekend I don't think he was the fastest guy at all. Like I said it's going to come down to executing the plan and making it happen, and I feel like I have myself in a good position. I feel like I could win this thing.
Jacob, you led the points for most of the season, but have had to gradually fight your way back into the top spot. What do you attribute to this late season resurgence to? You've proven that you're comfortable with the pressure of leading the points, so does that familiarity mean your confidence as high as ever this weekend?
JH: I'm just taking it as it comes, race-by-race. I definitely don't want to be over-confident. Anything can happen and I have seen that all season long. I've had really good races and I have had really bad races. I'm just coming into Vegas with a good mindset and sticking to the game plan, which is just get two really good starts and ride two really good Main Events. If I do that and ride like myself, I know where I should be and that is exactly where I want to be.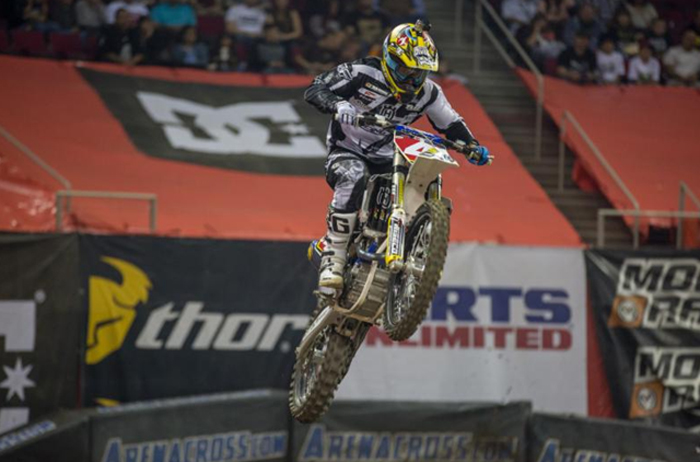 Photo: Josh Rud / ShiftOne Photography
Do you recognize the magnitude of the opportunity that lies ahead on Friday night? Do you feel any added nerves knowing your first career title is on the line?
JH: I actually haven't even thought about it. It's been a fast paced week. I've been trying to get a lot of riding in and a lot of starts, and haven't really given it any thought. I am just going into the weekend like it's any local race at home and trying not to put any added pressure on it. It is the last race of the year so I want to go out and show everyone that I am the guy to beat. I deserve to win the championship so that's what I'm going into the final round like.
KR: No not at all, it hasn't really sank in and that is how I want to approach it. It's just a race I need to win to make it happen. I have a lot of family and friends coming and that adds a little bit to it, but nothing like I haven't had in the past. I had a lot of people traveling with me this season and I'm pretty thankful of that. It should be just another race and I'm going to try to make it happen!
What is your ultimate key to success on Friday night?
JH: I think everyone knows that answer - starts. Each weekend I prove it to myself, even though I already know it going into the weekend! Starts are the most important thing and over the past month I have been hammering days and days worth of starts. I've had a really good week of starts and that's all I really needed going into Vegas.
KR: Just stick to the plan I've had all season. It was working there for a while. I've just been bumped around the last couple of weekends. Some of the guys that I didn't think I was going to get bumped around with, it led into a mistake. But other than that, stick to the plan - good starts, kill the whoops and we should be fine!
The 15th and final round of AMSOIL Arenacross, and the deciding weekend of the Race to the Championship, kicks off this Friday, May 1, from Las Vegas for the championship's debut inside South Point Arena. Racing begins at 11 p.m. EDT/ 8 p.m. PDT.
Tickets for the final round of AMSOIL Arenacross are on sale now!
The entire AMSOIL Arenacross season is now airing on FOX Sports 1, including re-airs on Fox Sports 2. Check out the Arenacross.com TV listings for a full schedule.
Live timing and scoring from each round of the AMSOIL Arenacross season returns for the 2015 season! To follow the intense racing action live, log onto www.Arenacross.com.
For more information on the 2015 AMSOIL Arenacross season, and to purchase tickets, log on to www.Arenacross.com. For all media requests, please contact Brandon Short [email protected] or 949-365-5750.
Never miss out on the latest news! For more information on AMSOIL Arenacross, please log on to www.Arenacross.com. To follow AMSOIL Arenacross on Facebook, Twitter and Instagram, long on to www.facebook/com/AMAarenacross, www.twitter.com/Arenacross and www.instagram.com/Arenacross. Subscribe to our YouTube Channel at www.youtube.com/ArenacrossLive.

---