BACK TO NEWS
B$Z: Maine Based Flowfold Seeks Launchpad Prize to Build Global Brand
Flowfold has moved on to the semi-final round of the Launchpad competition presented by Gorham Savings Bank, with the goal to win $30,000 to expand their manufacturing capacity and meet demand from major retailers.
Maine may not be the state you would expect to find the next global name in outdoor gear. But the three entrepreneurs that started Flowfold agree that staying in their home state is an opportunity to create a unique story, and rally support from a tight-knit community that is overdue for quality jobs.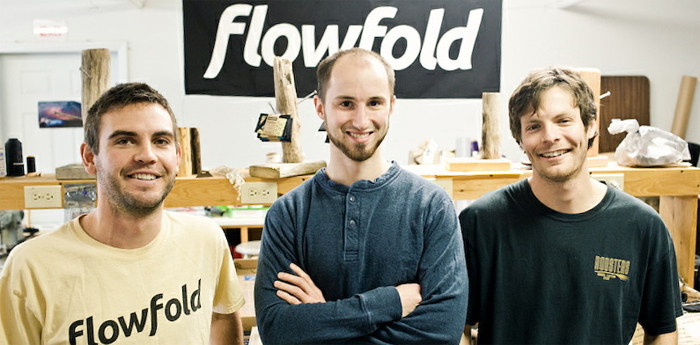 Starting with a small product line of wallets and totes, Flowfold built a national following of over 50,000 customers by creatively using tools like social media and hustling at national trade shows. With over 300 retailers, and positive product reviews from thousands of enthusiastic customers, the brand is now getting serious attention from national retail chains and international distributors.


The Launchpad competition opens the opportunity for Flowfold to buy necessary equipment to immediately scale up and create more jobs in Maine. Founders Charles Friedman and Devin McNeill aim to position Flowfold amongst premier outdoor companies, with influences like Patagonia and L.L. Bean. They plan to manufacture backpacks, duffel bags, and more carrying gear. Every Flowfold product is made in Maine with a lifetime warranty. The brand was started in 2010 with a sewing machine and a couple thousand dollars.
There is always the opportunity to manufacture overseas for lower costs, but the owners can't stomach sending valuable jobs away, and losing a big part of what makes Flowfold special: the story.
There are currently a total of 10 semi-finalists in Launchpad, and 5 finalists will be selected from those based on votes submitted no later than 9:00 P.M. May 15th.
To vote for Flowfold in the Launchpad competition, visit: https://launchpad.gorhamsavingsbank.com/flowfold
---