BACK TO NEWS
EVENT: Maui Paddlers Retain Titles at 7th Annual OluKai Ho'olaule'a
Maui turned it on today for day two of the 7th annual OluKai Ho'olaule'a three-day ocean festival with locals Connor Baxter and Andrea Moller retaining their titles to take home the gender equal prize purse of $15,000.
The prestigious eight-mile Stand Up Paddle (SUP) race saw almost 350 of the world's elite paddlers battle it out on the famous Maliko Downwind Run on Maui's North Shore.
The conditions were described as 'epic' with consistent 20 knot east-northeast winds and waist high swell that produced the fastest time on record in the event's seven year history.
The 20 year-old Baxter clocked an impressive 44:25 with a 5:34 mile average for his fourth consecutive win of the OluKai Ho'olaule'a Elite Men's SUP division.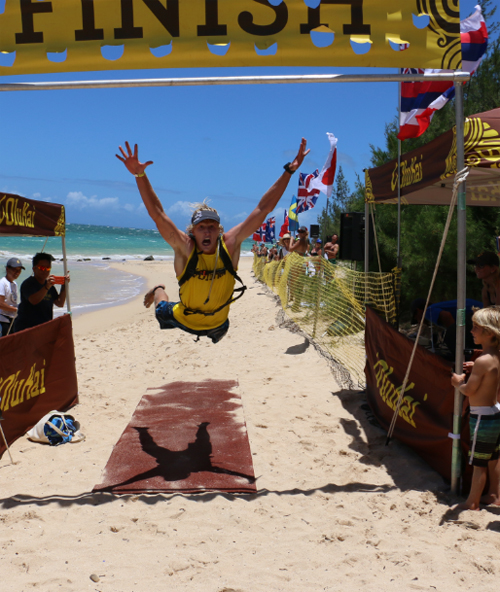 "The conditions were nothing short of epic, with perfect wind direction, good speed and big swells. This meant it was an even playing field out there forcing me to work extra hard," Baxter said.
"Nothing beats racing at home. I get to sleep in my own bed and I have the support of my family and friends around me. It's an honor to represent Maui and be part of this awesome weekend that shares the aloha of Hawaii."
The Brazil born and raised Maui resident, Andrea Moller, took out her seventh consecutive win with a time of 53:19 and 6:40 mile average, however said the title was still as rewarding as the first time.
"OluKai Ho'olaule'a started off as a local SUP race and today it's internationally recognized as one of the premier downwind races in the world, making the competition a lot tougher. It has been an honor to be part of this race from the very beginning and be part of its exciting growth," Moller said.
Competitors represented Hawaii, the Mainland U.S., Canada, Australia, Japan, Brazil, United Kingdom, Germany, Sweden, Israel, Puerto Rico, French Polynesia and the Virgin Islands.
The day kicked off with the three mile 'Ohana Fun Paddle prior to the elite SUP race. The atmosphere of celebration was alive at the finish line with traditional Hawaiian games, a luau and live music by popular Maui band, Nuff Said.
Full race results available here
For more information visit www.olukai.com/hoolaulea

---