BACK TO NEWS
EVENT: Maui's Moller Does It Again! Spectacular finish to 7th Annual OluKai Ho'olaule'a
Spectators witnessed a spectacular finish to the 7th annual OluKai Ho'olaule'a three-day ocean festival today with Maui's undisputed "Queen of the Ocean," Andrea Moller, winning back-to-back titles by taking out first place in the elite OC1 division with a time of 53:46. Moller's win came just 24 hours after winning the stand up paddle (SUP) crown.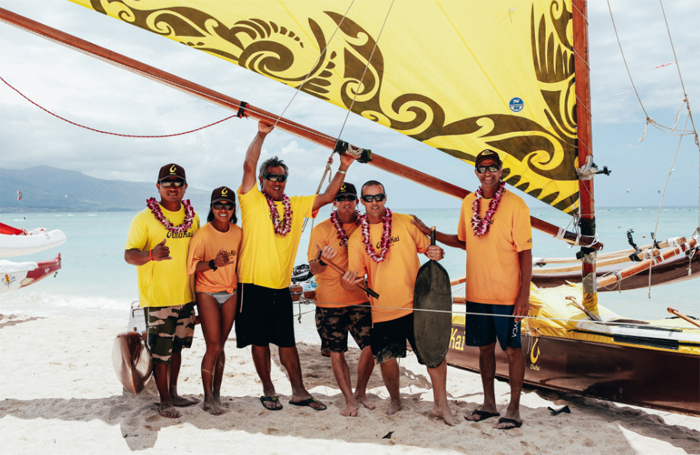 Honolulu's Jimmy Austin claimed first place in the men's OC1 division with a time of 47:05. Moller and Austin take home the gender equal prize purse of $15,000.
The prestigious eight-mile elite OC1 and recreational OC2 race saw almost 150 of the world's best paddlers battle it out on the famous Maliko Downwind Run on Maui's North Shore. The 2015 race produced an exciting field of the world's top ranked pros, who rarely line-up together for short distance races.
Paddlers couldn't have asked for better conditions with straight out of the east 15-20 knot winds and 3-5ft swells offering perfect downwind surfing.
The Brazil born and raised Maui resident, Moller, whose strength is surfing, said that she enjoyed every single bump in today's race. "Today's conditions confirmed why I love to paddle," Moller says.
"I felt a lot of pressure with yesterday's race, but today I got out there and just had fun. With a line up of predominantly local paddlers, I felt like I was out paddling with friends."
The father of two, Austin, a well-known face in Hawaii's paddling community, was genuinely shocked to have won today's race, his fourth time racing OluKai Ho'olaule'a (and second win) given the field of strong contenders.
"There were 12 other guys out there that could have won today's race, but conditions were in my favor given downwind surfing is my thing. When I saw the finish line in sight, I just went for it," Austin says.
The final day also included free Hawaiian cultural games and activities and the spectacular finish of The Hawaii Sailing Canoe Association's Alenuihaha Challenge on the shores of Kanaha Beach Park.
OluKai Ho'olaule'a will be filmed in HD and broadcast internationally courtesy of OluKai media partner, Ocean Paddler TV.
Full race results available here
For more information visit www.olukai.com/hoolaulea
---