Back to News
B$Z: Zero Motorcycles Confirms Second Year at AIMExpo
May 11, 2015
Following a successful first year involvement, the American International Motorcycle Expo (AIMExpo) and Zero Motorcycles, the world's leading manufacturer of electric motorcycles, have announced that the pioneering OEM will return for its second year of exhibiting this October 15-18 at Orlando's Orange County Convention Center (OCCC).

Highlighting the product lineup from Zero will be its high-performance Zero SR motorcycle. The company's marquee model boasts the longest battery range of any production electric motorcycle and also has performance capabilities that exceed many of its gas-powered counterparts. For the first time the Zero SR model, as well as the entire lineup of Zero Motorcycles, will be available for demo rides at AIMExpo Outdoors!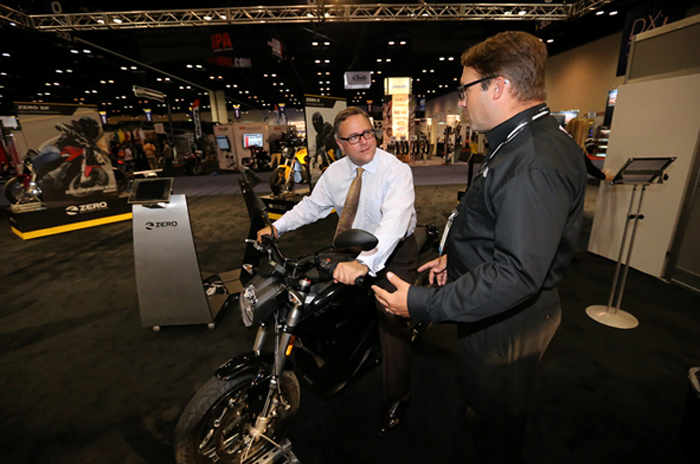 Orange County, Florida, Commissioner Scott Boyd (left) gets a feel for one of the Zero Motorcycle models.

"AIMExpo played a huge role in getting us off to a great start in 2015," said Scot Harden, VP Global Marketing at Zero Motorcycles. "In just two short years, AIMExpo has become a major player on motorcycling's global event calendar and clearly established itself as the most important show to attend in North America.

"From an overall business perspective we can not only meet dealers and get our product in front of global media, we can talk to real motorcycle buyers as well," Harden continued. "There really is no other show like it in the U.S. We sincerely hope everyone takes us up on the offer to test ride a Zero while they are at AIMExpo this year."

Complementing the Zero SR will be the complete lineup of on- and off-road models, including both consumer and fleet spec machines. In recent years, Zero has achieved considerable success with its fleet program, designed specifically for first responders like local police and fire departments, national parks and the military. Additionally, the company will host a special event for its growing dealer network.

"Zero has been at the forefront of the electric motorcycle movement, and we're looking forward to seeing their latest innovations this year in Orlando," said Mike Webster, President, Marketplace Events Motorcycle Group. "If you've never had the opportunity to ride an electric motorcycle, the Zero demo rides at AIMExpo Outdoors! will absolutely open your eyes, and will be available to both dealers and consumers on the trade and consumer days. We welcome Zero Motorcycles back to the growing list of OEM's at AIMExpo."

More than 350 exhibitors have already committed to AIMExpo in 2015. Exhibitor presence builds each day, and companies looking to take advantage of the AIMExpo platform should contact an AIMExpo Account Manager toll free at 855-MCShows (855-627-4697).

Be sure to stay tuned to the AIMExpoUSA.com website and keep up to date on exciting news as it happens by visiting AIMExpo's social media pages. "Like" the American International Motorcycle Expo on Facebook, and "Follow" on Twitter or Instagram: @AIMExpo.

---