BACK TO NEWS
EVENT: Venue TradeShow Grows With New Dates, New Location
Venue Tradeshow took a bow in 2013 as a small, independent trade show devoted to men's streetwear and fashion, but it is growing up.
Miles Canares, Venue's founder, recently announced major changes to the biannual show's schedule and a new location for the show. Canares also announced a new partner in the trade show.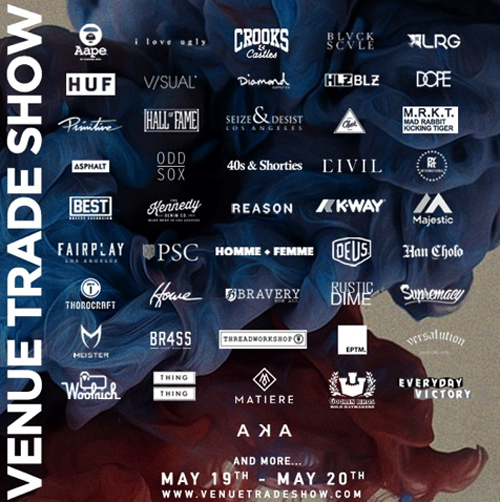 Joining Venue will be Robbie Eala owner of the Next Chapter Collective showroom, which has represented streetwear and fashion brands such as LRG, Diamond, Publish, The Kennedy Denim Co., V/SUAL by Van Styles, and more. Eala brings 13+ years of experience in sales and relationships within the industry. "It's a strategic move, he will help with bringing on strong brands and retailers," Canares said "Having him as a partner has given us more resources, resources we didn't have much of in the past." Exhibiting at Venue this May will be L-R-G, AAPE, Huf, Black Scale, Rustic Dime, V/SUAL by Van Styles and 74 other brands ranging in contemporary menswear, street, lifestyle, and action sports.
The last Venue show took place in July at the Cooper Design Space in downtown Los Angeles. Retailers such as Nasty Gal and Tradition, a popular boutique in Los Angeles' Beverly Center, walked the show, which was Venue's third run.
The next Venue show is scheduled to run May 19 & 20 at The Reef, formerly the LA Mart showroom building, also in downtown Los Angeles. Venue chose to schedule the upcoming show in May so exhibitors could show looks for the Summer and Holiday seasons, which aren't as heavily traf?cked as the Fall and Spring seasons. "Our idea is to create a stronger marketplace for the holiday summer seasons, one with a national draw, in LA" Canares said. "We want to give the Holiday and Summer seasons as much energy as a Fall show," he said.

---