BACK TO NEWS
EVENT: Nine Influential Skateboarders Recognized at the 6th Annual Skateboarding Hall of Fame
Last week, the International Association of Skateboard Companies (IASC) and the International Skateboarding Hall of Fame (ISHOF) joined more than 500 guests from the skateboard community to honor and induct six men and three women – Brian Logan (1960s), Henry Hester (1970s, Era One), Duane Peters (1970s, Era Two), Neil Blender (1980s, Era One), Chris Miller (1980s, Era Two), John Cardiel (1990s), Robin Logan (1970s), Cara-Beth Burnside (1980s), and Elissa Steamer (1990s).

In addition, Icon Awards were presented to Steve Van Doren, James O'Mahoney and Tracker Trucks.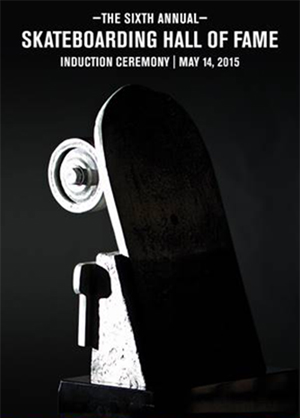 "Hearing the firsthand accounts of connections between our inductees is mind-blowing. Whether it's Tony Alva sleeping in the Logan's shed or Duane Peters and Christian Hosoi giving Cara-Beth Burnside the motivation to progress, these relationships are what make skateboarding special. It's really exciting for me to see a new generation of skateboarders being honored and the 1990s couldn't have started off any better with Elissa Steamer and John Cardiel. I'm blown away at how our skateboarding family reunion continues to grow each year," said Josh Friedberg, IASC's Executive Director Emeritus.

The sold-out event was packed with VIPs from every era and area of action sports, including honorees, Steve Van Doren, James O'Mahoney, Larry Balma, Dave Dominy, Brian Logan, Henry Hester, Duane Peters, Neil Blender, Chris Miller, John Cardiel, Robin Logan, Cara-Beth Burnside and Elissa Steamer; surf and skate legends, Jeff Ho, Gale Webb, Sonja Catalano and PT Townend; pros and legends, Dave Duncan, Bryan Ridgeway, Jim Gray, Darren Navarette, Jeff Grosso, Eddie Elguera, Hagop Najarian, Ben Schroeder and John Lucero, skateboarding pioneer "Professor" Paul Schmitt; past inductees, Tony Alva, Christian Hosoi, Steve Caballero, Bruce Logan, Peggy Oki, Laura Thornhill Caswell and Lance Mountain; past icon recipients, J. Grant Brittain, Glen E. Friedman, Stan Hoffman of Pipeline Skatepark and CR Stecyk III; and owner of Skatelab, Todd Huber (Skatelab, located in Simi Valley, is home of the Skateboarding Hall of Fame and Museum); among others.
This year's event, held at The Westin South Coast Plaza in Costa Mesa, included a VIP meet-and-greet dinner, followed by the highlight of the evening, the official induction ceremony with the always famous, and sometimes infamous, David Hackett as the Master of Ceremonies. The ceremony started out with a moving tribute to many of the legends we lost in 2014, including Jay Adams, who received a standing ovation. Each skateboarder and Icon recipient was recognized individually and took the stage to speak about their passion for the sport and give thanks to significant individuals in their own lives. A few highlights from the night included:

Kristy Van Doren presenting the award to her father, saying, "I always thought I had the coolest dad growing up and now that my dad is being inducted tonight, I definitely have the coolest dad ever."

Henry Hester's acceptance speech took us to another planet called Planet X. It was definitely out of this world.

Clash Peters presented the award to his father and in the true Duane Peters way, he accepted his award by belting out a lovely tune to the crowd.

Brian Logan ended his acceptance speech by dedicating his award to his mom – known as "mom" to so many pros and legends.

John Cardiel's acceptance scream. Amped up and thrilled to be honored, it was 100% pure Cardiel.

All proceeds benefit the not-for-profit efforts of the Skateboarding Hall of Fame and the Go Skateboarding Foundation's Just One Board initiative.
Created in 2009, The Skateboarding Hall of Fame recognizes and honors the history of skateboarding and those influential figures who have significantly shaped skateboarding and our culture throughout the years.

---