BACK TO NEWS
B$Z: SAXX Underwear Co. Teams Up with Action Sports Icon Ken Block
SAXX Underwear Co. is proud to announce a partnership with action sports entrepreneur, professional rally racing driver, star of the award winning Gymkhana viral video series, and H.H.I.C. (Head Hoonigan in Charge), Ken Block. Known for pushing himself – and his cars – to the most extreme limits, Block will collaborate with SAXX on future product designs, signature collections and a variety of marketing and promotional activities.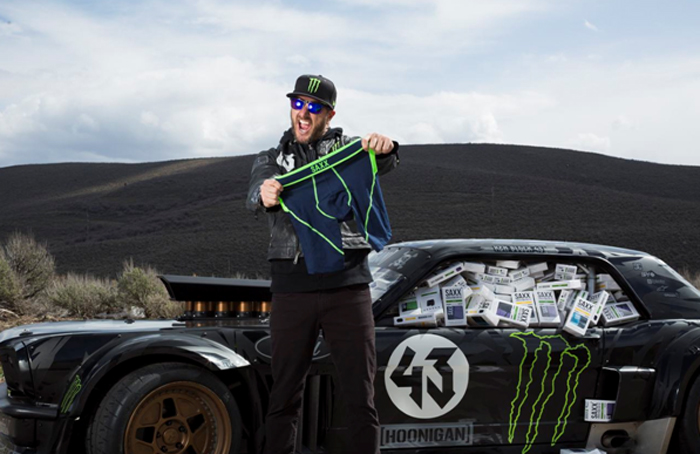 "I'm excited to partner with SAXX," said Block. "I truly value the innovation and technology that goes into every SAXX product and I'm looking forward to working on some exciting projects in the future. I am very particular about the brands that I work with, and SAXX offers an outstanding, next-level product I can really get behind. I might be new to the underwear game, but I've been wearing them my whole life and I've never experienced anything quite like what SAXX has to offer.

"That said, I never once in my life thought that I'd be an underwear ambassador – nor did I ever think I'd have the type of body that qualified me for that sort of job. I mean, I enjoy a six pack, I just normally have to pick it up at the local store. But I'm stoked that I'm now joining some of the well-known male underwear model greats like David Beckham and Justin Bieber – well, at least in the sense that I am associated with underwear. I can confidently say that I've finally arrived… in the underwear section at least."

Based in Park City, UT, Block continues to push the boundaries of what is possible in both motorsports and in his career as a professional athlete and entrepreneur. Under his Hoonigan Racing Division banner, Block competes in rally across the globe at X Games, Global Rallycross, World Rally Championships, and Rally America in addition to his remarkable freestyle driving in the Gymkhana video series which is on its seventh instalment. The series has garnered more than 300 million views. In April, Block kicked off his 2015 rally season by blitzing the competition at the gruelling International Rally of Whangarei in New Zealand, finishing as the first ever non-Kiwi to win the top prize.

"Ken Block is not your typical underwear ambassador and we don't make typical underwear. That's why he's a perfect fit for SAXX," said CEO Tim Bartels. "We are thrilled to welcome him to the SAXX team. Ken's unrelenting drive to push the limits really connects well with our mission to do the same in product innovation and performance. He also brings a distinct style and creative flair along with an impressive background in product development that we're really excited about. I'm personally looking forward to collaborating with Ken on some exclusive gear and we're excited to have his input on our future product offerings as we continue to grow our brand. We are stoked to have such a phenomenal athlete representing SAXX."

Since the first production run of 200 pairs, SAXX is now sold in more than 1,600 retailers across Canada and the United States and is looking to extend its reach globally. The addition of Ken Block is another step in the SAXX commitment to making the most comfortable men's underwear available for active consumers.
---