Back to News
Phunkshun Wear - Interview with Jason Badgley
May 19, 2015
Rooted in the snow industry, Phunkshun Wear Facemasks makes masks to protect your face and neck from the brisk winter conditions. The company is experiencing great growth from its inception through now and Jason Badgley, now Chief Executive Officer, has been there every step of the way.

Phunkshun is bringing its product to a new market – fly fishing – under the brand name Fishmasks.

Jason fills us in on the ride so far and what's coming next.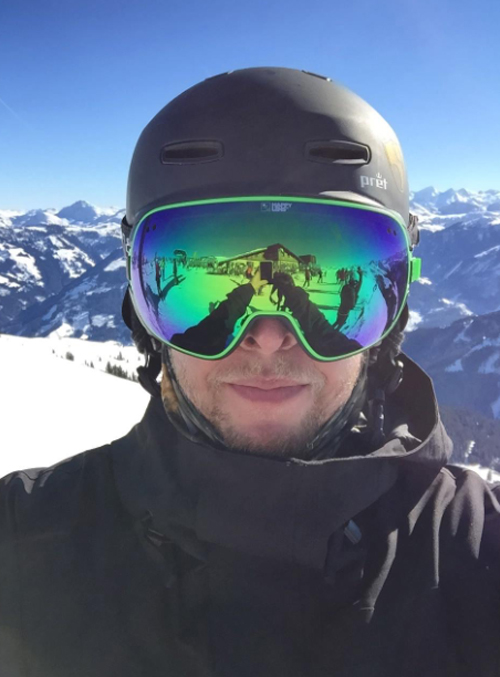 How did Phunkshun Wear Facemasks get its start?
The idea that became Phunkshun Wear started in the snowboard instructor locker room of Copper Mountain. Lanny Goldwasser and a fellow instructor were teaching snowboarding year-round between Colorado and New Zealand. Spending well over 100 days a year on the hill during both the best and worst of conditions made the need for a more versatile facemask abundantly clear. Function was and continues to be the starting point and primary focus of all our product development.
Tell us about the rapid growth Phunkshun has experienced over the last four years?
We have been very fortunate to see incredible growth since our inception. We started out as a local, homegrown facemask company with Lanny making shop visits armed with nothing more than a black garbage bag with samples in it, a legal pad and a pen. Every sale we made back then was a reason to celebrate, and ultimately proof of concept. Fast forward to this upcoming winter, we'll have more than 50,000 masks for sale across the global marketplace.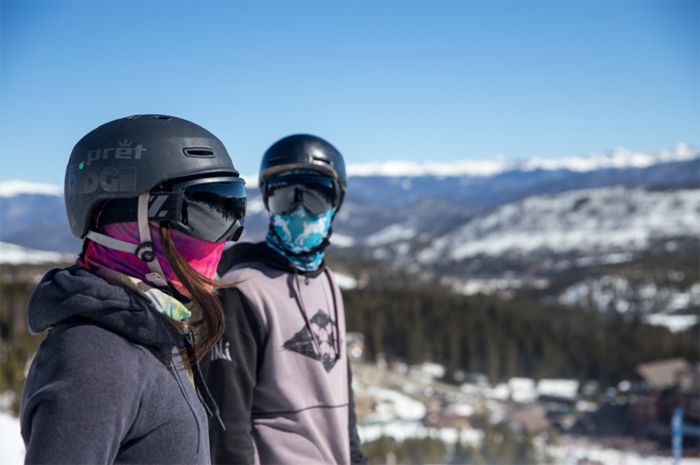 What do you attribute the success to? Beyond making a good product in growing product category.
The main factor to our success (besides making a great product!) is the people behind the mask. First is our sales team, everyone from Wendy Jonon, PW Sales Manager, to our Sales Reps across the U.S. and Canada are directly responsible for growing the brand so strongly. Our athletes have been incredible ambassadors of the brand. We specifically look for athletes with strong core values, that aren't simply great at their sport, but also great and kind people. We don't buy the biggest names to rep our product. We want the guys and girls that are making the sport better, that are fun to be around, and believe in what we are doing. Last and most important is our production and office staff. We believe that if we do good things, then good things will happen to us. We provide health insurance for all full-time employees, pay everyone a competitive wage (minimum wage is a term that doesn't exist here), and do our best to create a positive and productive environment.
What's next for Phunkshun?
Glad you asked! We are growing and just increased the size of our warehouse space by 50%, to accommodate the increase of raw materials and finished product we are working with. We expanded our fabric offerings to include Merino Wool last year, and it has taken off. Also, we are working on bringing around 10 new product styles to market at the 2016 SIA Snow Show, which is proving to be equally rewarding and time consuming.
How did you use the success of Phunkshun to launch Fishmasks?
Having run the gauntlet with Phunkshun Wear in terms of materials sourcing, product development, and graphic design, it was a matter of using our knowledge and putting the time in to work with local fly-fishing shops and friends of the business that are fly-fishermen, to create a knock-out product mix. Just as with Phunkshun Wear, all Fishmasks materials are 100% USA-Milled, and made in our own production facility in Denver.
Why was fly fishing chosen as the target for the new brand?
Fishmasks developed from the input of our CA/NV Sales Rep Mike Laroche along with others involved with the brand. They were using our winter products to protect them from the sun while fishing, but had requests to adjust the fit, fabric, and prints to fit their needs better. Fishing also fulfilled a need of ours, which was an outlet to produce masks for during the off-season of winter mask production.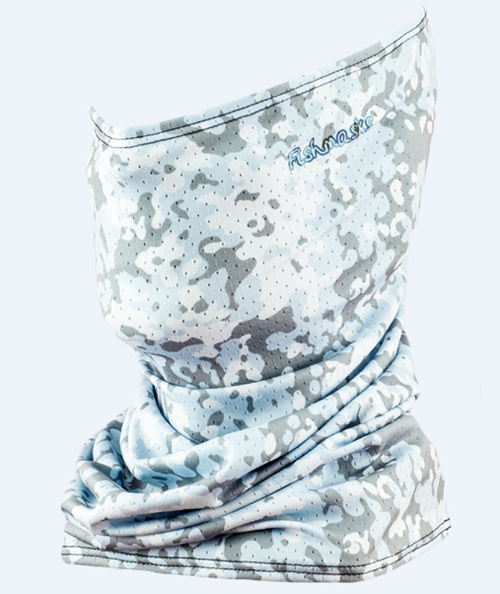 Why is now the perfect time to launch Fishmasks?
Products that are made in the U.S. have been and continue to be incredibly popular with the fishing consumer. Customers and shops love that we make everything ourselves, in-house, and that we are open to working with them to develop new prints that are specific to their geographical location.
How do the brands and markets complement each other?
The two markets are more similar than I initially thought. Both have similar consumer structures: the first timer, the weekend warrior, and the die-hard. They also take place in the great outdoors, and a natural respect for the environment exists in both. The need for quality product is also ever-present; both can be incredibly hard on their gear and are exposed to extreme conditions.
Do you think the new brand and market will strengthen your core competencies as a company?
Definitely, the fishing consumer and retailer-base can be extremely critical, and for the most part has no problem speaking their mind. Especially when it come to your product. Not everyone at Phunkshun has an intimate knowledge of the fishing industry or sport. However, when we learn about a need we didn't anticipate, it gives us the opportunity to look at a problem sideways, see how we can fulfill this need differently than others have attempted.

What is the High Fives Foundation and how does Phunkshun support the organization?
The High Fives Foundation is our official non-profit partner, and they support mountain action sports athletes in a variety of methods. First is by their awesome injury awareness programs, educating participants on everything from the benefits to wearing a helmet to Terrain Park Etiquette through both live presentations and a web-series. They also provide resources and inspiration to those who suffered a life altering injury in the form of grants, counseling, or access to the CR Johnson Healing Center in Truckee California. A portion of every Phunkshun Wear facemask sold is donated to the High Fives Foundation. We believe in giving back to the mountain action sports community and are proud to be partnered with High Fives Foundation in this way. We also partner with them on events across the country, and are working to create a series of Five Colorado-based fundraising events for the organization.
Do you make custom masks? What are the requirements to get custom masks made?
We work with quite a few resorts, events, retailers, and brands within the industry on the custom mask side of things. Customers need to have their logo file in a vector format, any other assets (photos, graphics, etc…) in a high-resolution digital file, and a thought out final vision for the design. We provide extremely quick turnaround times for a custom graphic, made-in-the-USA product. Retailers have been able to give our custom process a try at an extremely low risk, due to our 1 piece minimum order quantity.

---