BACK TO NEWS
Jose Cuervo Tradicional 100% de Agave Tequila
With increased competition in the market, Jose Cuervo is celebrating its roots by getting back to where it all started. One of the first tequilas in the United States, Jose Cuervo Tradiconal has rich culture and history that dates back to 1795. With the help of a few professional surfers, the brand is showcasing their history which is rooted in Mexican culture and the surf lifestyle. We learned about its newest campaign for summer, how the brand mixing in professional surfers, and if other athletes will be involved in the future.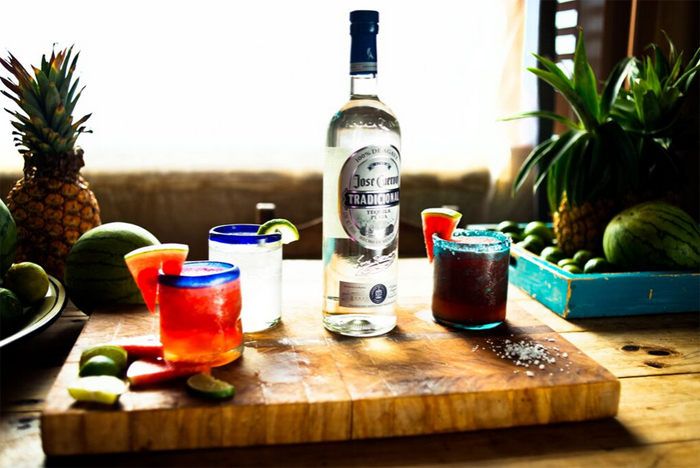 Tell us about this campaign and how it is showcasing Jose Cuervo's culture and history
The Jose Cuervo Tradiconal 2015 FunDay AnyDay campaign follows six professional surfers on their journey to Mexico, where days were filled with surfing, exploring Mexican culture, and learning about Jose Cuervo's history.
The athletes were hand selected to visit Punta Mita/Sayulita for three days of surfing, chilling, exploring and, of course, tequila drinking. After the swell died down, the group headed inland to the La Rojena distillery in the city of Tequila, which is where Jose Cuervo originated in the 1750's.
The surfers learned about Jose Cuervo's artisanal tequila making process by working hands-on in the fields and in the distillery. Tasks included chopping the Blue Agaves, watching the baking process, taste testing the tequila and finally bottling the finished product. As Jose Cuervo's first distillery, La Rojena is still the brand's hub of all Tequila making and distribution.
The campaign captures the brand ambassadors discovering and exploring Jose Cuervo Tradicional 100% de Agave Tequila, a 250-year-old iconic beverage and an integral part of Mexican culture.

Why is now the time to reinvent the brand?
The campaign is not intended to reinvent the brand, but to continue celebrating Jose Cuervo's roots in Mexican heritage and surf culture. Tequila has played a big part in surf culture since the 1960's when surfers discovered Tequila while searching for empty waves along the Mexican coastline. It was during these trips that surfers discovered Mexican Beer, Tequila and fish tacos that have all become an iconic part of the Southern California beach lifestyle.
What made you choose Luke Davis, Alex Gray, Colin Whitbread, Jared Mell, Dane Peterson and Kassia Meador as Brand Ambassadors for this project?
Taking inspiration from the great Duke Kahanamoku, we curated a group of surfers that we knew would have the most fun, both in and out of the water. We spent a lot of time finding common brand traits between Jose Cuervo Tradicional and our surfers. Wild, fun and adventurous quickly become the filter for what we were looking for. It was important to a cohesive team made up of individuals who would each bring their own sense of fun and adventure to a trip that had many unknowns.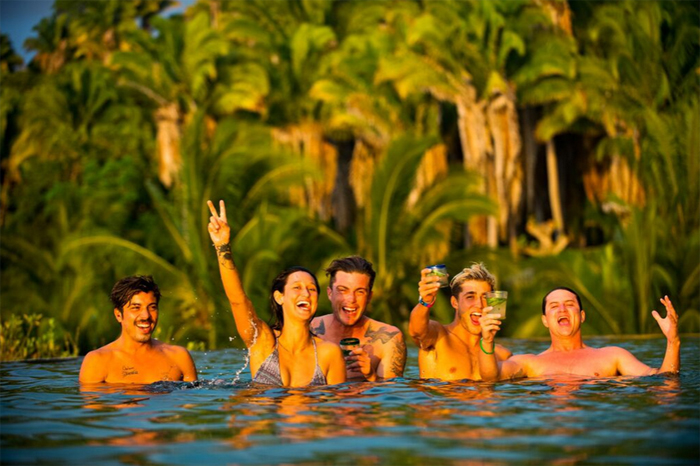 Why were pro surfers the right people to tell the Jose Cuervo Tradicional 100% de Agave Tequila story?
Surfers were a natural fit for Jose Cuervo Tradicional. Known for traveling the world, constantly searching for new adventures and destinations, the athletes truly represent the FunDay AnyDay campaign. Our brand ambassadors are not just your average "weekend warriors," they blend personal passions with professional pursuits to live life to the fullest.
Aside from signifying a fun-filled lifestyle, tequila has deep roots in surf culture and has become an important part of any surf trip celebration. As one of the oldest tequila brands, Jose Cuervo has been supporting beach lifestyle organically since the 70's with the original Cuervo Classic Pro at Sunset Beach, Hawaii and has sponsored for the AVP volleyball tour the past ten years. Today, the plan is to leverage our ambassadors to refocus the brand and connect directly to the surf community.
How are these surfers capturing the essence of "#FunDayAnyDay"?
Each of the ambassadors is the epitome of "Funday Anyday." They wake up psyched and ready to stir things up. They will drop everything at a moment's notice if it means making the day a memorable one.

For example, when the waves went flat in Mexico, the crew pulled out all sorts of activities to keep themselves and each other entertained and laughing all day.

From chair surfing to "the ultimate party wave," this crew knew how to start a party in and out of the water.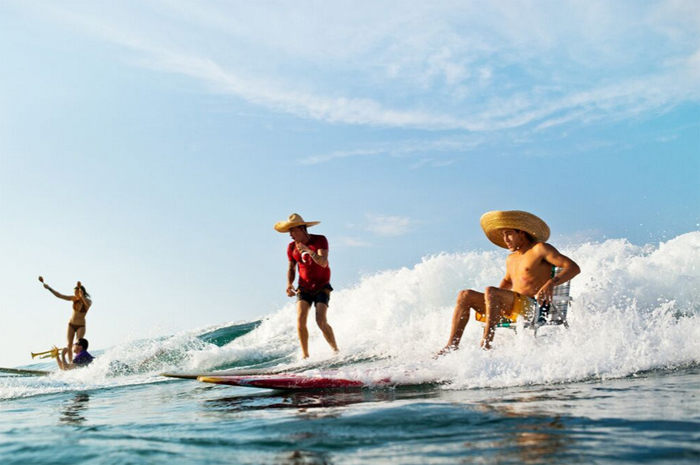 Is the Brand Ambassador program being extended beyond athletes and into other areas such as product?
At this time, Jose Cuervo is working with six professional surfers (Luke Davis, Alex Gray, Colin Whitbread, Jared Mell, Dane Peterson and Kassia Meador) for the #FunDayAnyDay campaign.
As part of the campaign, Jose Cuervo created three separate agave surfboard projects in partnership with legendary shaper, Gary Linden.
· Working with the Jose Cuervo Foundation based in the City of Tequila, Gary Linden, the godfather of Agave Surfboards, is working towards creating the first 100% agave surfboard. Researchers at the foundation spent the last 15 years creating and testing products that reuse agave. Linden's environmentally friendly creation will be as close to 100% agave as possible and will be the first of it's kind ever made.
· Linden also made a 9'8" gun for big wave surfer Alex Gray. The campaign follows Alex and Gary chasing a swell with this board in winter 2015.
· Lastly, Linden created an Agave Fish for Kassia Meador.
For Spring/Summer 2015, we are working with famed Filmaker/Artist Thomas Campbell on a three-minute film documenting Kassia Meador and Jared Mell's upcoming surf trip to the East Cape of Mexico.
Are there campaign extension plans or growth plans in place? For example, adding Brand Ambassadors from other sports?
We are not considering adding brand ambassadors from other sports at this time.
Is this a national, regional, or international campaign?
This is a domestic campaign, focused on core areas of growth within the U.S in regions such as Southern California, Florida, Texas and New York.
There are many untapped surf stories based in Mexico that we hope to unearth over the next year. This will complement the content we create in the Tequila region in Mexico where Jose Cuervo is produced. From local surfers, breaks and unexplored waves, Mexico has a surf culture that runs as deep as Jose Cuervo's history in the region. We hope to share some of these stories in creative ways.
What results will make the people of Cuervo consider this a success?
This specific campaign is intended to raise awareness of Jose Cuervo Tradicional 100% De Agave Silver Tequila. Success of this campaign will come from brand recognition for this new bottle and an elevated brand experience for the Jose Cuervo brand.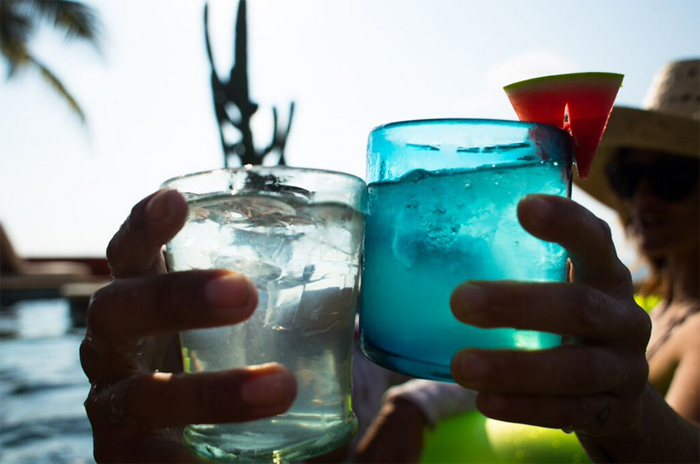 Assuming it's a successful campaign, how long will it run?
The plan is to create a multi year campaign with lots of inspiring content, collaborations and activations. We will continue to dive deeper into the #FunDayAnyDay Campaign with new stories, which can be followed via the campaign's tumblr: http://josecuervo.tumblr.com.
Will there be a boxing match between one of Cuervo's Brand Ambassadors and The Most Interesting Man in the World?
No. The ambassadors' passion is sharing their fun and adventures with the world.
---