BACK TO NEWS
EVENT: Monster Energy Is Ready to Dominate With Its Team of Competing Athletes at X Games Austin
Officially sponsoring X Games for the second year, Monster Energy proudly announces its team of athletes headed to Texas June 4-7 for X Games Austin 2015 taking place at Circuit of The Americas (COTA). With four days of competition ahead, the Monster Energy team is ready for action.
For the second year, Austin will serve as the host city for X Games Austin. X Games Austin has an incredible weekend in store, seamlessly blending competition across Skate, BMX, Moto X, Rally and Super Trucks disciplines, as well as seven distinctly themed villages and entertainment and music from world-class artists to include Nicki Minaj.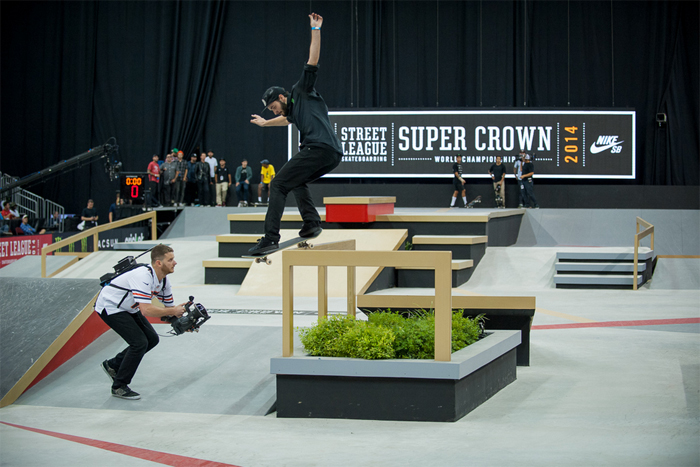 Ready for Austin, the Monster Energy team is stacked with a large number of athletes earning coveted invites. Visit monsterenergy.com for a full list of invitees—key athletes and events to watch out for include:
In Skateboard Street, Nyjah Huston will once again be the one to beat. Last year he took gold in Skateboard Street marking his 5th career gold medal. Even outside of X Games he's lethal. In fact, he's won more prize money in skateboarding competition than anyone else in history. Fellow Monster Energy teammate Ishod Wair is definitely capable of replacing Huston at the top of the podium and has the credibility to back it up owning the title of Thrasher Skater of the Year in 2013. Matt Berger is also one to watch out for with 2014 being his biggest year yet from breaking into Street League, going pro and getting some serious recognition. The young Canadian is hungry and has the skills to back it up.
Coming off his recent Hart Lines street skateboarding victory, Curren Caples will be gunning for the podium in both Skateboard Park and Skateboard Street. A versatile skateboarder with unsurpassed speed and flawless style, Caples continues to rise in skateboarding fame and is definitely one to watch.
Dedicated to progression and constant advancement, Tom Schaar, already has a lot of records under his belt as the first skateboarder to land a 1080 and the youngest skateboarder to win a gold medal in Skateboard Big Air at X Games Austin 2041, to name a few, and is evolving into a force to be reckoned with. Coming off his recent prestigious Vans Pool Party win amongst skateboarding's biggest legends, he is a serious triple threat for all three events he is competing in: Skateboard Big Air, Skateboard Park and new to the X Games Skate | BMX Big Air Doubles.
Pierre Luc Gagnon, owner of an incredible 20 medals thus far in Skateboard Vert (eight Gold, ten Silver, two Bronze), will be out for the win. After fighting through a knee injury in 2013, and missing the podium in 2014 he's already proving with his recent win at the KIA World Extreme Games, that he is ready to land on the podium this year and add to his already legendary medal count.
Jamie Bestwick, the unquestionable king of BMX vert, will be ready for more gold this year. He's won every X Games Vert event since 2007, meaning he's won more consecutive gold medals than anyone in X Games history (nine).
Loaded with raw talent, three-time X Games gold medalist Kyle Baldock from Australia will be going for his third consecutive gold in BMX Dirt and also poses a threat in BMX Park.
Five-time X Games medalist Taka Higashino will be competing in the inaugural Moto X QuarterPipe event. With three straight X Games gold medal wins at X Games LA 2012, X Games Foz do Iguacu 2013, and X Games LA 2013, and the unfortunate X Games Austin 2014 event being cancelled because of weather, Higashino is more than ready to reclaim gold.
Jeremy "Twitch" Stenberg is a 14-time X Games Moto X medalist (six golds), making him the second most decorated Moto X athlete in X Games history. Being popular doesn't hurt either for the fan voted Moto X Best Whip event, and he has the talent to back it up. A legend in moto freestyle, he's always pushing it with his signature batch of smooth, flowing whips.
Nate Adams will once again join his teammates as he goes for the podium in Moto X Speed & Style after an injury prevented him from competing at X Games Austin 2014. He took Speed & Style gold plus Freestyle bronze in 2013 in LA. The reigning Moto X medal count leader, Adams has an incredible 16 medals in his trophy case.
In Rallycross, look out for Monster Energy's Liam Doran. The aggressive, British driver has four X Games medals (two golds) and will be joined on the track by teammate Ken Block. The inventor and driver behind the famous Gymkhana video series, Block's been a podium threat for years and has chalked up multiple medals, but will be hungry for his first gold in Austin.
In Off Road Truck Racing look out for Kyle LeDuc and CJ Greaves.
Check out http://www.monsterenergy.com and http://facebook.com/monsterenergy next week to catch exclusive updates from X Games Austin 2015. The sites will be loaded throughout the event with exclusive photos, videos, behind the scenes coverage, and contest results as they happen.
---