BACK TO NEWS
Velofix - Interview with Chris Guillemet
Voted one of the best mobile franchises in the April issue of Entrepreneur Magazine and featured in an episode of success stories for Dragons' Den (Canadian version of Shark Tank), Velofix has seen its share of successes. With the motto: Save Time. Ride More. Velofix is all about efficiency. This Vancouver-based mobile bike shop, co-founded by Chris Guillemet, Davide Xausa, and Boris Martin, is an alternative to traditional bike repair shops.
We checked in with Chris Guillemet to find out why Velofix was founded, how the service works, and how they perfected the business model.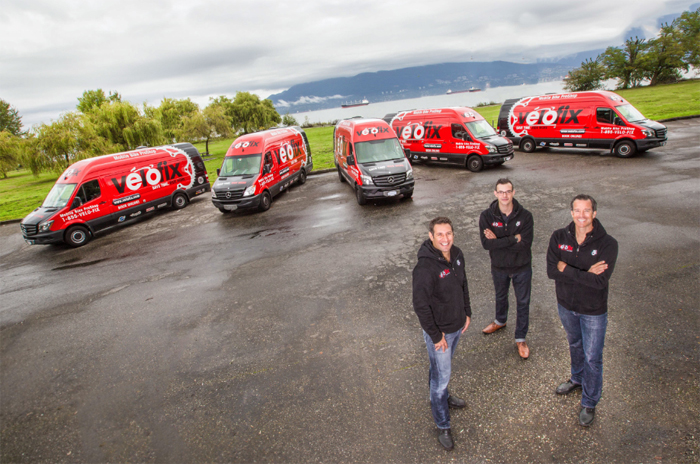 Before starting Velofix, how were you connected to the Bike industry?
No direct connection to the Bike industry but we all love to ride.
What is Velofix and why did you start the company?
Velofix is the largest fleet of Mobile Bike Shops in the world. The company was started because we felt there was a need for a premium and convenient service that was not available in the industry.
How did you get selected for Dragons' Den and how did this experience add to the success of the company?
We applied and auditioned and eventually were selected to film at the CBC studio in Toronto. We gained tremendous exposure from the original episode and then we were featured in the Season Finale as one of the year's success stories. Our deal with Jim Treliving has not only brought capital but 50 + years of Franchising experience.
Who are the key players for Velofix?
There are 3 of us that Co-Founded the company. Davide Xausa, Boris Martin and Chris Guillemet. We have two key investors - Charles Chang who is the Founder & President of Vega and Jim Treliving who is Co-Founder and Co-Chairman T&M Management Services and Boston Pizza International.
How would someone make an appointment to get their bike serviced, and what does the process look like?
We have a 24/7 On-Line Booking system – you simply put in your Zip code and pick a day/time that works for your schedule, pick a service package and the Mobile Shops comes right to you. It is a very simple booking process and we will be launching a Mobile App soon. Clients can also call our toll free # if they prefer to book via the phone. 95% + of our Bookings are done on-line.
How do you ensure the best customer experience?
Our Mechanics are all professionally Certified, we have SOP (standard operating procedures) that all of our Franchise partners are required to follow. The Mechanic test rides all Bikes to ensure it is top condition before the client gets out and rides. We have an espresso machine, flat screen and wireless in every Van to ensure our clients are comfortable if they want to stay in the Van and get educated on the service.
Who are your corporate clients? How are you able to balance having both corporate and individual clients?
We have many Corporate clients including Hootsuite, Lululemon, Vega and Ryders Eyewear here in Vancouver. While our corporate business continues to grow the majority of our business is still our individual clients.
Why capitalize on corporate clients?
Most companies have a mandate to promote health and wellness to their employees. Cycling is a huge part of that program as they want employees to commute to work and ride to improve health. For us it is a great opportunity to have the Mobile Shop parked at 1 location all day servicing 20 + Bikes. We also include Lunch & Learn programs to educate people on bike safety and maintenance.
How can someone become a Velofix franchise owner?
We have 2 types of Franchise Partners 1) The Owner/Operator who is the Mechanic and works in the Van 2) Investor – who buys the Franchise and then hires a Mechanic(s) to run the day to day.
Franchise Fee is $25k and the Van and Build Out of the Mercedes Sprinter is approx. $100k which can be financed through one of our Finance partners.
The potential Franchise partners can apply on-line and we start the due diligence process.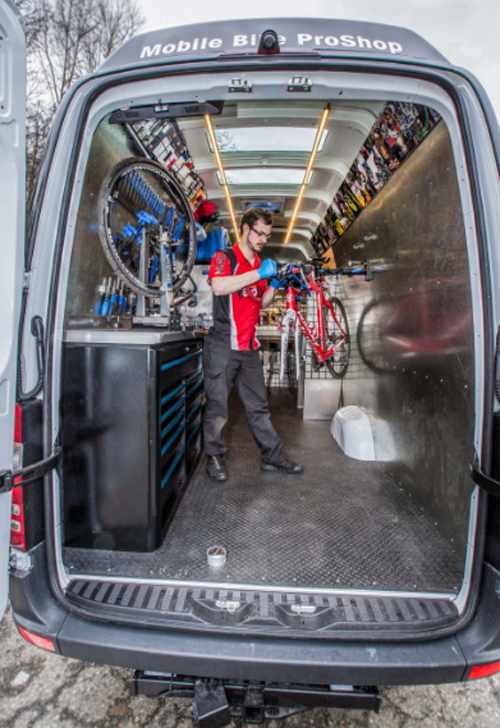 What types of regulations (if any) does Canada have on franchises? How do these regulations transfer to other countries?
There are many regulations and legal requirements to be a Franchisor. We have spent a tremendous amount of time and money to be approved to sell Franchises in both Canada and the USA
What should we expect to see in the future for Velofix?
We currently have 17 Franchises sold in Canada and are in every major city. We are launching our first USA Franchise partner in the Santa Monica area in June 2015 and have more Franchises launching soon in Texas, Colorado and California. You should expect to see Velofix Mobile Bike Shops in every major city across North America and in Europe in 2016.
---