BACK TO NEWS
EVENT: DC Partners with the Masked Gorilla to Present the Unmasked Concert Series
Today, DC Shoes announces teaming up with the Masked Gorilla to present the UNMASKED Concert Series. The first concert will kick-off on Sunday, June 21, 2015 featuring Curtis Williams and Key! at the Roxy in Los Angeles. This exclusive, summer concert has a limited amount of tickets so attendees will have a truly unique experience at the Roxy. Tickets are now available for purchase here: https://www.ticketfly.com/purchase/event/874693
UNMASKED is returning this summer with a total of six exclusive concerts, taking place at the Roxy every two weeks. Each concert will feature product giveaways as well as the unmasking of artist line up and early access to pre-sale tickets to the next concert. In line with the concert series, limited edition DC x Masked Gorilla merchandise will also be available for purchase at each show. The concert series is open to all ages and features new acts and underground artists of all statures. Last summer, the UNMASKED Concert Series featured Vince Staples, Odd Future, Yung Lean, Denzel Curry and many more.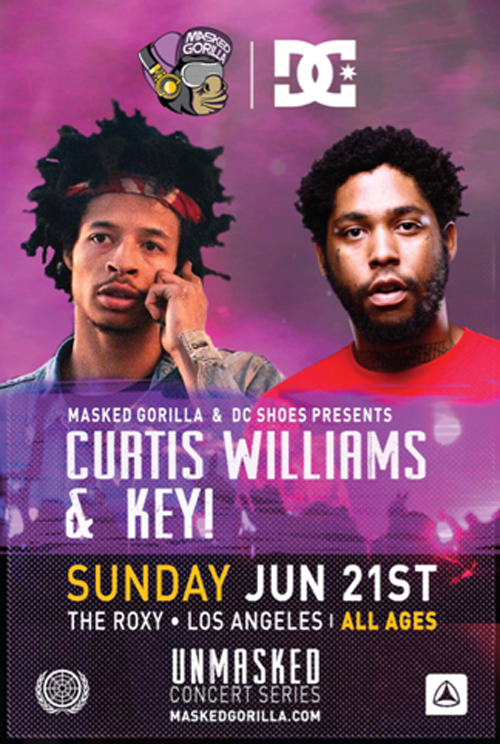 The Masked Gorilla is the definitive youth voice of hip-hop, a popular youth culture website that discovers and showcases emerging rappers. Masked Gorilla is credited with producing Mac Miller's first video interview and shining light on artists like Kendrick Lamar, Odd Future, Yelawolf, Joey Bada$$ and numerous other artists. Since 2009, Masked Gorilla has been extensively covering the new generation of rappers and introducing the genre to fans of all ages.
For more information on DC Shoes and the UNMASKED Concert Series, please visit dcshoes.com. To follow the UNMASKED Concert Series on social media, follow #UNMASKEDLA.
---