BACK TO NEWS
Industrial Profile
6/8/2015
KC Cassily - Roxy Product Line Analyst, Americas
Not all journeys lead in a straight line, which was certainly the case for KC Cassily. Her career has taken her from her home town in Michigan to Asia, Europe, and finally Southern California. Now at Roxy, we spoke with KC about her career journey, what she learned, and how it feels to have landed a job with her dream company.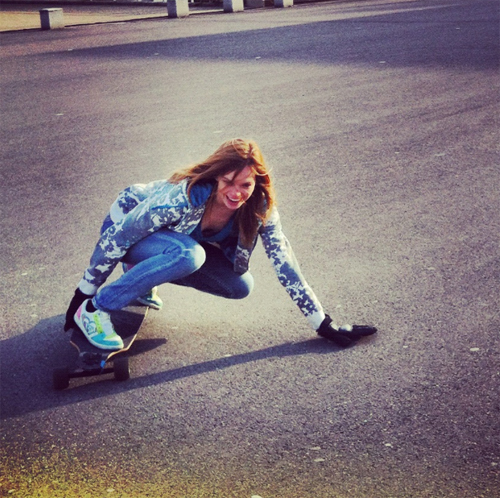 How did your experience as a snowboard instructor help shape your career?
Prior to snowboarding, I studied International Business and Mandarin, but I didn't know what area of business I wanted to pursue. I learned how to snowboard while working in PR for one of their first snowboard shops in Beijing, China. The Burton rep and my boss certified me as a "Learn to Ride" instructor so we could offer lessons to our international clientele. I started teaching within two weeks of learning to ride and the full immersion quickly made me an addict. I found so much joy both in riding and teaching others and was stoked to see and experience how the sport really empowered individuals and built courage. From that season on, I knew I wanted to apply my business background to work in the action sports industry and work with products that promote adventure and spread happiness.
I found a job posting for a Snow Product Manager and used that as my "skills check list" over the next few years. I, coincidentally, also set-up daily email alerts from Malakye. This became my daily reminder of my career goal over the next six years.
How did you find yourself in Beijing for your first job? What was your role?
My college's study abroad program (Kalamazoo College) focused on immersion abroad through local employment and I met regularly with an advisor to analyze and make the most of that work experience. I had heard that there was an indoor snow hall in Beijing and came across a posting for a PR/ event coordinator role while searching Beijing's main expat site for details on the snow industry.
I met the owner of "Demokratic Snow Skate Surf" (he was legally not allowed to use the name "Democratic") a couple days after arriving in Beijing and worked with them from their grand opening through the end of their first winter season. I used my Mandarin to plan events with local resorts and businesses and then English and broken Spanish to work with and teach our customers. We catered to primarily to a foreign clientele as it was still a new sport in China. To increase awareness about the sport, my boss asked me to take my board home with me each night, which meant a 5'9 blonde was carrying a snowboard on crammed subways and buses around Beijing. People constantly took photos and ask what it was – the direct translation from Mandarin is a "single board ski".
What made you decide move back to Michigan and open a design firm?
After working with Demokratic through their first six months of business, seeing the ins and outs of being a small business owner, as well as interning with the CEO of a real estate firm in Mumbai, India, I knew that running my own business was something that I could do. My school required a senior project for graduation, so I decided it was a perfect time to launch the business as I would have accounting and business professors as resources along the way.
I convinced my mother and her colleague David Weston to resign from their employer so we could start our own business, Think Design, International. As award-winning and widely-recognized designers, they were able to expand their client-base under our firm while I set-up the accounting and purchasing systems and created HR policies as we hired on associate designers and interns. It was an amazing experience working between design and business on a daily basis and confirmed that I needed to work in a position that had exposure to both. Plus, I was working as a snowboard instructor every evening at my local resort, Canonsburg. It was a great balance!
We won "Best of Grand Rapids" six years in a row, and David and Melanie continue to work on exciting projects internationally and nationally. I speak daily with my mom on the business side as she took over the books when I moved to Europe.
What were you able to take from your PR position in Beijing to help you in your new role?
The biggest thing I took from Demokratic was confidence. I knew that if I could help run a shop in a foreign land, in a foreign language, then I could do so at home in a town where we already had a network and reputation. It can possibly be chalked up to 21-year old nativity, but I simply had no doubt that we could do it. Eight years later, I still use that experience as my main motivator when I feel I am against a large challenge – I remember that if I can get the courage and positive mindset, then I can make things happen.
Where was the next stop in your career after this?
While I loved waking up each morning knowing I was going to work at my own firm, (and my mom and I had a hoot signing each other's pay checks), I knew that I needed to work at an international corporation to really understand the business world and build skills that would help me succeed in the action sports industry. Every Snow product posting I received stated that a strong understanding of numbers and analysis was required, so I joined Morningstar, Inc, an investment analysis firm out of Chicago. Living up to their hiring promises, they had me develop a new Australian database in my first year, and then moved me to Frankfurt, Germany. After working as an analyst/ relationship manager, I helped open their first office in neighboring Luxembourg.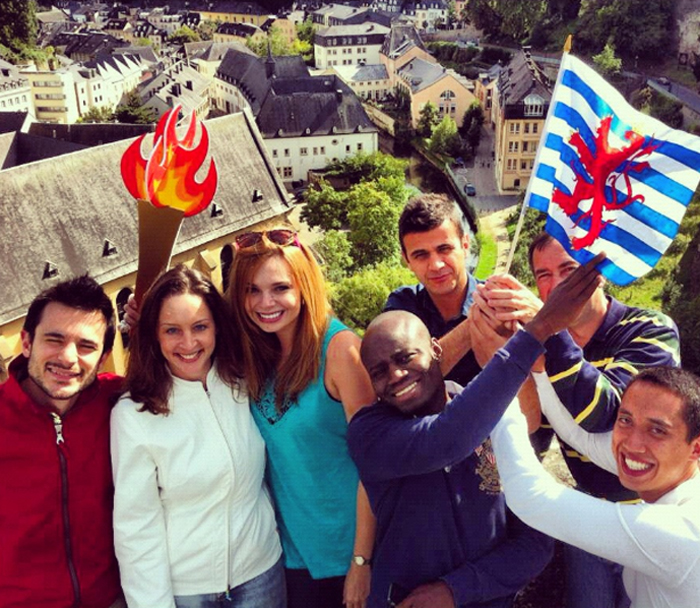 KC (third from the left) with the team she managed in Luxembourg overlooking the Grund (6 people from 4 continents/ 5 countries!)


As the Head of Data Operations, I was able to build a local team of 5 (from 5 continents!) and I also had "dotted line" reports in 9 other countries. My position's goal was to streamline processes across all of our European offices as well as create a program to enhance communication with our global data headquarters in China. I created an Ambassador program for our Shenzhen analysts and also worked on LEAN Six sigma projects.
After the team was set-up and processes were running smoothly, they asked me to either move to Dubai and do it again, or become the regional Sales Director. As sales experience was another requirement on my "check list", I chose to became the Sales Director for Luxembourg. I had to negotiate contracts with clients from over 25 countries, and work with IT and product managers to implement bespoke custom solutions. I also MC'd the regional fund awards as well as other events, such as a joint celebration with Ernst & Young at the International Fund Forum in Monaco.
Within 6 months of being in that role, I won the global sales "Rookie of the Year" award. I absolutely loved my work and living in Luxembourg, but I realized that while I was building skills towards my dream job, I was a little too far off track. I started applying for jobs in the US, from Luxembourg, and had zero responses. I realized I had built great business experience, but I had no hands-on experience with snow products to be hirable. Also, no one would hire someone from Luxembourg if they had a great local talent pool.
Why was relocating to Southern California important to you? How did you reach this decision?
My daily emails from Malakye had taught me that the global headquarters for the action sports industry was Orange County, so I started looking for educational options in the area. With the support of my friends and family, I quit my job, moved to Costa Mesa and enrolled at FIDM – their Professional Designation Product Development major was a one year program that I hoped would give me the skills I needed to finally transfer industries. I also knew that being local was imperative, as everything I read about the industry said that networking was key.
What was it like to go back to school and work as an intern after having 7 years of professional experience?
It was hard! I guess I thought that fashion school would be easier than studying business and Chinese, but it was a completely different type of school. The number one requirement was time. I had no nights, weekends, or social life (besides studying with my boyfriend), and every class taught a different skill – patternmaking, Photoshop/ Illustrator, textile testing, sewing, merchandising, sourcing…
The benefit was that I knew exactly why I was there so I loved every single class. Also, I was already used to long work days so I just made school my new full-time job. I could definitely see how having a bit of work experience helped me link the significance of each class as they often teach at a "tree level" and you have to stay focused on "forest level" goals.
What was the biggest lesson you learned from your career journey and your time spent abroad?
Enjoy the journey and say yes to all opportunities! I didn't start snowboarding until I was 21, I never wanted to work in the financial sector, and I had never even considered going to a design school, but all three became some of the most important pieces of my career. My time abroad taught me so much about working with people and different cultures, and I think that flexibility and on-the-go problem solving is now my largest strength.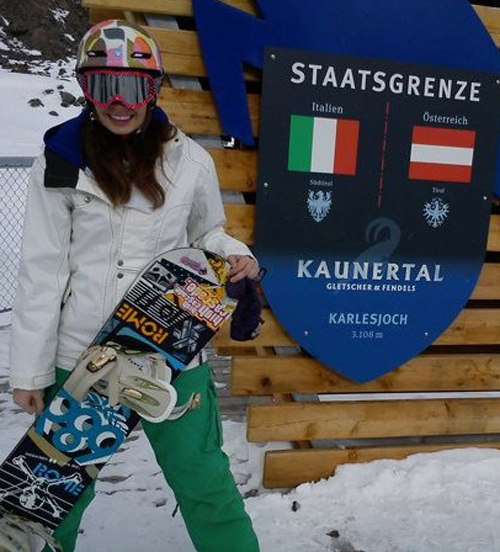 On the Italian/ Austrian border at the top of her favorite local resort – Kaunertal, Austria


How did you land your current role and what makes it your dream job?
Shortly after landing in the US, I attended Schmooz as I saw Quiksilver was recruiting (as a boarder, Roxy had always been my dream company). I was completely open to any opportunities they saw as a fit while I was in school, and was enthusiastically directed to their intern program to get my hands dirty. I joined the Snow department as their summer intern, and with a four-month old new ACL (blew it during a snowboard competition at Bear), hobbled my way around to organize, log, and ship samples, as well as conduct competitive analysis as time warranted.
At the end of my internship, Quiksilver was on a hiring freeze and there was only one position opening – an Analyst role on the M&D team. It seemed too close to my past to being a satisfying role, so I almost didn't apply, but the snow director told me to "apply to everything as what is meant to be will be". I am so thankful for this advice! It ended up being the perfect fit for me to use my past experience to contribute and learn in a new industry.
I am now the analyst for Roxy Merchandising & Design in the Americas, and I work with counterparts in France and Australia. I work with Apparel, Swim, Outdoor Fitness, Accessories, Wetsuits, and Snow. I run trend analysis, looking for patterns in sales (silhouettes, colors, best sellers), and then work with our merchandisers to make/ adjust line forecasts throughout each season. We incorporate sales rankings and other divisional feedback after final line adoptions and then I help with the handoff to demand planning for buying. I am surrounded by our designers and help the merchandisers with various parts of planning in between my projects.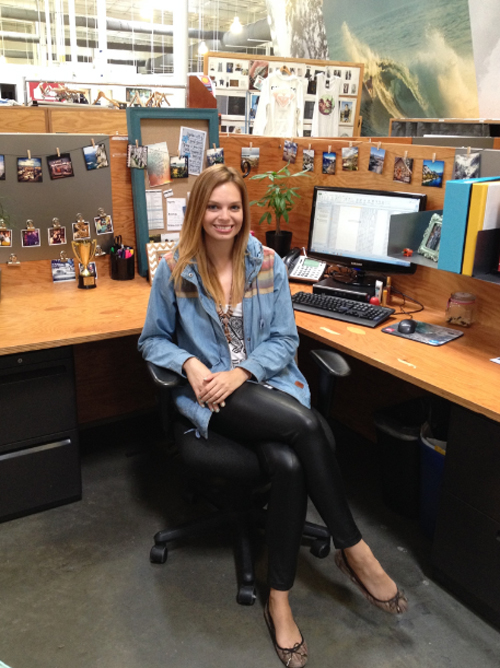 KC sitting at her desk at Roxy – center of Merchandising & Design


What advice would you give to others pursing their dream jobs?
Our careers no longer require us to climb ladders, but rather we face a jungle gym where different opportunities will open to us and lead us down numerous, interconnected roads. Don't be afraid to try something new, and don't let any one position or company become too much a focal point of your lives. On each path you will acquire new skills, interests and tales, and become more of a well-rounded individual. Stay optimistic and focused, keep your eyes open, and enjoy the journey!
For fun: my favorite quote:
"You can never cross the ocean unless you have the courage to lose sight of the shore."
- André Gide
---