Back to News
B$Z: TransWorld Business and SIA Roll Out the 2015 SIA Snow Show Experience
June 8, 2015
This week, SnowSports Industries America (SIA) and TransWorld Business (TWB) are rolling out a unique new view of the 2015 SIA Snow Show: The SIA/TransWorld Business Snow Show Experience. The SIA/TWB Experience is a multidimensional experience that gives you a quick, immersive, snowboard-specific view of the 2015 Snow Show. The entire Show has been rolled up into a fast-paced digital view, showing what products launched, which parties hit Denver, and the overall energy and excitement SIA and the industry brought to Colorado.
"We're always looking for ways to experience the Show from a new perspective, and to give anyone, anywhere, the ability to take in the energy and collective community feel the Show generates," said SIA director of marketing and communications, Mary Cecile Neville.
"The SIA/TWB Experience is as close as we can come to feeling that vibe without actually standing on the Show floor. Insight into specific trends, the most recent data, and commentary from snowboard industry leaders make this view of the Show a unique-see to stay on top of what's happening in snow and what's ahead. It's an alternative way to not only look back at the 2015 Show, but also to look ahead for 2016. We're excited to extend our partnership with TransWorld Business launching this new incredible project together," Neville said.
Explore the SIA/TWB Experience now: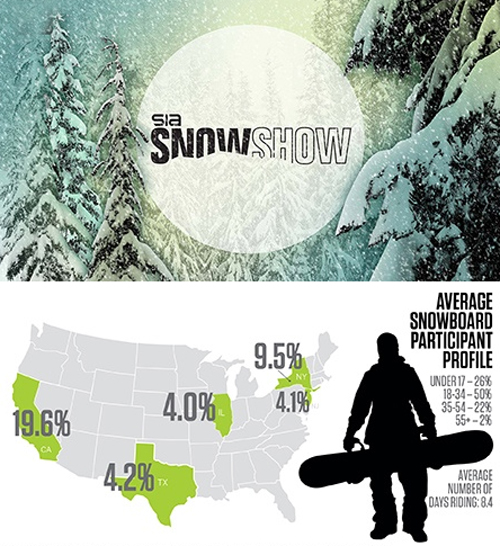 "SIA is such a strong partner for us here at TransWorld Business, so we're really excited to have them collaborate on this multidimensional experience that showcases our archive of strong digital media gathered throughout the 2015 SIA Snow Show. Basically, think of this as a more entertaining, comprehensive way of walking through a day-in-the-life of an SIA-attendee," said Kelsey Smith, TWB's new Digital Managing Editor.
"The Show has grown to be such a powerful tool for brands, athletes, media, and trendsetters, so what a better way to reveal the magnitude of SIA than to communicate it with this unique 2-D format. We're honored to be a media partner with SIA and to work with them on such a fun project," Smith added.
Check out the SIA/TWB Snow Show Experience and find more about TransWorld Business, click here. Visit Snowsports.org for more about SIA, and for more info about the SIA Snow Show go to SIAsnowshow.com. For more SIA/TWB collab, find The Guide and coming soon The Sessions @ SIA.
---