BACK TO NEWS
EVENT: Monster Energy Congratulates Its Athletes on Epic Performance at X Games Austin 2015
Monster Energy, the official energy drink of X Games Austin 2015, congratulates its athletes on a hugely successful weekend of competition. The world-class team took a total of 19 medals across skateboarding, BMX, and Moto disciplines, and a medal in gaming setting a record for Monster Energy with the most medals earned at X Games. Visit monsterenergy.com for exclusive content on all the team's successes.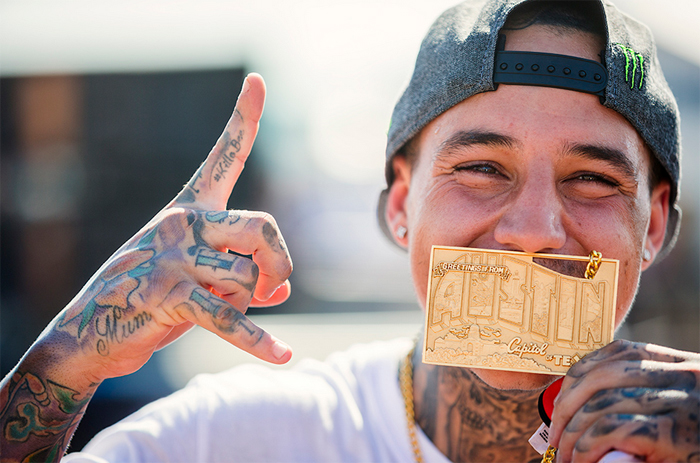 Kyle Baldock Takes Gold in BMX Dirt at X Games Austin 2015


The four-day event at X Games Austin 2015, the second X Games in the Texan state capitol, drew massive crowds under the blazing sun at Circuit of The Americas (COTA) with 136,845 spectators.
For the opening night on Thursday, June 4, fans watched the Moto X Step Up finals at the outdoor venue in downtown Austin with Bryce Hudson taking a silver medal in the event. Over at COTA Brad Baker took bronze in the inaugural Flat Track event.
In skateboard Monster Energy dominated with three gold medals. In Skateboard Vert Pierre Luc Gagnon returned to the top spot after missing the podium in 2014. Teammate Sam Beckett won bronze in both Skateboard Vert and Skateboard Vert Best Trick.
In Skateboard Park Curren Caples walked away with gold and stacked together a perfect routine pairing stylish airs with difficult technical tricks, covering every angle of the concrete park with speed and signature effortless flow.
Tom Schaar, 15, took two bronze medals, one in Skateboard Big Air and one in the new Skateboard and BMX Big Air Doubles event where he and Monster Energy BMX rider Zack Warden teamed up and landed in third place.
In the Monster Energy Skateboard Street event, Nyjah Huston reclaimed the throne where he dominated the California RampWorks-designed concrete course with a barrage of technical tricks delivered with incredible consistency. Having won more prize money in skateboarding competitions than any other rider in history – over $2 million in Street League competitions alone – Huston now adds this 10th career X Games medal, bringing the count to seven Gold medals (one of them being for the X Games Real Street Video), two Silver medals, and one Bronze.
In BMX Vert Monster Energy congratulates team rider Vince Byron on taking his first-ever gold. In doing so, Byron ended teammate Jamie Bestwick's run of nine gold medals, longest winning streak in X Games history, but the legendary Bestwick still managed to finish right behind Byron with the silver medal.
In BMX Dirt Monster Energy congratulates Kyle Baldock on reclaiming the gold for the third year in a row and his fourth gold medal overall. Hailing from Australia, Baldock has earned a reputation as an exciting and innovative rider, both in Park and Dirt riding. Coming onto the scene in 2011, he quickly made a name for himself in contests before becoming the reigning king of X Games BMX Dirt.
New Jersey native Scotty Cranmer walked away with bronze in BMX Park. Cranmer has been a mainstay on the X Games podium. He's a three-time X Games gold medalist (2006, 2009, 2012), and now has nine medals in 12 appearances, all in BMX Park.
In BMX Big Air Colton Satterfield not only took gold but made BMX history by being the first rider to land a double flair on the mega ramp. With the win coming on his 3rd and final run, the gold is the second-straight in the event for the Monster Energy rider.
In Moto X Speed & Style Nate Adams took gold and teammate Blake "Bilko" Williams finished behind him with the silver medal. Today marks Adams third gold medal in Moto X Speed & Style and an impressive 20 X Games medals overall. Williams is also no stranger to the X podium. This is the Australian's sixth X Games medal and third silver medal in Moto X Speed & Style.
Josh Sheehan took bronze in the new Moto X QuarterPipe event. He recently made headlines by becoming the first person ever to successfully land a triple-backflip on a motorcycle, so there's no doubt that he's not afraid to push progression, and in Moto X QuarterPipe round one, Sheehan became the first competitor to actually land his trick – a Flair, combined with a Superman Indian-Air.
In gaming Monster Energy's, The Alliance took silver in the Dota2 tournament.
Monster Energy also brought in noncompeting Monster Energy athletes to enjoy a weekend at X Games Austin 2015 including UFC fighters Quinton "Rampage" Jackson and Donald "Cowboy" Cerrone, Olympic gold medalists Sage Kostenburg, Jamie Anderson and Kaitlyn Farrington, snowboarder Chris Grenier and freeskier Jossi Wells.
To celebrate their athletes and VIPs, Monster Energy hosted 'the' party to hit featuring hip-hop star Meek Mills to an over-capacity crowd. The Duffle Bag Divas, (DJ twins) were also in the house to set off the evening. Guests included Meek Mills' crew and girlfriend R&B singer Nicki Minaj, Monster Energy athletes, Monster Energy Girls, industry VIPs, media and influencers.
Check out http://www.monsterenergy.com and http://facebook.com/monsterenergy for more from X Games Austin 2015 including photos, videos, and contest results.
Follow us on Instagram and Twitter and search #UnleashedAtX for exclusive behind-the-scenes looks in Austin.
---