Back to News
B$Z: Lucid Eyewear's Ventura June
June 9, 2015
Lucid Eyewear is proud to introduce Ventura June featured in the accompanying beautiful lookbook (see link). The Ventura is a handcrafted sunglass model that delivers a summer look with modern color palette of black, silver and gold polished metal elegantly wrapped in leather with lens options including Cr39 brown, grey polarized or polarized. This refined, restrained and sleek classic look is the perfect fit for simplicity and style… Stay Positive.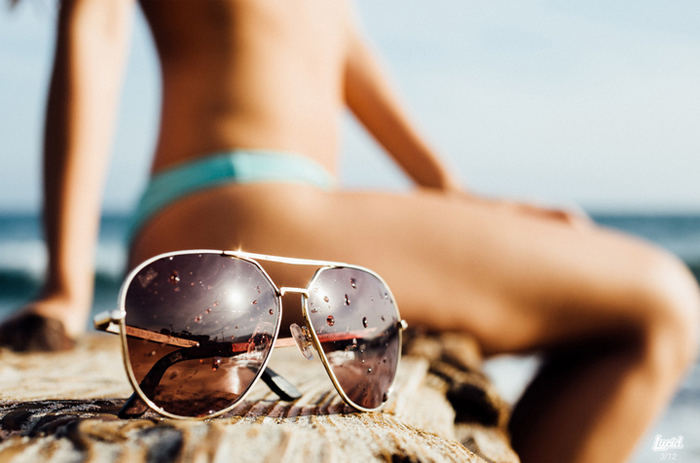 "The Ventura is the perfect frame for every occasion," says Lucid Founder/President, Mark Reininga. "It's a simplistic design with luxurious leather accents that will provide a sharp addition to your face and surely get noticed. Don't be caught in just any shades this summer, get Lucid and create the right look for you."
All Lucid Eyewear lenses are scratch resistant, very durable and offer 100% protection from the sun's harmful UVA and UVB rays. Lucid Eyewear polarized lenses offer ultimate clarity, cut glare and are the very best option for eye protection.
Spread The Shade: Spreading the hope of a child's future with the protective shade of a sleeping net. Together with our customers, we give back by providing a sleeping net to a child in need with each pair of sunglasses sold: http://lucidwear.com/pages/spread-the-shade
VENTURA | BLACK, LEATHER & CR39 GREY: http://lucidwear.com/products/ventura-black-leather-cr39-grey
VENTURA | BLACK, LEATHER & GREY POLARIZED: http://lucidwear.com/products/ventura-black-grey-polarized
VENTURA | GOLD, LEATHER & CR39 BROWN: http://lucidwear.com/products/ventura-gold-cr39-grey
VENTURA | GOLD, LEATHER & POLARIZED: http://lucidwear.com/products/ventura-gold-polarized
VENTURA | SILVER, LEATHER & CR39 GREY: http://lucidwear.com/products/ventura-silver-cr39-grey
VENTURA | SILVER, LEATHER & GREY POLARIZED: http://lucidwear.com/products/ventura-silver-leather-grey-polarized
Ventura June Lookbook: http://lucidwear.com/blogs/news/33605444-ventura-june
Why Cheap Sunglasses Are Killing Eyes: http://lucidwear.com/blogs/news/26516036-are-cheap-sunglasses-killing-your-eyes
---