Back to News
GRAYL - Interview with Nancie Weston and Travis Merrigan
June 9, 2015
What would you think if we told you that you could have freshly filtered water, no matter where you are, in less than 30 seconds? With the GRAYL Water Filtration Cup, now you can!
GRAYL, a Seattle based start-up founded in 2012, had a vision to create the world's greatest water filters and purifiers: a unique and ingenious design, highest quality filtration technology and interchangeable filters for virtually any type of water. With the creation of the GRAYL Water Filtration Cup, the brand hopes to provide safe water while reducing the number of single-use water bottles and continue to promote green living. We caught up with Nancie Weston, CEO, and Travis Merrigan, COO at GRAYL to find out what inspired the invention, who benefits from the product, and how the company is helping to keep the Earth clean.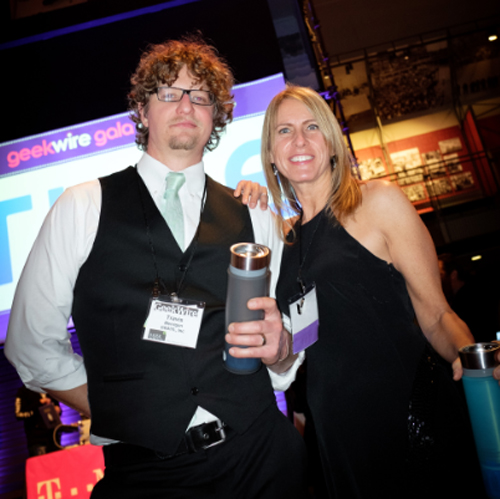 Travis Merrigan, COO and Nancie Weston, CEO at the Geekwire Gala in December when we won the "Seattle 10" Most Innovative Startups

Why was GRAYL invented? Is it patented?
Travis Merrigan: Our goal was to create the ultimate system for on-the-go water filtration and purification – one that could travel across town or around the globe. We inspire people to take control of their water quality everywhere they go. GRAYL has a design patent (granted) and two utility patents (pending).
Where did you draw inspiration from?
Nancie Weston: The original concept came from a bad backcountry water experience – Giardia is no fun. A few years later I was struck by the cost of bottled water and the waste it creates. I couldn't stand the guilt and the thought of what plastic pollution is doing to the environment and marine animals. I had to do something, and my passion turned into a vision of a water filter that worked like a French Press. It had to be rugged enough for outdoor use, but stylish enough for any business meeting or restaurant.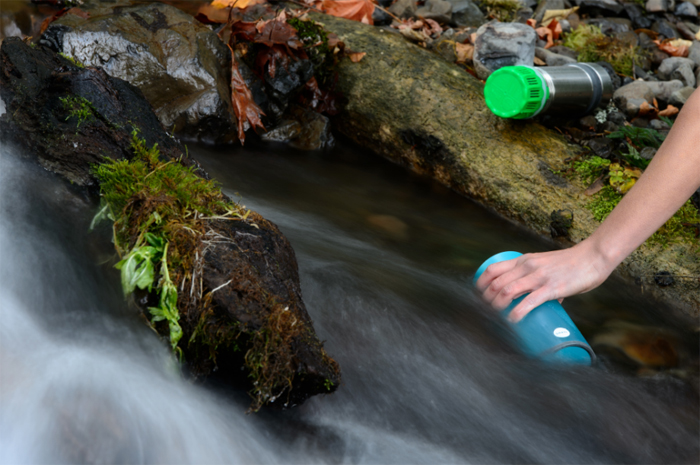 How has the company grown in the last three years?
TM: After a year and a half of design and engineering work we launched in Oct 2013 with some great partners: REI and Sportsman's Warehouse plus two amazing independent retailers – Next Adventure in Portland and Mountain Gear in Spokane. They offered support, advice and bought from our first shipment. We learned a lot in our first year, made some major product and packaging changes in Fall 2014, and have entered 2015 with a lot of momentum and what we think will be our best product to come this fall.
Why did the company adopt a storm drain? What does that require?
NW: Water quality is at the core of GRAYL. Safe water is vital to human wellbeing and clean water is crucial to the natural world. Every year, tons of plastic ends up in our oceans. The local drain reminds me of a drain at OR Summer Market in 2014. It was full of garbage and plastic water bottles (we even posted it on Instagram: https://instagram.com/p/rVDgQetWul/). Adopting the drain was one small way we can have a local impact. We're having a larger impact every time somebody chooses to use their GRAYL instead of bottled water.
How do you hope the invention of GRAYL will impact single use plastic bottles?
NW: Our mission is to provide safe water everywhere for people on the go. We hope people will change their habits and consider using GRAYL or other reusable bottles and filters instead of single use bottles, not only for hiking and travel but also for everyday use. I often hear, "but I recycle my plastic bottles." In reality, only 20% of plastic bottles are recycled. Also, a single 16oz plastic bottle requires 40oz of water and 4oz of oil to manufacture and ship it. It doesn't make any sense.
GRAYL makes filters that provide safe, clean water on a hike or across the world. We made our Water Filtration Cup with three interchangeable filters for TAP, TRAIL and TRAVEL. The Tap Filter removes many chemicals and heavy metals, plus flavor and odor. The Trail Filter adds protection from bacteria and protozoan cysts. The Travel Purifier provides the ultimate defense against viruses. None of our filters use chemicals in the filtration process, even at the virus/Purification level. We want to get people filtering everywhere they go like at the office, gym, festivals and shopping, then use it outdoors while hiking and camping, and while they travel internationally.
Who can benefit from GRAYL? Are there specific markets targeted?
TM: Travel is our biggest market. Travelers understand how crucial a water purifier is while venturing internationally. Outdoor recreation is also a very large market for us because, like travelers, outdoor enthusiasts (from hiking and camping to fly-fishing) understand that water filtration is a must in the backcountry against threats like Giardia. The tipping point is the Tap Filter, to get people to not only use our filters for travel or hiking but to use it everyday while on the go vs. buying bottled water. People are starting to turn to our Tap Filter once they are back from their adventures with our Trail Filter and Travel Purifier.
Where can consumers get the GRAYL Water Filtration Cup?
NW: GRAYL is available through our website as well as through many outdoor, health and specialty stores including: REI, Next Adventure, Mountain Gear, Orvis, Nordstrom.com, Backcountry.com, Eastern Mountain Sports, Sportsman's Warehouse, Sport Chalet and Backwoods. See our dealer locator on our website or contact us for more information.
What is the purpose of the different filters? Why is it important to have 3 different types of filters?
TM: Each filter has a specific purpose and use case. Our Travel Purifier and Trail Filter use different configurations of the same technology, which was originally created for NASA.
All three have different uses and different press times.
· The Travel Purifier (30 seconds press) is one of the fastest and highest rated purification products on the market, removing 99.9999% of bacteria and viruses and 99.999% of protozoa, without the use of chemicals in the process
· The Travel Filter (15 second press) is perfect for most outdoor sources, removing 99.99% of bacteria and 99.94% of protozoa
· The Tap Filter (7 second press uses fast-filtering activated carbon fiber to filter heavy metals and chemicals and make water taste great.
Our interchangeable filter system was designed to give the end user a filter for all occasions, meaning that GRAYL can do it all, from heavy metals to viruses, by just swapping the filter. The three filters have different flow rates and price points, and all three highlight the unique "French Press" filtering mechanism, which is what really sets GRAYL apart from the suck and squeeze or pump and hose filtration methods.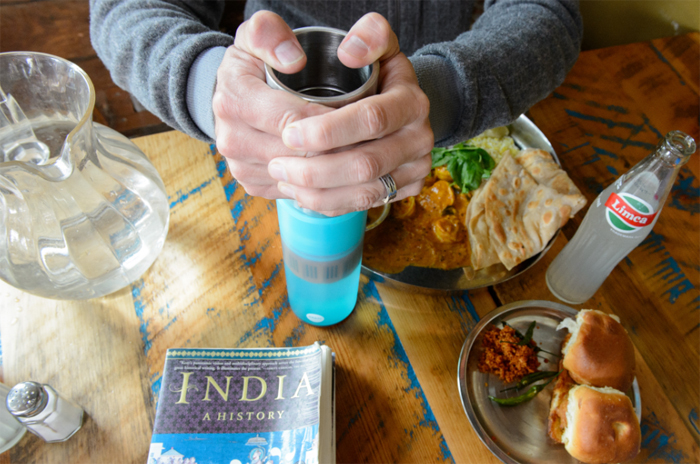 What is the lifecycle of a filter? Are they recyclable?
NW: All three filters are rated for 300 uses, or 40 gallons of water. A daily user, using the GRAYL three to four times a day, should replace their filter every three months.
Our cartridges currently aren't recyclable in most general home recycling programs, however we are working with a recycling company now to develop a program. We're very optimistic that we'll have a consumer recycling program in place by the end of the year.
What is next for GRAYL?
TM: We have lots of exciting things in the works. We are about to unveil our next product – we are incredibly stoked about what it will do for our line-up of premium filters. It will be the fastest, lightest system we've ever made.
We're about to announce partnerships with 3 sales rep groups in parts of the country where we're not yet well distributed, and we're broadening our international presence.
We also have new partnerships with adventure travel companies in the works, and we just made some key hires this spring. Stay up with developments on social platforms or www.thegrayl.com.
Ready to purchase your very own GRAYL Water Filtration Cup? Enter code MALAKYE at check out and receive 10% off your order. This code is available until June 30th, 2015.
---