Back to News
3 Thirty - Interview with Krystal Berry
June 15, 2015
Krystal Berry had a vision and that vision was a clothing and lifestyle brand that not only made quality products, but also gave back. In order to fulfill her dream, Krystal created 3 Thirty and began creating clothing and accessories to start making an impact. Every 30 days, the brand supports three different charities, one eco based, one animal based, and one humanitarian based organization. For each sale, 30% of the profit is donated to the organization of the buyer's choice. We spoke with Krystal to learn more about 3 Thirty, what inspired her to create the brand, and how we can get involved.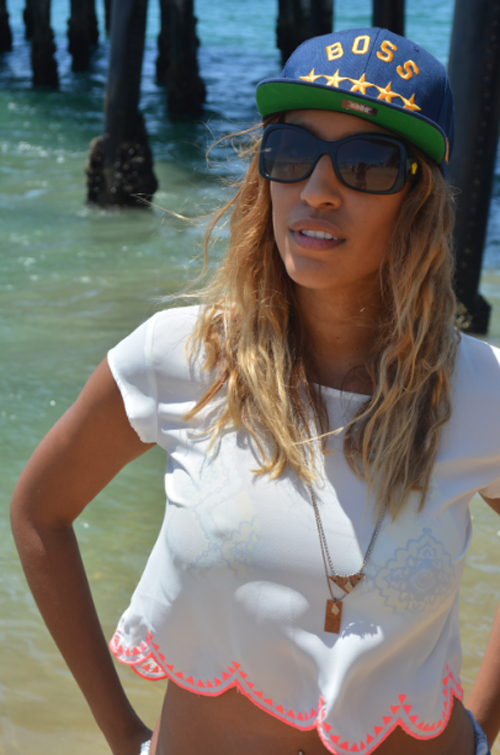 How did you choose the name for your brand?
I must have spent 6 months trying to come up with a perfect name that was cool, memorable, unique, encompassed the mission of the company, and wasn't already taken by another business. Finally, I realized that I was making the process too complicated and over analyzing. A company is about the mission not its name and I should just call it what it is. A company that supports 3 causes by donating up to 30% of all sales, hence the name 3 Thirty was created.
Where did the inspiration for 3 Thirty come from?
I went through the whole song and dance of what I thought were the correct steps to success and happiness. Go to college, get a degree, and get a good paying job, and I did all that. I feel blessed to have had the opportunity to get an education and get a good paying job, but I still felt like my soul was missing something and that perhaps I was meant to do something more meaningful. Deep down, I knew that I wanted to work with a socially conscious company that had a strong mission of doing good. I also wanted to reconnect with the surfing lifestyle and community that I loved and left when I graduated college and began chasing the dollar. I had a dream of owning my own company that sold consciously made products, worked with awesome companies and people, gives back to local charities and allows me to surf on weekdays. I couldn't find what I was looking for so, but I had enough drive, passion and experience to start it myself. Two years ago, I put my fear of failure and self doubt aside and started 3 Thirty. The response has been really stellar.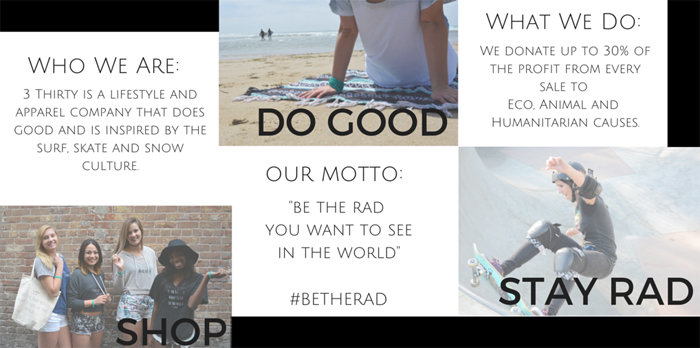 What about the surf, skate, and mountain industry inspired you to create a brand around them?
There is something very rad about a girl who loves to be on a board or seeks adventure. When I think about the action sports world, I think free-spirit, guts and passion. From my perspective, being a surfer and living a socially conscious life goes hand-in-hand. The same goes for skateboarding, snowboarding, paddle boarding, hiking, wake boarding, BMX, and everything in between. We have to take care of our playgrounds (and those who inhabit it). Some may not connect the dots at first but once they are exposed to the concept of sustainability, most get it and they want to protect their environment and help others. Having a conscious company built around this culture made perfect sense to me.
How does your clothing promote the conscious lifestyle?
Apparel can be an easy way to tell the world what you believe in, raise awareness and, hopefully, inspire someone. Our simple graphic tee's that have quotes like "Be The Rad You Want To See In The World" and "Do Good. Stay Rad" are well received by both women and men. Our apparel is not about fashion trends, it's about a lifestyle and the goal is to have our apparel start conversation between the individual wearing our pieces, their friends, and even strangers.
The apparel industry is not exactly Eco-friendly so we do our best to develop clothing with the environment in mind. We use apparel that is made in America and use water-based ink or digitally printing to decrease our negative impact on the environmental. We recycle the water that is used in the production process and we work with vendors who are also Eco-conscious.

What does "Be the Rad You Want to See in the World" mean to you?
This mantra is meant to encourage individuals to create positive impacts in their life, their family, their group of friends, community, network, city, etc. and hopefully, through these positive actions, it will encourage others to do the same. This mantra hopefully inspires individuals to do something as simple as picking up a few pieces of trash when ever they go out or buy products that are Eco-friendly and cruelty-free or volunteer for a cause that they are passionate about. It can even mean getting the guts to try something new like a new skateboarding trick or helping out someone who is struggling in the line up. This quote can mean something different to each person. Personally, for me it means not tolerating the destruction of the environment, the cruelty of animals or the inhumane treatment of people. It means not waiting for someone else to do something about a problem and it means inspiring others to do good.


Why did you choose eco, animal and humanitarian cause categories as the focus of 3 Thirty's charitable giving?
3 Thirty supports these three categories because they are the three major elements that have a symbiotic relationship with us. There are many causes that fall under each category and that enables 3 Thirty to support many different charities, giving our supporters an opportunity to learn about diverse causes and support a cause that they are passionate about.
How do you select the charities you benefit?
Charities can apply to be featured in a campaign or we will go seek them out. The selection process consists of meeting specific criteria. They have to fall within one of the 3 categories mentioned, they need to have an active social media presence and have to want our support. The unique thing about 3 Thirty is that we can support non-profits in the action sports industry. For example, we are supporters of Exposure Skate and they are an organization the helps expose girls and women to skateboarding, provides an avenue for girls and women at various levels to compete AND they support victims of domestic violence through their annual Exposure Skate Benefit event. So 3 Thirty can support an eclectic group of charities that are both inside and outside the action sports industry. Additionally, when a big catastrophe happens in the world, like the recent devastating earthquake in Nepal, 3 Thirty will step up and have a special fundraiser for organization supporting relief efforts.
Aside form purchasing product, how can we get involved?
Our mission is to raise funding AND awareness for the causes we feature. So if our products do not fit someone's style, they can still support the causes by sharing the information we post or donate directly to the charities. Awareness for non-profits is critical so sharing the cause with others is very helpful.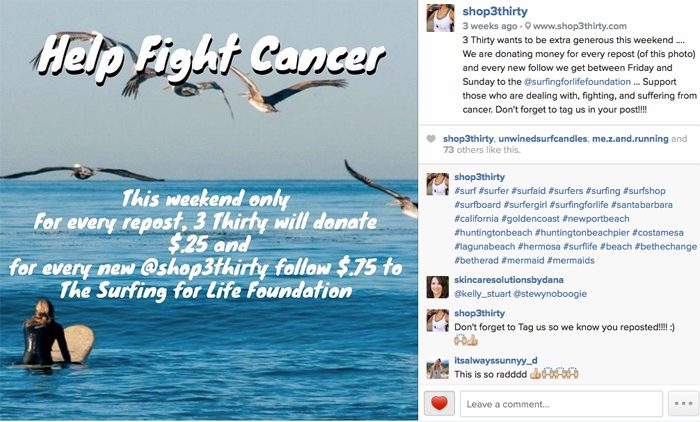 We also sponsor charitable events and host cleanups and social events throughout the year. You can go to our website and subscribe to our mailing list and we can let you know when events are taking place. The events are currently only in Southern California but we have long-term goals to spread out to more regions.

What does it take to be a 3 Thirty Ambassador?
3 Thirty ambassadors are the best. They live an active lifestyle, chase adventure and pursue dreams. They are edgy but still kind to others, they volunteer and inspire others to make positive changes. 3 Thirty is looking for individuals who embrace our mantra, live an active life and are passionate about protecting what they love.
You can view our current ambassadors at http://shop3thirty.com/ambassadors/
---