Back to News
B$Z: Vew-Do Balance Boards Unleashes the New Longboard 36
June 17, 2015
Get ready for the surf without leaving your living room on the new Vew-Do Longboard 36. Thirty-six inches of bare-foot friendly, hard-maple laminates pressed with a rocker shape and completed with classic surf graphics make for a soulful ride, whether you ever make it to the beach or not.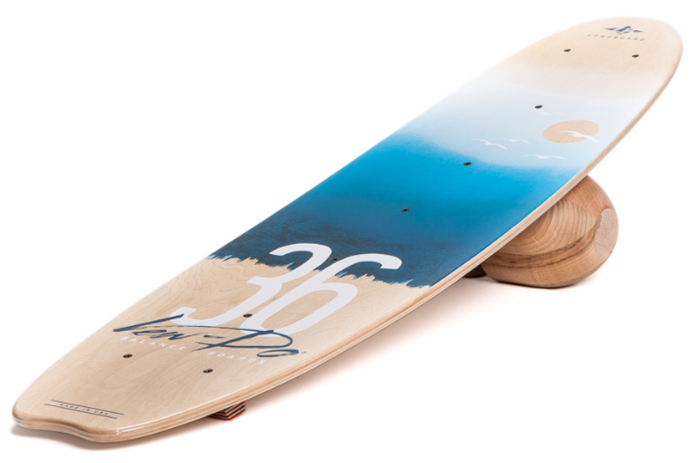 "The new Longboard 36 is the yin and yang of balance boards as it meets the demands of both the most radical board sports enthusiast while answering the call for that barefoot, soulful, fluid ride right in your own home" said Brew Moscarello, founder and president of Balance Designs, Inc. "This board is just so much fun to ride and flows just like you were riding a longboard at your favorite break" he added.
The Longboard 36 ride is enhanced with the five inch diameter "rock" that it rolls on. The hard-maple rock has a reduced primary riding surface and quick radial taper designed to turn, spin, rotate, dive and maneuver in any direction while increasing overall balance, performance and core strength. The Longboard 36 may just be the perfect dry-land surfer.
In addition to the new Longboard 36, the low-profile Pickle NUB has been reshaped with an increased length, skate-shaped deck and banana nubs, along with a vibrant new graphic. The Butter NUB, along with the Zippy and Flow balance boards, also feature fresh new graphics. The Eldorado and Zone Fitness Pro remain in the lineup.
All Vew-Do balance boards are made-in-the-USA with locally sustainable North American maple veneers and marine-grade glues designed to provide years of fun. Whether you're training for competition or just looking for a fun excuse to get off the couch, Vew-Do Balance Boards provide a great solution for building core strength and improving overall balance.
---