Back to News
B$Z: Gabe Ferguson Joins Volcom North America Snow Team
June 22, 2015
Volcom is proud to welcome Gabe Ferguson to its North America snow team. Ferguson, 16, has earned multiple top-ten titles on the national stage in halfpipe and slopestyle in the last two seasons: at age 14 he placed 6th at the U.S. Open Halfpipe, and at age 15 he became an X Games Halfpipe finalist.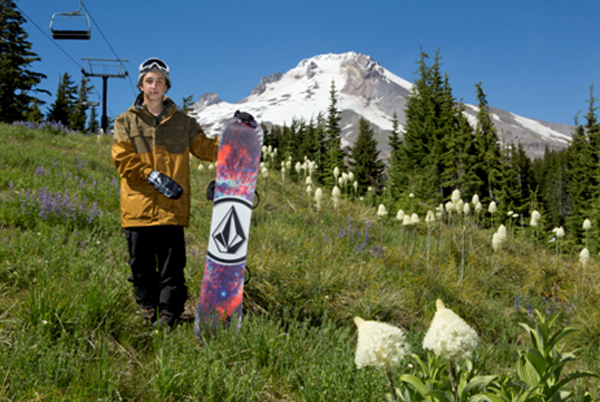 "I'm super excited to be a part of Volcom, on a team with the riders who have had the most impact on snowboarding," says Ferguson. "They have a really great family vibe going, and I think it'll be extremely fun."

"Gabe has an incredible combination of style and technicality that makes him one of the most exciting young athletes right now," says Oren Tanzer, Volcom Global Snow Marketing Director. "A lot of people have taken notice of Gabe. He grew up on a mountain without a halfpipe but has become a standout halfpipe rider, slopestyle rider and amazing freerider – the whole package."

Ferguson, from Bend, Oregon, had a breakout year in 2014 matched by a successful 2015. Not only did he qualify first at the Red Bull Double Pipe Finals this March, he also took home the title for the Doubles contest at the same event with brother Ben Ferguson. At the 2015 X Games, where he was the youngest male athlete, he qualified fifth into finals. "For his age, he's been playing with the big boys for the last couple of years now" says coach James Jackson. "Gabe is going to be a perfect fit for Volcom because he has amazing Northwest style and is extremely competitive and energetic."

Ferguson started snowboarding at age four and made his name on the US Revolution Tour and Burton AM Series, He carries on the tradition of other riders from Mount Bachelor and the Pacific Northwest. "The great thing about virtually anybody from the Northwest is that they love snowboarding first, and they incorporate that into their contests," says Jackson. "It's an element that gives more longevity to the sport."

As 2015 continues, Ferguson is preparing for the forthcoming competition season. "All in all, I'm going to try to have fun next year. If you're not having fun there's really no reason to do it," he says.
---