Back to News
Monument Snowboards - Interview with Alfred Haugen
July 6, 2015
Monument Snowboards started out in 2001 as an in-house brand for a Washington D.C. based snowboard shop, Capitol Board Room. In 2003, Capitol entered the wholesale arena by selling Monument to other snowboard shops. With a focus on creating visually appealing, stand-out snowboards, Monument draws inspiration from the opinions and adventures of its team riders from the United States and Japan. We caught up with Alfred Haugen and he gave us the run down on the creation of Monument Snowboards, what makes the brand tick, and how they are preparing for the upcoming season.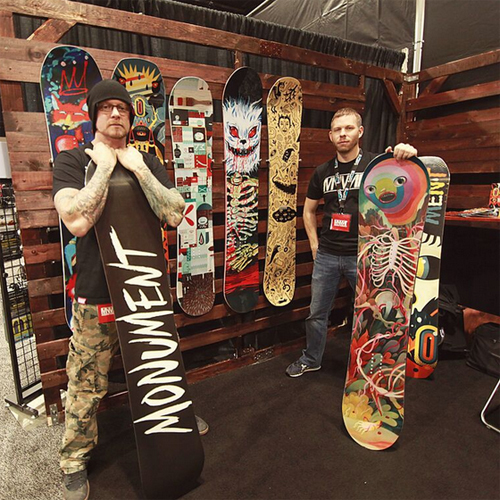 (Left to Right) Partners Carl Severson and Alfred Haugen (not pictured: Matthew 'Portland' Hay)


What was the inspiration behind creating Monument and how long has the company been in business?

During the first moments of Monument as a brand, the team's original focus was to bring a new level of creativity and graphic appeal to snowboarding that wasn't heavily prevalent then. We wanted to place more focus on amazing imagery rather than simplistic branding, and bring a level of design that reminded us of the skate, music and ink scenes we were pulling inspiration from at that moment in time. Therefore we began and still seek out creators that are killing it on the streets or in galleries and hopefully will keep inspiring everyone on the mountain.
Where are you headquartered?
As the team has been expanding with new leaders, riders and reps since late 2013, the core is still in the Washington D.C. region, however, each day it feels more and more like we're a multi-state virtual company with key members of the team living in Pennsylvania, Minnesota, New Jersey, and Rhode Island.
Does Monument design and engineer its own boards?
We're always listening to and acquiring ideas on board design from the entire Monument team and family. Each and every idea is considered as we tweak the line-up from profile and shape changes, to core and material alterations. For most of Monument's history, we've teamed up with a niche American designer to assist us with production and we couldn't be happier with his focus on quality and durability which is something we strive for. We challenge ourselves to create a line that meets the rigors faced by core riders and we know that we have to get it right for everyone we're hoping to meet and ride with one day.
Which model is your best seller, to date?
That would be a toss up between our park focused true twin, cambered BlackBlack or our park/all mountain hybrid twin F.V.K. Both bring serious control and supreme durability. The F.V.K. has been favored by our street riders given its dual core/bamboo core providing serious performance and pop. The heavies on our team work these boards to their brink and both snowboards have proven to withstand more than a few rounds of brutal beatings.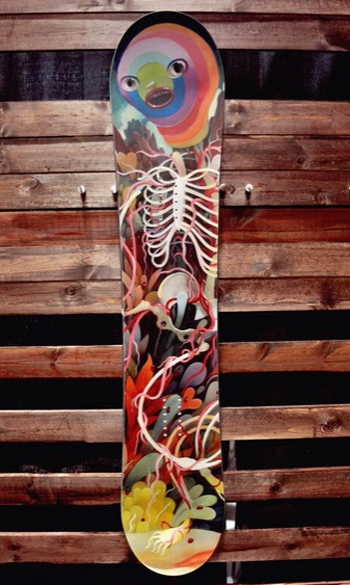 Monument Snowboards: BlackBlack


If you had to describe Monument Snowboards in three words, what would they be?
The creative possibility.

Are team riders important to Monument? Is their influence visible in the brand?
Our team is the core of the company and brand. They are our product testers, our marketers and our voice on the mountains. We love the guys and girls we're working with as though they are family and work to foster lasting relationships with individuals that share our love and passion for riding. In an industry that is in constant flux, we rely on our rider's opinions and insight into what they are experiencing first hand.

Are graphics an important part of the Monument identity? Why?
Graphics have always played a huge part in the company's history. Instead of having an in-house art department churn out our line each year we hand select artists that we feel would bring something truly unique and special to snowboarding. We almost take an art show curator approach to our board graphics and allow the artists complete freedom to express themselves in this medium. Some of the amazing talent we have had the fortune of working with are as David M. Cook, Dalek, Cleon Peterson and Jim Houser, to name a few.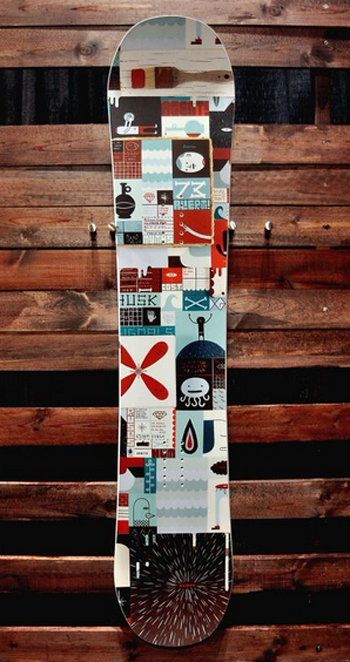 Monument Snowboards: Loveless


Who designs the art for your board graphics?
As we've expanded our core team, a few of us are artists and graphic designers ourselves that plays into Monument's history of pushing board imagery well beyond the status quo. As we stated before, through our daily lives we're working, traveling and meeting artists and designers that inspire us. Every so often we meet a level of creativity that just explodes our senses and at that moment, we know we have to work with them. It pretty much goes from there until we hopefully create a new board that we feel is flat out unbelievable.
What should we expect for the '15/'16 season from Monument and what will you all be doing this summer in between seasons?
'15/'16 is truly a new era for Monument and we believe we've built a gallery line-up that has more character and expression in its entirety than we've seen in a long time. There seems to be more of a 'Cast of Characters' vibe for this upcoming season, which we didn't' necessarily intend to do, but it seemed like we bridged our artists personalities with the boards themselves, and what eventually came to be were six new Monuments that are very distinct but share a certain vibrancy and subtle darkness that I can't quite explain. You'll get a chance to see the entire line-up this Fall as we set up a few exhibits featuring our entire set of work, but more to come there.
---