Back to News
B$Z: Java Monster Sweepstakes Launches with Pro Surfer Makua Rothman
July 10, 2015
Hawaiian Professional Surfer, and the #1 surfer in the world, as crowned by the World Surf League, Makua Rothman, is helping his sponsor, Monster Energy®, kick-off a summer sweepstakes for Java Monster®. The sweepstakes awards consumers with exclusive Java Monster® gear.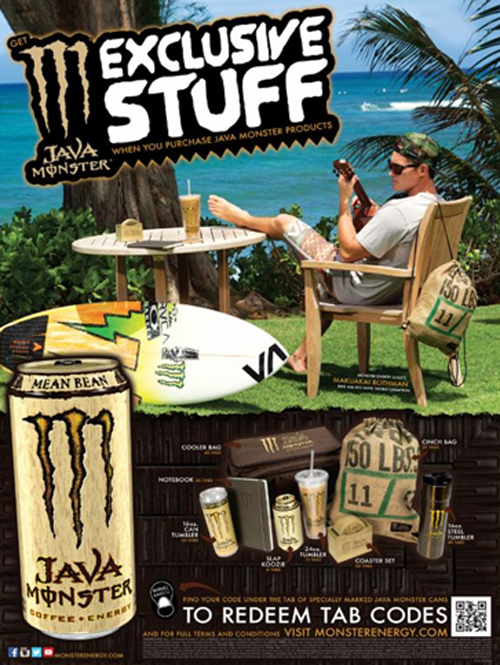 "I am very honored to be the face of our new Java Monster national campaign," said Rothman. "Monster Energy has supported my career for many years and made it possible for me to do what I love as a professional surfer! Mahalo to all the hard working men and women of our awesome OHANA here at Monster Energy."
Java Monster, premium coffee and cream brewed up with killer flavor, supercharged with Monster energy blend, comes in select flavors including: Mean Bean, Loca Moca, Kona Blend, Irish Blend, Vanilla Light, and Cappuccino.
Rothman, who secured the World Surf League 2014/2015 Big Wave Tour World Championship and opened the 2015 surfing season by winning the Quiksilver Ceremonial in Punta de Lobos, Chile on May 1, is the face of the Java Monster campaign. The 31-year-old surfer turned singer-songwriter can be seen in campaign collateral advertising during the life of the promotion.
From now until Dec. 31, 2015, specially marked Java Monster cans offer a full range of Java Monster gear products by using your points to purchase. To participate in the promotion (open to the residents of the 50 U.S. states, and DC who are 18 years of age or older), please visit: https://javagear.monsterenergy.com
For more on Java Monster or Makua Rothman, please visit http://www.MonsterEnergy.com or http://www.MakuaRothman.co.
---