BACK TO NEWS
EVENT: Monster Energy's Conor McGregor Beats Chad Mendes for the UFC Interim Featherweight Title
Monster Energy's MMA Irish superstar and UFC featherweight champion Conor McGregor proved himself Saturday night as a genuine finisher with an incredible second-round technical knock-out victory over elite wrestler Chad Mendes at the MGM Grand Garden Arena in Las Vegas.
Regarded as the 'fight of the year' with McGregor being led to the cage by a live performance from Sinead O'Connor, and an atmosphere adorned with Irish flags and filled with overwhelming love and support from the traveling Irish fans, McGregor delivered for the UFC Interim Featherweight title taking the biggest win of his career and surpassing the expectations for the ultimate show.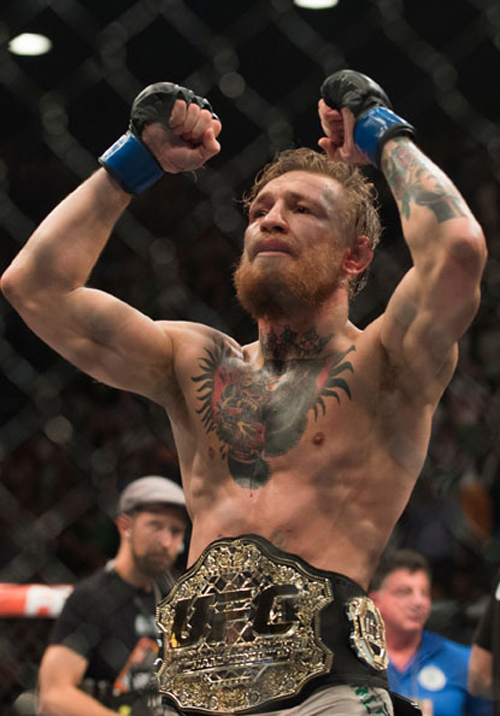 After losing the first round to Mendes who scored on three takedowns and was using elbows and sharp punches that ultimately cut McGregor's eye, the ultra popular Irishman silenced the critics and sent it in true form with a flurry of punches after being pinned on his back finishing Mendes at the 4 minute 57 second mark of the second round.
The 26 year old represents Monster Energy's commitment to the MMA category and continued support of the world's best in class athletes.
"Conor's UFC 189 performance, star power, bold confidence, and drive are a great brand fit, and we are excited to welcome him to our team of world-class athletes who all have the same level of commitment, enthusiasm and passion to their respective sports," said Mitch Covington, Vice President Sports Marketing, Monster Energy.
The Dubliner is equally as excited to join Monster Energy stating: "I am very excited to partner with Monster Energy." They have a long tradition of working with top athletes in many sports. Their brand combined with McGregor Sports and Entertainment is a perfect match and will be a great partnership for years to come," said McGregor.
McGregor has been a dominate force in MMA collecting 18 pro wins out of 20 fights total and skyrocketed to fame on the UFC since his debut in 2013.
McGregor is one of the newest additions to Monster Energy's elite MMA team joining the UFC women's bantamweight champion "Rowdy" Ronda Rousey as well Anthony "Showtime" Pettis, Johny "Bigg Rigg' Hendricks, Donald "Cowboy" Cerrone, Quinton "Rampage" Jackson, Rory MacDonald, Cain Velasquez, Daniel Cormier and Dominick Cruz.
For more on McGregor visit http://www.monsterenergy.com.
---