Back to News
B$Z: Boardworks Introduces the Tracker SUP for Anglers
July 15, 2015
Boardworks, the makers of award-winning stand up paddleboards, was one of first brands to cater to the growing legion of SUP anglers. Boardworks strengthens its dedication to fisherman this season with the release of the Tracker SUP, a new angling-specific SUP board with a fish-approved color scheme.
Built for hardcore anglers but fun and versatile enough for cast-free recreationalists, the Tracker SUP's 11' long and 35" wide deck provides users with maximum stability and plenty of foot room. The flat deck makes it easy to store a cooler onboard as well as move, cast, or rig. Fourteen strategically placed Connex deck plugs allow users to tie down extra gear or add on attachments.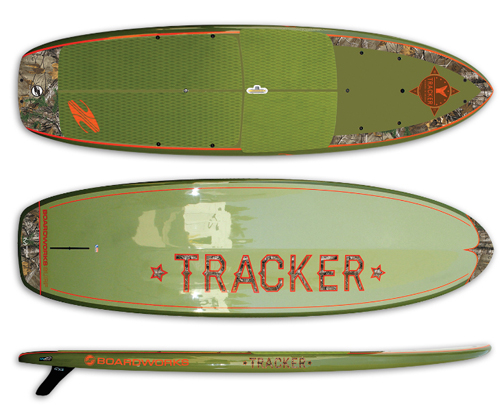 Thanks to Boardworks high-performance, extremely durable Krypto-Mat construction using Innegra™ coupled with fiberglass and epoxy resins, the Tracker SUP features excellent impact protection and compression strength. The result: the peace of mind needed to feel safe and comfortable navigating rocky areas.
The Tracker's generous width and bow-to-stern double concave hull provide unparalleled stability. The SUP tracks perfectly and surprisingly fast thanks to its unique hull design and single stern fin. The Tracker maintains a high degree of stability in windy conditions, during casting and paddling, due to its low profile and relatively low rocker.
It is the perfect choice for paddlers interested in a versatile SUP capable of handling fishing, touring, fitness paddling, yoga, and all-around fun.
The Tracker comes in green, with Realtree™ camo accents. It will be available in fall 2015.
An exciting update to the Badfish line of angling-specific SUP boards is the introduction of a Digital Camo color version of its extremely popular, inflatable Badfisher SUP. The Badfisher in Digital Camo will be available in fall 2015.
---