BACK TO NEWS
B$Z: The Sheckler Foundation Reveals the Fifth "Be the Change" Initiative Finalists
Today, the Sheckler Foundation is proud to name the top four finalists for it's fifth "Be The Change" initiative. Created by Ryan Sheckler, the purpose of the "Be the Change" initiative is to assist injured action sports athletes and kids in need. Community Push, Gamerosity, La Choza Chula and SkateMD have been selected and their individual causes have been placed on the Sheckler Foundation website to be voted upon here: http://www.shecklerfoundation.org/take-action/be-the-change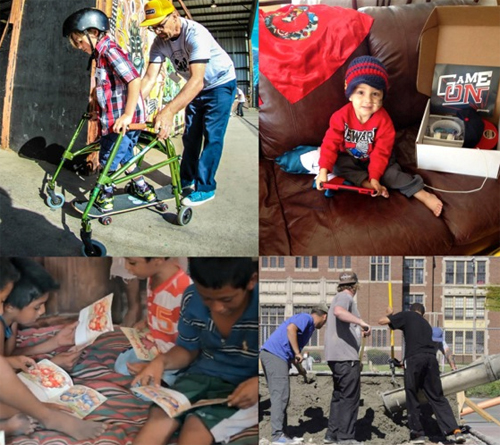 Left to Right: Skate MD, Gamerosity, La Choza Chula, and Community Push

The finalist that receives the most votes by August 3, 2015 will receive the support from Ryan and the Sheckler Foundation, its SkateBOARD members and up to $10,000 in funding to help make their vision a reality.
Below is an overview of each of the finalists:
Community Push – Designed to adopt abandoned city parks and repurpose them to become community skateparks for the youth in the city of Detroit.
Gamerosity – Changing the treatment experience for children with cancer by creating a network using technology. Even on their tough days, every child should know that they are valued and loved.
La Choza Chula (The Cool Shack) – A creative education and enterprise program designed to break the cycles of poverty, inspire young people to dream big and foster youth leadership.
SkateMD – On a mission to heal hearts by spreading kindness and skateboarding to special populations of children facing physical, emotional, developmental or family challenges.
The Sheckler Foundation is dedicated to the mission of empowering people to "Be the Change." To learn more about each of the finalists and to vote, visit shecklerfoundation.org. The voting process ends August 3, 2015 and the winner will be announced the following day on August 4, 2015.
For additional info on The Sheckler Foundation, stay tuned to, facebook.com/shecklerfoundation and follow @ShecklerFoundation on Twitter, LinkedIn and Instagram.
---