Back to News
B$Z: etnies Launches Talent Scout Artist Series
August 3, 2015
Today, etnies is proud to announce the Talent Scout Artist series. The collaborative series serves as a platform and provides exposure to select artists from diverse backgrounds and genres. etnies teamed up with artists EWOK, Jim Houser, Juan Travieso, LURK, Nathan Kostechko, and Nicomi Nix Turner to design a Scout colorway and three t-shirts to compliment the shoe.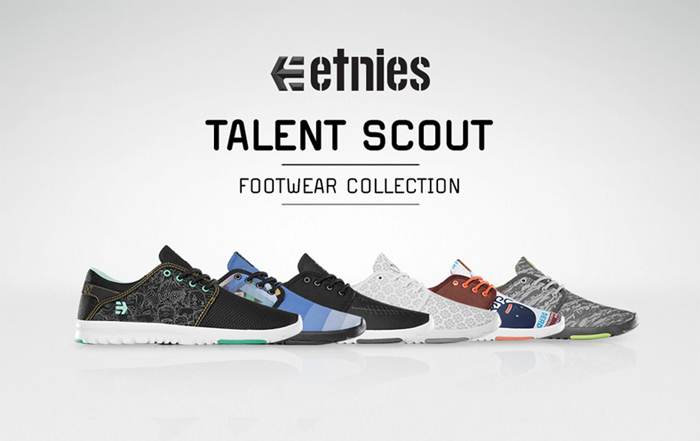 The six shoes in the etnies Talent Scout Artist series are featured above. Each collaboration represents the artists' style, inspiration and heritage. The LURK shoe will drop today, and the rest will deliver according to the schedule below:
• August – Nicomi Nix Turner
• September – Nathan Kostechko
• October– EWOK, Jim Houser and Juan Travieso
The Talent Scout series will be available online at etnies.com and at finer retailers around the world.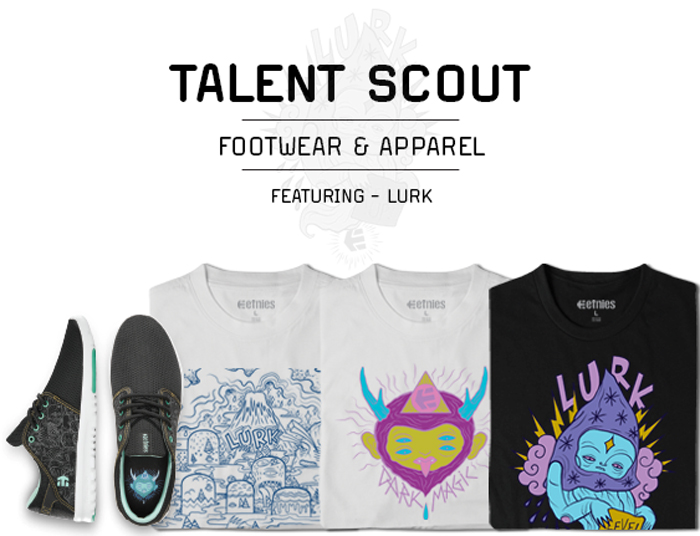 Russ Morland, also known as LURK, will be the first release of the series. He has drawn inspiration from skateboard design and heavy metal albums throughout the years. Aside from his traditional and digital paintings of Lurks, Russ owns Electric Umbrella Tattoo and an Art gallery. The inspiration behind his etnies Scout stemmed from his Lurklandia landscapes and upon the principle that less is more. Morland's clean line work on the dark Scout silhouette will require a second look to understand each hidden message on the shoe.
For the latest on etnies, stay connected with the brand here: etnies.com
Facebook: facebook.com/etnies
Instagram: @etnies
YouTube: https://www.youtube.com/etnies
Twitter: @etnies
Media Contacts:
etnies PR
Ashton Maxfield
949-289-6493
[email protected]
or
Michael Custodio
949-351-4443
[email protected]
---