Back to News
B$Z: Boy Scouts Biking 3,900 Miles to Battle Cancer
August 4, 2015
On June 15, seven Boy Scouts embarked on an epic bike journey from the Pacific seaside town of Florence, Oregon. Their destination, 66 days and 3,900 miles over the horizon, Wrightsville Beach, North Carolina. Their mission, to honor a schoolmate they lost to cancer and to raise awareness and funds for teen cancer programs.
The extreme cyclists, high school students in Chapel Hill, have now traveled almost 3,000 miles, successfully navigating the Cascades and Rockies, crossing the Continental Divide, descending into the Great Plains. Ahead, the Appalachian Mountains roll into North Carolina's Piedmont and the coast, the entire trip without vehicle support.
The Trans-America odyssey, appropriately labeled Bike Loud! is slated to end on August 18 with a ceremony and a celebration at Blockade Runner Beach Resort in Wrightsville Beach. As the trip began in Oregon, it will close with a synchronized dip of bicycle wheels into the ocean. The public is invited to attend.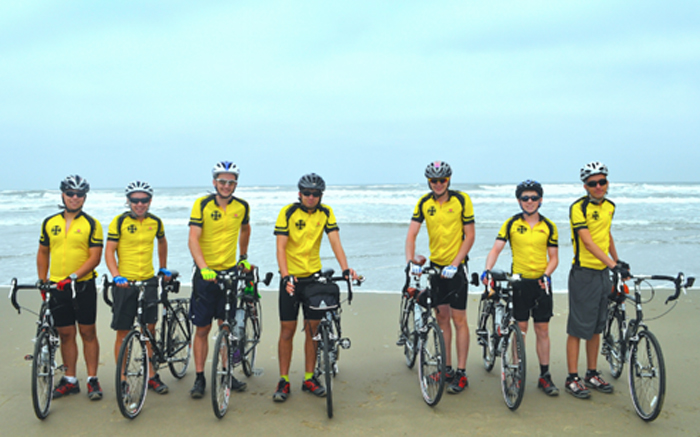 June 15, 2015 - Pacific Ocean Start - Florence, Oregon. Left to Right: David Margolies, Brian Richardson, Alex Broz, Andrew de Figueiredo, Max Morgan, Will Owen, Sam Billings.
"I'm excited to bike across the country because it's a once in a lifetime opportunity to challenge myself in a unique way," said biker Max Morgan. "I'm also really glad that we will be raising awareness across the country for the Be Loud! Sophie Foundation."
Sophie Steiner, diagnosed with germ-cell cancer in November 2012, died nine months later at age 15. Before her passing, Sophie expressed a strong desire to help other teens facing an overwhelming cancer diagnosis with non-clinical needs. Sophie's wish led to the formation of the Be Loud! Sophie Foundation which supports teen cancer programs at UNC Hospitals.
The Boy Scouts have seen many acts of kindness and generosity on their journey including meals, overnight accommodations, refreshing swimming pools, and contributions to the Be Loud! Sophie Foundation. "This is the generosity we continuously encounter," said biker Andrew de Figueiredo.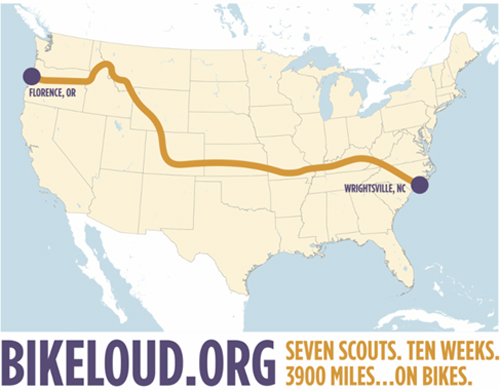 Road and weather conditions will determine the actual date and arrival time. For updated information, refer to ETA and media link below. Current ETA: Tuesday, August 18, 9 a.m.
More information:
Click here for Bike Loud! Website and news from the road
Click here for updated ETA, media materials, photos, itinerary, and logos
Wrightsville Beach Accommodations
Contacts:
Dale Baron
Media Contact
BikeLoud.org
Cell: 415-279-2007
Paul Margolies
Media Contact
BikeLoud.org
Cell: 919-265-9255
Jackie Harlow, Site Logistics
Blockade Runner Beach Resort
Phone: 910-256-2251
---