Back to News
B$Z:Skateboard Community Votes Gamerosity as the Sheckler Foundation's 5th "Be the Change" Recipient
August 10, 2015
After weeks of receiving numerous votes, today, Pro Skateboarder and Philanthropist, Ryan Sheckler and the Sheckler Foundation are proud to announce Gamerosity as its fifth "Be the Change" recipient. As the recipient, Gamerosity will receive a $10,000 grant and support from the Sheckler Foundation. With the funds and support, Gamerosity will continue to change the treatment experience for children with cancer. The proceeds will be used to develop an app for children with cancer, purchase iPads and provide more care packages to children battling cancer.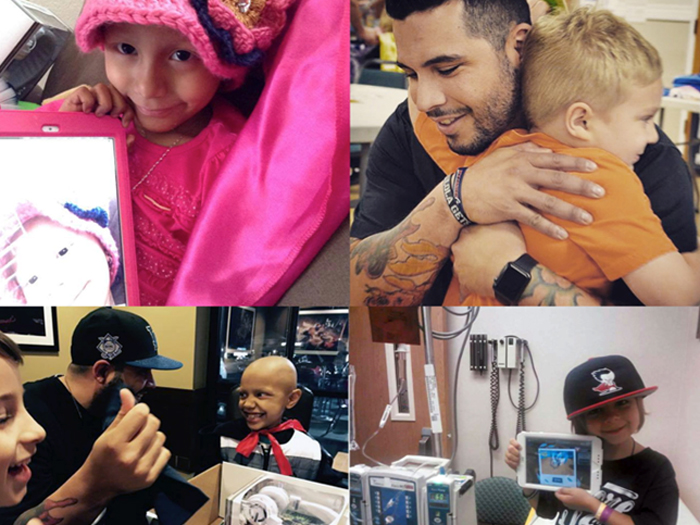 Pro Skateboarder and Sheckler Foundation Co-Founder, Ryan Sheckler says, "Thank you to all the supportive individuals who took part in this initiative by submitting, voting and making it all possible. We had a great turnout for 'Be the Change' and I would like to congratulate Gamerosity on becoming our fifth 'Be the Change' recipient!"
Manny Munoz, executive director at Gamerosity, was a childhood cancer survivor. When he was 15, he was diagnosed with Stage 4 Large B Cell Non-Hodgkins Lymphoma. During his chemo treatment, Manny's aunt gave him a Game Boy Color. That Game Boy became his distraction on long trips to the hospital and stays for treatment.
In December 2011, Manny was inclined to give back so he gifted a young boy with Leukemia an Xbox 360. Manny felt that this concept can be done on a larger scale, and Gamerosity was born. See Manny's complete story here:
Manny, his family and team have created a platform that empowers people to advocate for children fighting cancer. Friends and loved ones can nominate a child in need on the Gamerosity website to raise money for a "Hero" package. From the "Hero" page, a child's campaign can be shared with the community and any purchase of Gamerosity apparel directly helps fund a child's campaign goal. When the child's campaign is fully funded, the "Little Hero" and its nominators are notified and the child will receive the Gamerosity "Hero" package. Contents in the package include: an iPad Mini, an iTunes gift card and Gamerosity gear.
Ryan Sheckler's "Be the Change" initiative was created to help injured action sports athletes and children in need. Since starting in 2008, the Sheckler Foundation has been paying it forward to help numerous individuals and causes. The past four "Be the Change" winners include: The Port Gamble S'Klallam, Peach's Neet Feet, The Ashley Wade Foundation and Hope for Carter. For additional info on The Sheckler Foundation, stay tuned to: Facebook, Instagram, Twitter, LinkedIn and visit shecklerfoundation.org.

---