Back to News
B$Z: Feld Motor Sports and Autotrader/Toyota/Yamaha/JGRMX Team Up with Make-A-Wish
August 10, 2015
When Feld Motor Sports® and the Autotrader/Toyota/Yamaha/JGRMX race team teamed up with Make-A-Wish to give 5-year-old supercross fan Austin Coleman his wish of riding his dirt bike with a professional racer, it was Monster Energy AMA Supercross, a FIM World Championship, Racer Justin Barcia that over delivered. Check out the day's activities here.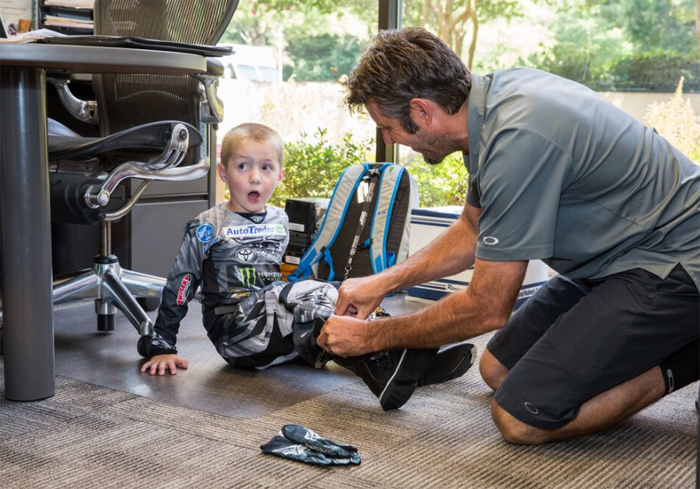 Austin, diagnosed with Cystic Fibrosis, loves riding dirt bikes. He began riding at age three, and even has a track in his backyard. When asked what he wanted for his wish, he had only one thing in mind, to ride with a professional rider.
Austin spent the day with Barcia, receiving a tour of the Joe Gibbs Racing Sprint Cup and supercross shops before heading out to the private JGRMX supercross test facility where he had a chance to ride with Barcia. In addition to having a day with the team, the Autotrader/Toyota/Yamaha/JGRMX team in conjunction with FLY Racing and Factory Effex outfitted Austin in custom riding gear and team graphics to round out the once-in-a-lifetime experience.
For more information on the Monster Energy AMA Supercross, an FIM World Championship, please log on to www.SupercrossLive.com, the official website of Monster Energy Supercross. To follow Monster Energy Supercross on Facebook, Twitter and Instagram, log on to www.facebook.com/supercrossLivewww.Twitter.com/supercrossliveand www.instagram.com/supercrosslive. Subscribe to our YouTube Channel at http://www.youtube.com/supercrosslive. For all media requests, please contact Denny Hartwig [email protected] or 630-566-6305.
---